In memory of those who have Crossed the Bar
Kenneth Lloyd Wright, CD

Petty Officer 2nd Class, Naval Storesman, RCN / C.A.F.

Born: 1923, Toronto, Ontario

Died: 06 Jun 2004, Angus, Ontario
WRIGHT, Kenneth Lloyd - Peacefully in Angus, Ontario, on 06 Jun 2004 in his 81st year. Ken was born in Toronto in 1923, the only child of Lloyd and Alice Wright. Predeceased by his father Lloyd and wife Sylvia. Lovingly remembered by his mother Alice, Lorraine, Sandra, Robert, Scott, Kim, Scott Jr., Anne, Ashley and Tyler and a host of relatives, shipmates and close friends. He lived his younger years in Toronto and Gravenhurst, Ontario and joined the Royal Canadian Navy on the 31st of July 1947. He subsequently served in the ships company of 8 of Her Majesty's Canadian Ships - HMCS Haida, Huron, Cape Breton, Resolute, Columbia, Yukon, Ottawa and Bonaventure, at 8 naval support stations - HMCS Naden, Stadacona, Coverdale, Star, York, Cornwallis and Hochelaga and on staff at CFB Borden. Ken's naval service took him across the worlds oceans to many foreign ports, crossing and re-crossing the international date line, the equator, the tropics of Cancer and Capricorn and even the Arctic Circle. He also served several time on temporary duty detachment to HMCS Somers Isle in Bermuda in support of Atlantic Fleet exercises. Ken was highly rated and was a valued crew member of each ship he served on both in his ship's storesman duties as well supporting international patrols and NATO exercises. He earned a series of commendations from a number of his commanding officers and the respect of his shipmates, junior and senior. On the occasion of his retirement from the forces in 1977, he was honoured by the Chief of the Defence Staff who sent ken a personal letter recounting their earlier naval service together aboard HMCS Bonaventure. One of his most memorable duties that Ken performed on that aircraft carrier, one he thoroughly enjoyed, was as the ship's Rum Bos'n issuing "tots" to fellow crew members. Contributions, in Ken's name, to any Royal Canadian Sea Cadet Corps would be appreciated by his family. Ken will be buried at sea in accordance with his wishes.
Ships served in:
HMCS HAIDA - Served in Haida 25 Jul 1949 - 27 Feb 1950
HMCS HURON - Served in Huron 28 Feb 1950 to 18 Jan 1951
HMCS CAPE BRETON - Served in Cape Breton 09 Apr 1958 - 22 Jun 1958
HMCS RESOLUTE - Served in Resolute 26 Sep 1958 - 21 Oct 1960
HMCS COLUMBIA - Served in Columbia 21 Nov 1960 - 05 Jun 1961
HMCS YUKON - Served in Yukon 17 Aug 1964 - 26 Jun 1965
HMCS OTTAWA - Served in Ottawa 27 Jun 1965 to 17 Jan 1966
HMCS BONAVENTURE - Served in Bonaventure 18 Jul 1966 - 06 Jul 1969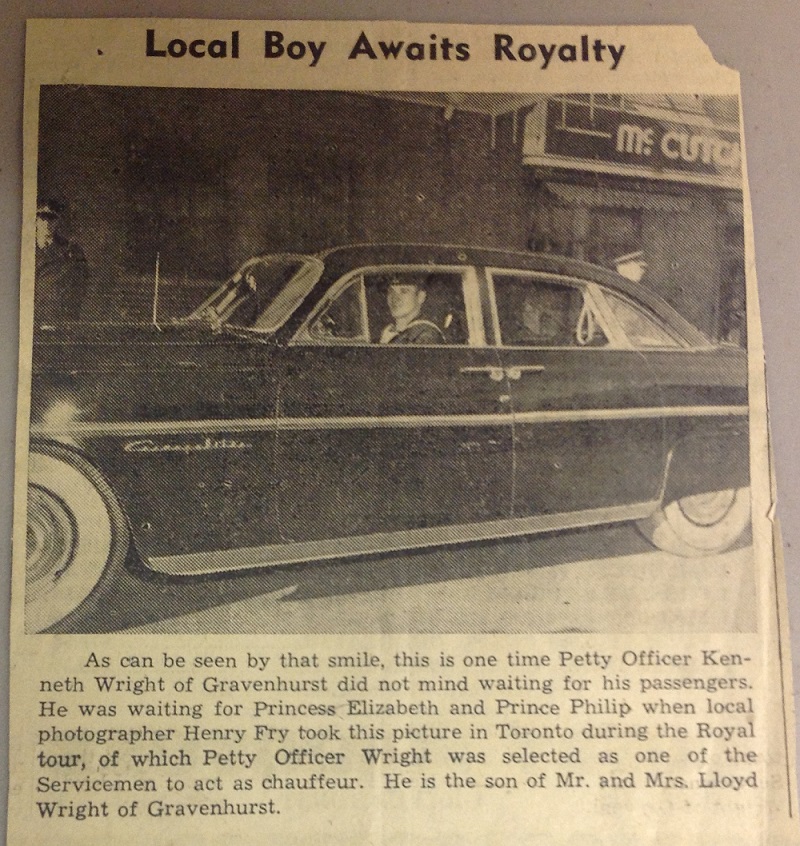 PO Ken Wright, driver, awaiting his passengers - Princess Elizabeth and Prince Philip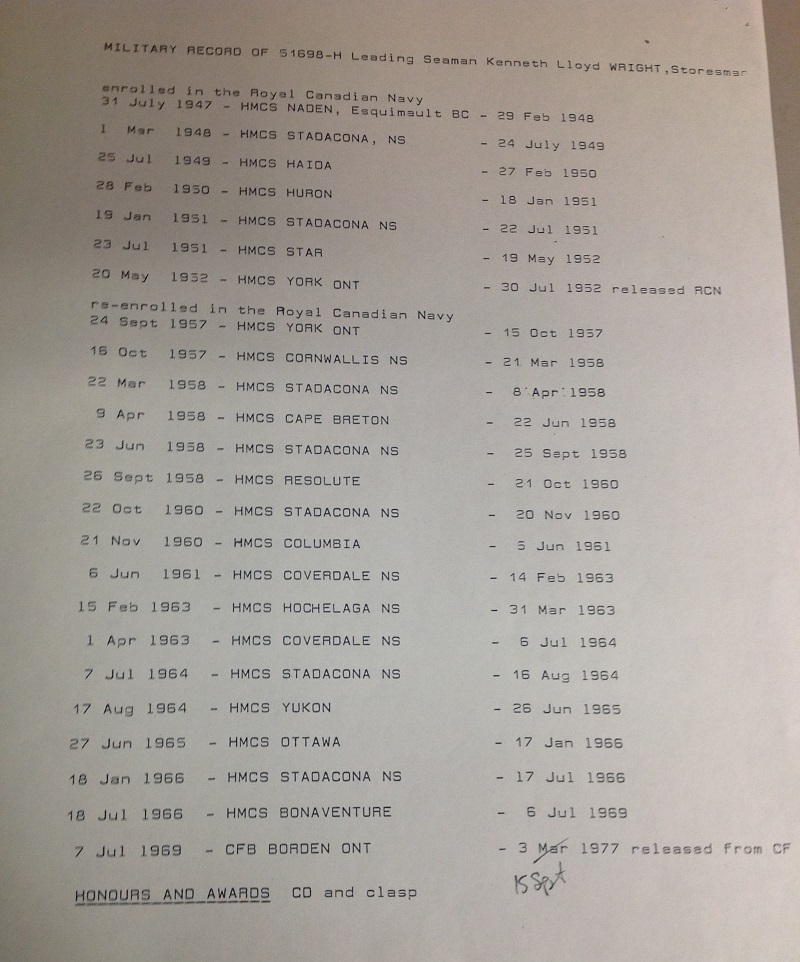 Summary of Drafts - PO2 Ken Wright, RCN / C.A.F.
---