In memory of those who have Crossed the Bar
Henry Timothy Porter, C.M.M., C.D.

Rear-Admiral, RCN / C.A.F.

Born: 11 Feb 1938, Kingston, Ontario

Died: 05 Apr 2021
PORTER, Henry Timothy - Predeceased by his parents Muriel (née Dailey) and Henry Porter, his cherished daughter Jocelyn Marie Porter, his sister Marilyn (Penny) and her husband Sam Severenuk and Sharon's parents Ellery and Margaret Nesbitt and her brother Bob Nesbitt (Gi).
He will be mourned by his loving and devoted wife, Sharon Porter, his son Christopher Timothy Porter, his grandson Cory Carey and Cory's family in Australia, Tim Carey (Clare, Larissa) Asher and Ruby, by Tyler Filion (Lynne) and grandchildren Taylor, Kyle, Lucas and Lynne's sons Curtis (Jada) and Tanner and by Chantal Filion and grandchildren Amelia and TyJoseph Levac.
Remembered by Dawn Severenuk, Anthony Severenuk (Tracy) and their children Devon and Nolan, Sharon's brothers Howard (Kathryn) and Harwood (Wendy), The Filion Family, The Prier Family, The Norm Levac Family, The Marleau Family, Aunts, Uncles, Cousins, Nieces, Nephews and their Families, Life long friends and Jocelyn and Christopher's Mother Elaine and the Smiley Family.
Tim had a distinguished career of 41 years In the Royal Canadian Navy and the Canadian Forces. He considered his most enjoyable and challenging postings to be at sea In Her Majesty's Canadian Ships BONAVENTURE, PRESERVER and as Commanding officer of HMC Ships RESTIGOUCHE and SASKATCHEWAN. He was Commander of the Fourth Canadian Escort Squadron and Commander of the Training Group Pacific with the best sailors in the world.
He held senior postings ashore in the ADM (PER) Group, National Defence Headquarters Ottawa, Naval Headquarters in Halifax and at the Canadian Defence Liaison Staff in Washington. DC. He was the Colonel Commandant of the Training Development Branch for four years.
After his military retirement, he served as the Executive Director of the Ottawa Carleton Association for Persons with Developmental Disabilities and as The National President of the Navy League of Canada. He was the founding Chairman of the Royal Canadian Sea Cadet Education Foundation. He was awarded a Chief of the Defence Staff commendation for his volunteer work with the Canadian Cadet Organization. He held memberships in the Naval Association of Canada (Silver Medal), The Cornwall and District Naval Veterans' Association, Royal Canadian Legion Branches 341 South Carleton and 297 Cornwall and the Battle of Atlantic Project. He was a life- long member of the United Church of Canada and a Trustee of the Canadian Naval Memorial Trust, H.M.C.S SACKVILLE.
Tim received many awards over his lifetime, but was most proud when he received the Order of Military Merit with son Christopher by his side.
The Family would like to thank the Cornwall Community Hospital for their Compassionate Care, especially Dr. Maggie Yu.
A private family Memorial Service will be held on Saturday June 26, 2021 at the Sacred Space of the Beechwood National Memorial Centre at 10 a.m. followed by urn interment at the National Military Cemetery of the Canadian Forces.
In lieu of flowers, in memoriam donations would be welcomed at The Royal Canadian Sea Cadet Education Foundation, 201-1505 Laperriere Avenue, Ottawa, ON K1Z 7T1 (613 863 1874) (Beechwood Funeral, Cemetery and Cremation Services)
Ships served in:
HMCS VENTURE - Appointed to VENTURE as a Naval Cadet 09 Sep 1956. Class of '58
HMCS CAP DE LA MADELINE - Served in CAP DE LA MADELINE in 1959
HMCS ALGONQUIN - Served in ALGONQUIN in 1961
HMCS SIOUX - Served in SIOUX in 1961
HMCS STE THERESE - Served in STE THERESE in 1965
HMCS BONAVENTURE - Served in BONAVENTURE as Senior Operations Centre Officer and Action Information Officer in 1967
HMCS FRASER - Served in FRASER in 1974 as XO
HMCS PRESERVER - Served in PRESERVE in 1975 as Deck Officer
HMCS SASKATCHEWAN - 14th Commanding Officer
HMCS RESTIGOUCHE - 13th Commanding Officer
COMMANDER 4TH CANADIAN ESCORT SQUADRON - 1983
COMMANDER TRAINING GROUP PACIFIC
* Retired 14 Jun 1993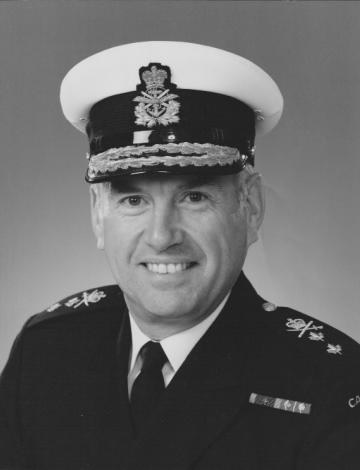 Rear-Admiral Tim Porter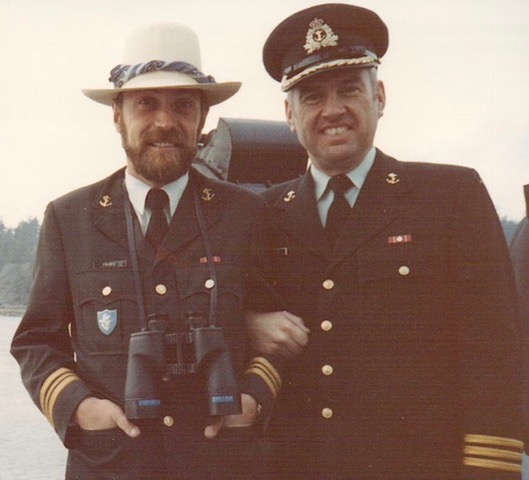 LCdr Steve Foldesi and Cdr Tim Porter
---