In memory of those who have Crossed the Bar
Henry George (Harry) DeWolf

C.B.E., D.S.O., D.S.C., M.I.D., CD, Officer of the Legion of Merit (USA), Officer of the Legion of Honour (France), Croix de Guerre avec Palme en Bronze (France), King Haakon VII Cross of Liberation (Norway), psc, jssc.

Vice-Admiral, O-19460, RCN

Born: 26 Jun 1903, Bedford, Nova Scotia

Died: 18 Dec 2000, Ottawa, Ontario
DeWOLF, Henry George (Harry) - A destroyer commander who was Canada's most highly decorated naval officer of World War II, died Dec. 18 in his home in Ottawa. He was 97. Admiral DeWolf's destroyer, HAIDA, which survives as a floating museum and war memorial on the Toronto waterfront, sank or damaged more than a dozen German warships, bringing it renown as Canada's foremost ship of World War II.
Before taking command of HAIDA, he helped in the evacuation of British and French troops from Dunkirk in 1940 as commander of the destroyer ST LAURENT.
Admiral DeWolf carried out two major rescues in the North Atlantic - one with ST LAURENT and the other with HAIDA - and he once wrestled with a live torpedo running out of control on his deck. He received Canada's Distinguished Service Order and Distinguished Service Cross for gallantry. The United States awarded him the Legion of Merit. He was made a Commander of the Order of the British Empire, was honored by France with membership in its Legion of Honor and received Norway's Cross of Liberation. But in the course of becoming Canada's most revered naval officer, Admiral DeWolf confronted a persistent nemesis. "I never developed sea legs," he said. "I was always seasick."
Harry George DeWolf was born in Bedford, Nova Scotia, on June 26, 1903. At 15, he was sent to the Royal Naval College of Canada in British Columbia, and as a young sailor he served aboard British and Canadian ships.
While on antisubmarine duty with the St. Laurent 75 miles west of Ireland in July 1940, he orchestrated the rescue of about 860 survivors of the British liner Arandora Star, which was sunk by a German U-boat while carrying German and Italian prisoners of war and interned aliens from Liverpool to Newfoundland. Another 800 aboard the liner drowned.
He had a harrowing experience aboard the ST LAURENT in 1940 when a crewman who was painting a torpedo lifted the safety catch and the firing handle. "The torpedo fired, naturally, and ran wild on the deck, slammed into the deckhouse, bounced off and kept charging around," Admiral DeWolf recalled. "We got astride it. It was slippery as a greased pig and we thought its propeller might cut our feet off." He and a sailor cut off the flow of compressed air driving the torpedo forward, and then he took the destroyer into a British port.
Taking command of HAIDA in August 1943, Commander DeWolf, as he then was, escorted convoys carrying supplies from Halifax, Nova Scotia, to Murmansk in the Soviet Arctic. Then, as a prelude to the D-Day invasion, he moved into the English Channel to help secure the northern coast of France, gaining the sobriquet Hard-Over Harry for his sharp turns avoiding enemy fire during nighttime battles. In the early hours of April 26, 1944, HAIDA sank a German destroyer, setting it afire after pursuing it through a British-laid minefield. Three nights later, HAIDA and another Canadian destroyer, ATHABASKAN, engaged in a battle with two German destroyers. ATHABASKAN was hit by a torpedo and sank. HAIDA damaged one of the German ships and pursued the other, forcing it to run aground on the rocks of the French coast five miles away. Then Commander DeWolf took HAIDA back to the spot where the ATHABASKAN went down. His crewmen picked up more than 40 Canadian sailors from the freezing waters even as the ATHABASKAN's captain, Cmdr. John Stubbs, bobbing in the water and expecting a German air attack, shouted, "Get away HAIDA, get clear." "I was scared to death," Admiral DeWolf recalled. "A, we'd drift onto a mine, or B, we'd be caught there at daylight and bombed, sunk. I said: `We've lost one ship. We cannot afford to lose two.' " With the sun coming up in an hour, HAIDA departed after spending 20 minutes carrying out its rescue. Commander Stubbs and some 130 crewmen from the ATHABASKAN drowned while about 80 others were captured by the Germans. A few nights after the D-Day invasion of June 6, 1944, HAIDA ran a German destroyer aground in flames. In late June, HAIDA sank a German U-boat off the French coast.
Admiral DeWolf commanded aircraft carriers after the war, served as Canada's senior military official in Washington from 1952 to 1956 and was chief of naval staff from 1956 to 1960.
He is survived by a son, James; a sister, Starr Shaw, of Montreal, and two grandchildren.
Looking back on 42 years of naval service, Admiral DeWolf recalled how he combated the malady that dogged him throughout his career. "I used to sleep or rest propped up in the bunk," he said. "Because from that position, I got on my feet, I was less apt to get seasick than if I was lying down. If there was the slightest increase in the sound of voices, I knew something was on, so I'd be awakened. I got lots of rest, but I never changed my clothes."
Ships served in:
* Appointed Naval Cadet 22 Sep 1918 (The Nauticapedia)
* Appointed Midshipman, RCN (seniority 01 Sep 1921) (Navy List Oct 1921)
HMS RESOLUTION - Appointed to RESOLUTION 26 Oct 1921 as a Midshipman, RCN (Navy List Apr 1922 / Sep 1923)
* Appointed A/SLt (seniority 01 Jan 1924) (Navy List Jun 1924)
HMS EXCELLENT - Appointed to EXCELLENT 05 Jan 1925 as an A/SLt, RCN (Navy List Jul 1925)
HMCS PATRIOT - Appointed to PATRIOT 03 Aug 1925 as a SLt, RCN (seniority 01 Jul 1924) (Navy List Feb 1926). Appointed Lt, RCN (seniority 01 Apr 1926) (Navy List Dec 1926)
HMS CHAMPION - Appointed to CHAMPION 20 Feb 1928 as a Lt, RCN (Navy List Jun 1928)
HMCS CHAMPLAIN - Appointed to CHAMPLAIN 27 Dec 1928 as a Lt, RCN (Navy List Feb 1929)
HMCS NADEN (Depot Ship Esquimalt) - Appointed to NADEN 20 Jul 1929 as a Lt, RCN (Navy List Nov 1929)
HMCS STADACONA (Depot Ship Halifax) - Appointed to STADACONA 07 Mar 1930 as a Lt, RCN (Navy List Jul 1930)
HMCS FESTUBERT - Appointed to FESTUBERT 14 Apr 1930 as a Lt, RCN, CO (Navy List Jul 1930)
HMCS VANCOUVER - Appointed to Vancouver 27 Apr 1932 as Lt (N), RCN (Navy List Jul 1932)
HMCS SKEENA - Appointed to SKEENA on 03 Jul 1933 as Lt (N), RCN (Navy List Sep 1933)
* Listed as a LCdr, RCN (Navy List Sep 1934)
RCN BARRACKS ESQUIMALT - Appointed to RCN BARRACKS ESQUIMALT 01 Jun 1935 as a LCdr, RCN (seniority 01 Apr 1934) (Navy List Jun 1935)
NSHQ OTTAWA - Appointed to NSHQ, Staff Officer Intelligence 01 Jul 1935 as a LCdr, RCN (Navy List Jan 1936)
HMS PRESIDENT - Appointed to PRESIDENT for Staff Course 12 Jan 1937 as a LCdr, RCN (Navy List Feb 1937)
HMS LONDON - Appointed to LONDON 20 Dec 1937 as a LCdr, RCN (Navy List Apr 1938)
HMCS OTTAWA - Appointed to OTTAWA as Staff Officer to Captain "D" 01 Dec 1938 as a LCdr, RCN (navy List Apr 1939)
HMCS ST LAURENT - Appointed to ST LAURENT 06 Oct 1939 as a LCdr, RCN, CO (Navy List Jun 1940). 3rd Commanding Officer
HMC DOCKYARD HALIFAX, HQ for Commanding Officer Atlantic Coast - Appointed to HQ COAC as Staff Officer Operations 16 Aug 1940 as a Cdr, RCN (seniority 01 Jul 1940) (Navy List Aug 1940).
HMCS STADACONA (Depot Ship Halifax) - Appointed to STADACONA as Chief Staff Officer to COAC (Navy List Dec 1941)
HMCS VENTURE (Halifax) - Appointed to VENTURE 16 Aug 1940 as Chief Staff Officer to COAC as a A/Capt, RCN (seniority 01 Jul 1940) (Navy List Jan 1942)
NSHQ OTTAWA - Appointed to NSHQ OTTAWA, Naval Intelligence Section, Plans Division as Director of Plans as an A/ Capt, RCN (Navy List Sep 1942)
HMCS HAIDA - Appointed to HAIDA 30 Aug 1943 as a Cdr, RCN, CO. 1st Commanding Officer (Navy List Oct 1943). Appointed Captain (seniority 01 Jul 1944) (Navy List Jun 1944)
NSHQ OTTAWA - Appointed to NSHQ OTTAWA 01 Dec 1944 as Assistant Chief of the Naval Staff as a Capt, RCN (Navy List Nov 1944). Appointed Acting Commodore, RCN (Navy List Apr 1946). Appointed Commodore, RCN (seniority 01 Jan 1947) (Navy List Jan 1947)
HMCS WARRIOR - Appointed to WARRIOR 18 Jan 1947 as a Cmdre, RCN, CO (and Senior Canadian Naval Officer Afloat) (Navy List Jun 1947). Paying off crew
HMCS MAGNIFICENT - Appointed to MAGNIFICENT 07 Apr 1948 as a Cmdre, RCN, CO (and Senior Canadian Officer Afloat) (Navy List Jul 1948). Commissioning crew
HMCS NADEN (FOPC) - Appointed to NADEN as Flag Officer Pacific Coast 09 Sep 1948 as a RAdm, RCN (seniority 08 Sep 1948) (navy List Jan 1949)
NHQ OTTAWA - Appointed to NHQ OTTAWA 11 Sep 1950 as Vice-Chief of Naval Staff as a RAdm, RCN (Navy List Jan 1951)
HMCS NIAGARA - Appointed to NIAGARA 15 Dec 1952, Add'l, Principal Military Advisor to the Canadian Ambassador in Washington, Chairman Canadian Joint Staff, Washington Representative in Washington of the Chiefs of Staff, Canadian Representative of the Military Representatives Committee of the North Atlantic Treaty Organization and Canadian Liaison Representative to SACLANT as a RAdm, RCN (Navy List Jan 1954)
NHQ OTTAWA - Appointed to NHQ OTTAWA 16 Jan 1956 as Chief of Naval Staff as a VAdm, RCN (seniority 16 Jan 1956) (Navy List Jul 1956)
* Retired 25 May 1961
---
The Last Trip on HMCS NADEN 18 - 23 Apr 1921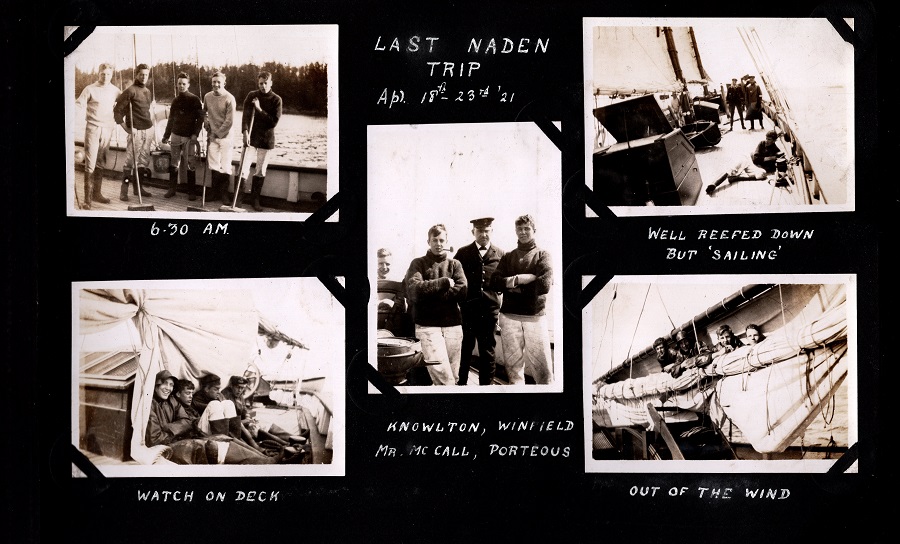 click on the above photo to view a larger image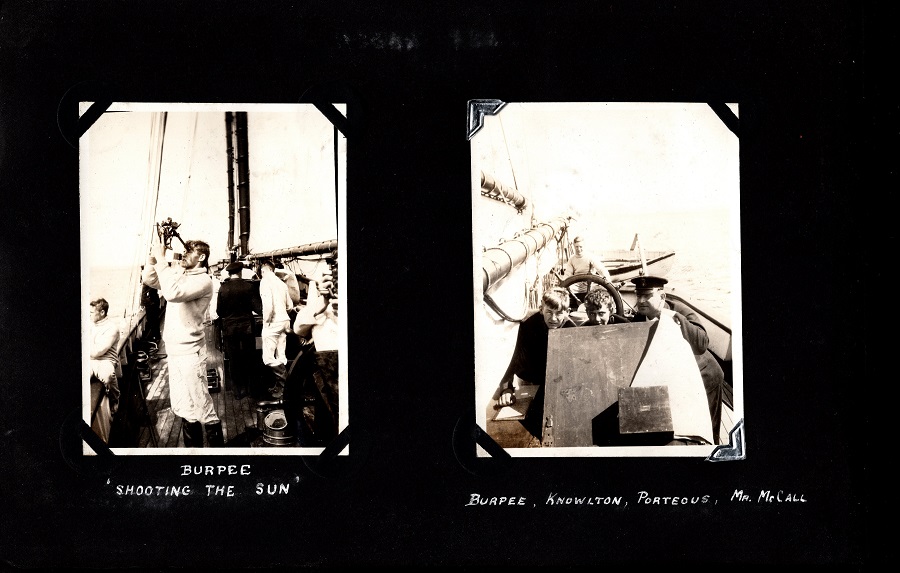 click on the above photo to view a larger image
---