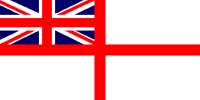 For Posterity's Sake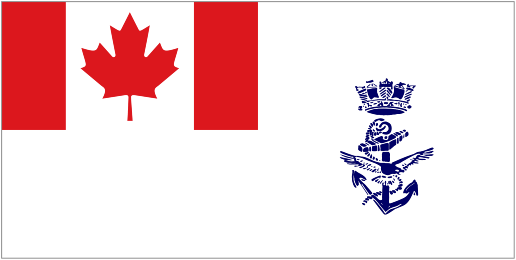 A Royal Canadian Navy Historical Project
HMCS MATANE K444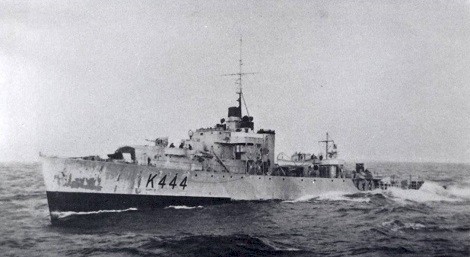 HMCS Matane K444
Source: Photo scrap book of Telegraphist Ron Bailey
Published with permission of Grant Bailey
Battle honours and awards; Atlantic 1944, Normandy 1944, Arctic 1945
Laid down: 23 Dec 1942

Launched: 29 May 1943

Commissioned: 22 Oct 1943

Paid off: 11 Feb 1946

Fate: Sold for scrap. Hulk was sunk as a breakwater in 1948
Launched at Montreal on 29 May 1943, she was commissioned there on 22 Oct 1943, Matane arrived at Halifax 13 Nov 1943 and began working up in St. Margaret's Bay completing the process at Pictou. In Apr 1944, she joined EG 9, Londonderry, as Senior Officer's ship, thereafter serving mainly on escort and patrol duty in U.K. waters. On 22 Apr 1944 HMCS Matane sunk German U-boat U-311 in the North Atlantic south west of Iceland in position 52°09'N, 19°07'W, by depth charges from the Canadian frigates HMCS Matane (LCdr. A.F.C. Layard, DSO, RN) and HMCS Swansea (A/Cdr. C.A. King, DSO, DSC, RCNR). The fact that U-311 was destroyed by the depth charge attacks of Matane and/or Swansea, was unknown until years after WWII, when German and British intelligence attributed the kill to these two ships, as opposed to attack by aircraft, the latter having been thought to be the case prior to the post-war analyses. She was present on D-Day. On 20 Jul 1944 she was hit by a German glider bomb off Brest and towed, badly damaged, to Plymouth by HMCS Meon. In Apr 1945, she completed eight and one-half months' repairs at Dunstaffnage, Scotland, working up at Tobermory and, on 12 May 1945, sailed from Greenock to escort convoy JW.67 to North Russia. She was detached on 14 May 1945, however, to help escort 14 surrendered U-boats from Trondheim to Loch Eriboll (click here to see photos in HMCS Monnow's Gallery). In June, after one round trip to Gibraltar as convoy escort, she left Londonderry for Esquimalt via Halifax. She arrived at Esquimalt in Jul 1945 and on 11 Feb 1946, was paid off into reserve there. She was sold in 1947 and her hull sunk in 1948 as part of a breakwater at Oyster Bay, B.C.
Commanding Officers

LCdr A.H. Easton, DSC, RCNR - 22 Oct 1943 - 03 Apr 1944

A/Cdr Arthur Frank Capel Layard, DSC, RN - 04 Apr 1944 - 26 Jul 1944

A/LCdr Francis William T. Lucas, RCNVR - 27 Jul 1944 - 19 Sep 1944

Lt J.M. Ruttan, RCNVR - 20 Sep 1944 - 03 Feb 1945

LCdr William Roland Stacey, RCNVR - 04 Feb 1945 - 28 Mar 1945

A/LCdr Francis James Jones, RCNVR - 29 Mar 1945 - 19 Jul 1945

LCdr Paul Dalrymple Taylor, RCNVR - 20 Jul 1945 - 27 Nov 1945

LCdr Charles Patrick Balfry, DSC, RCNR - dates unknown
In memory of those who made the ultimate sacrifice

Lest We Forget

- Book of Remembrance entry - Grave or burial information

AUCOIN, Amedee Patrick

Sto PO, V25073, RCNVR

AUCOIN, Paul Bert

Stwd, A1174, RCNR

DOW - 21 Jul 1944

LAING, John McGregor

L/Sto, V59271, RCNVR

killed - 20 Jul 1944

Sig, V51112, RCNVR

MPK - 21 Jul 1944
In memory of those who have crossed the bar

They shall not be forgotten

A-B

1924-2015

1924-2008

1926-2006

C-D

1919-2010

1919-2011

1921-2014

E-F

1902-2001

____-2014

Ferguson, Larry

____-____

1925-2006

G-H

____-2002

1926-2008

I-J

1920-2011

Johnson, Oscar B.

____-2000

1914-2001

K-L

1924-2014

1924-2003

M-N

1919-2016

Served in Matane 28 Oct 1944 - 22 May 1945 as a Signalman

1920-2013

O-P

1913-2002

S-T

____-1961

5th Commanding Officer

1925-2011

1926-2012

1910-1989

7th Commanding Officer
U-Boats Sunk
U-311 (Kptlt Joachim Zander) sunk on 22 Apr 1944 by HMCS Swansea K328 and HMCS Matane K444 in position 52-09 N, 19-07 W. Of her crew of 51 there were no survivors.
Former Crew Members

Christie, Bob

Ducheneau, Hubert Powell, Lt, RCNVR - Jan 1945

Forrest, Alan, L/Torpedoman

Giesler, Nig

Griffin, Vincent Oswald, Lt (E), RCNVR - 16 May 1945

Hodgson, Stu

Hunt, Frederick Raymond, Lt, RCNVR - 09 Feb 1944

Jandras, Henry Lawrence, Lt (E), RCNVR - 08 Feb 1945

Jessiman, Tam

Layard, Arthur Frank Capel, A/Cdr - 22 Jan 1944

Lucas, Francis William (Bill), Lt, RCNVR - 17 Apr 1944

Martin, Bob

MacDougal, "Mac"

Massey, Edwin, PO

McGurk, "Mac"

McNab, Edward Nelson, Lt (El), RCNVR - 15 Mar 1945

Lynch, William Peter, Lt, RCNVR - Jan 1945

Parish, William (Bill), Signalman

Pettis, Roland

Price, Rowland Herbert, Lt, RCNVR - 09 Feb 1944

Quist, Jack Ernest, Slt (El), RCNVR - Jan 1944

Rogers, Buck

Ross, Lewis Burns, Paym/Lt, RCNVR - 05 Mar 1945

Scully, Danny

Thompson, George Montgomery, Lt, RCNVR - 09 Feb 1945

Toban (Tobin), Gene (Jean), Yeoman

Tomlinson, Albert, Telegraphist

Travers, Junior

Wilde, Don

Wilson, "Flat Top"

Young, Ron

Yuill, Red
Links
Canadian Naval Officer Took Surrender of the German Submarine U-968
HMCS Matane - A Remembrance Day Tribute by Grant Bailey
Paying Respect to an old Friend - WWII Vets pay a visit to the remains of HMCS Matane
Personal photo gallery for Frederick Taylor
Protecting the Sea Lane by Martin Bondy