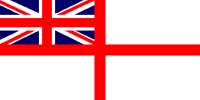 For Posterity's Sake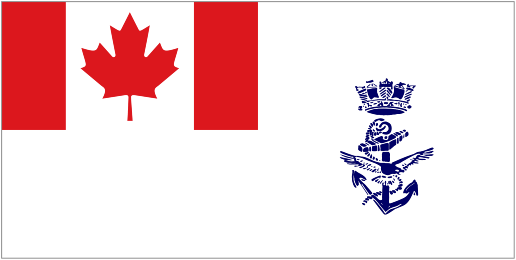 A Royal Canadian Navy Historical Project
HMS NABOB D77
CELER ET AUDAX

SWIFT AND DARING

HMS Nabob down by the stern after being torpedoed. Even though severely damaged, she managed to return to base 1070 miles away.
Laid down: 30 Oct 1942

Launched: 09 Mar 1943

Commissioned: 07 Sep 1943

Paid off: 10 Oct 1944

Fate: Broken up in 1978
Laid down as the merchant vessel Edisto, but converted to an aircraft carrier while building, she was commissioned HMS Nabob at Tacoma, Wash., on 07 Sep 1943. After working up, she entered Burrard Drydock at Vancouver on 01 Nov for modification to RN standards, completing 12 Jan 1944. About this time it was arranged that she and a near-sister Puncher, should be manned largely by Canadians while remaining RN ships. In Feb she embarked 852 Squadron (FAA) of Avengers at San Francisco and sailed for the U.K. via New York, where she took aboard a flight-deck cargo of Mustangs for the RAF. She joined the British Home Fleet at Scapa Flow on 01 Aug, and that month took part in two operations off the Norwegian coast, the second being and attack on the Tirpitz. On 22 Aug, Nabob was torpedoed by U 354 in the Barents Sea, resulting in a hole some 32 feet square abaft the engine room and below the waterline. Amazingly, she made Scapa under her own power on 27 Aug, but was not considered worth repairing and was paid off at Rosyth on 10 Oct. She left there in 1947 to be broken up in Holland, but was resold and converted for merchant service, emerging in 1952 as the German MV Nabob. Sold Panamanian in 1967 and renamed Glory, she was broken up in Taiwan in 1978.
Photos and Documents Ship's company photos HMS Nabob HMS Nabob - Fly Navy
History of HMS Nabob - Royal Navy Research Archive Photo Gallery of HMS Nabob - Royal Navy Research Archive
Commanding Officers
Capt Horatio Nelson Lay, OBE, RCN - 15 Oct 1943 - 30 Sep 1944
In memory of those who made the ultimate sacrifice

Lest We Forget

CHIZY, Harold

SBA, V-51974, RCNVR,

MPK - 22 Aug 1944

CONNOLLY, Charles W.

L/Cook (S), V-2601, RCNVR,

MPK - 22 Aug 1944

CURRIE, George Howard

Supply Assist, V-25263, RCNVR,

MPK - 22 Aug 1944

L/Steward, A-3211, RCNR,

MPK - 22 Aug 1944

LEWIS, Joseph

AB, V-41131, RCNVR,

MPK - 22 Aug 1944

MACDONALD, Duncan A.

AB, V-52782, RCNVR,

MPK - 22 Aug 1944

SA, V42713, RCNVR

Killed - 22 Aug 2944

MELROSE, David

AB, A-5395, RCNR,

MPK - 22 Aug 1944

STAINES, Frederick Charles

Supply Assist, V-23788, RCNVR,

MPK - 22 Aug 1944

TUCCI, Albert

AB, V-38583, RCNVR,

MPK - 22 Aug 1944

WHITEHOUSE, Eric,

Regulating PO, 2464, RCN,

MPK - 22 Aug 1944
In memory of those who have crossed the bar

They shall not be forgotten

A-B

1913-2001

Survived the torpedoing of Nabob

____-2001

C-D

1924-2011

1912-2002

E-F

1921-2014

1916-2005

Survived the torpedoing of Nabob

G-H

____-____

____-2003

____-2005

1895-____

Survived the torpedoing of Nabob

I-J

1900-1979

Served in Nabob as XO. Survived the torpedoing of Nabob

1924-1999

K-L

1923-2004

Kurney, William John

1920-2008

Lay, Horatio Nelson

1903-1988

Survived torpedoing of Nabob

1924-2008

Survived torpedoing of Nabob

M-N

1923-2009

____-2004

O-P

1921-2005

1925-2007

1921-2004

1915-1981

Q-R

1925-2004

Survived the torpedoing of Nabob

1924-2008

S-T

1920-2016

Survived the torpedoing of Nabob

____-2003

1925-2012

1920-1985

____-2007

Survived torpedoing of Nabob

1920-2006

U-V

1924-2008

W-X

____-2016

Survived the torpedoing of Nabob

____-2011
Former Crew Members

Bellamy, Morris - Survived torpedoing of Nabob

Block, Ronald - Survived torpedoing of Nabob

Clements, James, Writer - Survived torpedoing of Nabob


Collins, Al, Pay-Lt - Survived torpedoing of Nabob

Cookman, Al - Survived torpedoing of Nabob

Cooper, Cecil Ross, V60196 -

Delaney, Bernard

Duncan, Jack - Survived torpedoing of Nabob

Forbes, Gordon, AB - Survived torpedoing of Nabob

Gordon, Robert, G., Navigator's Yeoman - Survived torpedoing of Nabob

Hill, William, Reverend - Commissioning crew. Survived torpedoing of Nabob

Hobson, Nick - Survived torpedoing of Nabob

Hutchins, Victor Royen, Ck - 1944 Survived torpedoing of Nabob

Mainwaring, John - Survived torpedoing of Nabob

McDonald, Glen, NavO - survived torpedoing of Nabob

Meredith, George - survived torpedoing of Nabob

Powers, Robert W., Stoker

Schiller, Lawrence, LS - Survived torpedoing of Nabob

Zielke, H.L., Stoker - Survived torpedoing of Nabob
Photos and Documents
HMS Nabob

From the collection of John C. Jones

Courtesy of Bruce Jones

HMS Nabob

From the collection of Leonard Love

Courtesy of Nicky Love

HMS Nabob

From the collection of John C. Jones

Courtesy of Bruce Jones

(1) Aircraft landing of HMS Nabob (2) Aircraft taking off from HMS Nabob - RMS Queen Mary below aircraft (3) Aircraft taking off from HMS Nabob - Firth of Forth railway bridge and unknown escort carrier in background

Photos 1 & 2 from the collection of Leonard Love / Courtesy of Nicky Love

Photo 3 from the collection of John C. Jones / Courtesy of Bruce Jones

Deisel depart crew of HMCS Nabob

Front row, George Meredith and Leonard Love (2nd and 3rd from left respectively)

From the collection of Leonard Love

Courtesy of Nicky Love

HMS Nabob - Torpedoed!

(1) HMS Nabob, down by the stern after being hit by a torpedo from U-354. Note the crew all on the port side of the flight deck to help with the ship's trim (2) Frigate HMS Bickerton - struck by a GNAT torpedo from U-354 that was meant to finish off HMS Nabob. After her crew was removed, HMS Bickerton was sunk by a torpedo from HMS Vigilant. (3) HMS Kempthorne astern of HMS Nabob

(3) Life rafts and floats on the flight deck of HMS Nabob. HMS Trumpeter astern of HMS Nabob (4) HMCS Algonquin alongside HMS Nabob (5 & 6) Back at Scapa Flow, the Commanding Officer addresses the crew (7) Crew of HMS Nabob formed up on the flight deck - possible a service for those lost.

DND/RCN photos (with the exception of photos 1 and 2)

From the collection of Leonard Love

Courtesy of Nicky Love

Newspaper article on the torpedoing of HMS Nabob

From the collection of Leonard Love

Courtesy of Nicky Love

Newspaper article on the torpedoing of HMS Nabob

From the collection of John C. Jones

Courtesy of Bruce Jones

Leonard Love, George Meredith and others carrying one of their shipmates who was killed when HMS Nabob was torpedoed

From the collection of Leonard Love

Courtesy of Nicky Love

Buried with full Naval Honours

Service for the twenty one members of the crew of the escort carrier Nabob who lost their lives when their ship was torpedoed during an attack on the Tirpitz

(1) The firing party from HMS Cocharane arriving at Douglas Bank Cemetery at Rosyth

Photos 1, 3 & 5 Source: IWM Admiralty Official Collection

Photos 2 & 3 from the collection of John C. Jones / Courtesy of Bruce Jones

Crew Members of Nabob Among Men Decorated

Hamilton Spectator 15 Jan 1945

Courtesy of Mary Kienapple

HMS Nabob jacket patch

From the collection of Harold Stevens

Courtesy of Rob Stevens

Merchant Vessel Nabob - former HMS Nabob

From the collection of Leonard Love

Courtesy of Nicky Love

Newspaper article on the visit of the merchant vessel Nabob (formerly HMS Nabob) to Vancouver, BC, summer 1962

From the collection of Leonard Love

Courtesy of Nicky Love

Poem - Ode to Nabob

From the collection of John C. Jones

Courtesy of Bruce Jones

22 Aug 1944 - 50 Years later

(1) Newspaper article on the 50th Anniversary of the torpedoing of HMS Nabob - 1994 (2) Souvenir of the crew reunion on the 50th Anniversary of the torpedoing of HMS Nabob (3) Reunion group photo (4 & 5) Letter from BC Premier Bill Van Der Zalm to Leonard Love and the attendees of the Nabob reunion

22 Aug 1944 - 60 Years later

Newspaper articles on the 60th Anniversary of the torpedoing of HMS Nabob - 2004

From the collection of Leonard Love

Courtesy of Nicky Love

Flyer from the RCNA on a book about HMS Nabob

From the collection of Leonard Love

Courtesy of Nicky Love