They made the Ultimate Sacrifice
HANCOCK, Ralph Gardiner, L/Sig, V13220, RCNVR, killed - 25 Oct 1944, HMCS SKEENA - Son of William G. and Bessie Elizabeth Hancock of Vancouver, BC.
Leading Signalman R. G. Hancock died a hero's death when the destroyer HMCS SKEENA was destroyed on the rocks. L/Sig Hancock drowned attempting to take a lifeline ashore at Videy Island, Iceland.
Ralph Hancock was the son of Mr. & Mrs. William Hancock, and has been with the navy for seven years, and before that he worked for Union Steamship. He was born and brought up in Calgary where here was prominent in school sports. He captained Victoria School baseball team when it won the Calgary Herald's physical training medal in 1936. Later, in the navy he was district army and navy lightweight boxing champion in 1937. At age 25, he was acting yeoman of signals on his destroyer when he met death. He comes from a navy-minded family. His brother William , long at sea, is a store keeper on S.S. Princess Elizabeth and his sister married his best friend, Chief Petty Officer Harold D. Richards, D. S. M. and Bar. Leading Signalman Hancock is survived by his fiancée, Miss Adele McMillan of Victoria, B.C.
Ships served in:
CALGARY DIVISION RCNVR - Enlisted 18 Jun 1937 as a Bugler. Re-mustered to Ordinary Signalman 13 Sep 1937
HMCS ARMENTIERES - Served in ARMENTIERES 06 Sep 1939 - 19 Feb 1940 as an A/Sig, RCNVR
HMCS MALASPINA - Served in MALASPINA 20 Feb 1940 - 05 May 1940 as an A/Sig, RCNVR
HMCS NORSAL - Served in NORSAL 06 Apr 1940 - 27 AUg 1940 as an A/Sig, RCNVR
HMCS NITINAT - Served in NITINAT 28 Aug 1940 - 31 Dec 1940 as an A/Sig and A/L/Sig, RCNVR. Rated A/L/Sig 01 Dec 1940
HMCS SANS PEUR - Served in SANS PEUR 01 Jan 1941 - 04 Jan 1942 as an A/L/Sig, RCNVR
HMCS GIVENCHY (for York Island). Served at York Island 02 Mar 1942 - 04 Apr 1942 as an A/L/Sig, RCNVR
HMCS GIVENCHY (for Church Hill). Served at Church Hill 29 Apr 1942 - 04 Sep 1942 as an A/L/Sig, RCNVR
HMCS GIVENCHY (for NOIC Staff Esquimalt) - Served as Staff of NOIC Esquimalt 23 Sep 1942 - 21 Oct 1942 as a L/Sig, RCNVR
HMCS CHATHAM (for Kenahan Island) - Served at Kenahan Island 24 Oct 1942 - 31 Oct 1942 as a L/Sig, RCNVR
BARRETT PORT WAR SIGNAL STATION (Prince Rupert, BC) - Served at BARRETT P.W.S.S. 01 Nov 1942 - 28 Dec 1942 as a L/Sig, RCNVR
HMCS CHATHAM - Served at CHATHAM 29 Dec 1942 - 12 May 1943 as a L/Sig, RCNVR
HMCS SKEENA - Drafted to SKEENA 31 Mar 1944 as a L.Sig, RCNVR
(RH01) Ord. Sig Ralph Hancock (RH02) L/Sig Robert Hancock's medals - 1939-45 Star, Atlantic Star, (Memorial Cross that was issued to L/Sig Hancock's mother), Candian Volunteer Service Medal with bar, War Medal 1939-45 (RH03-RH05) Certificate of Service - incomplete
(RH06-RH07) Record of Service (RH08) Letter to L/Sig Hancock's mother (RH09) L/Sig Hancock's headstone at the Fossvogur Cemetery, Reykjavick, Iceland
(RH10) Memorial - Photo of O/Sig Hancock with HMCS SKEENA'S ship's badge (RH11) Embroidered memorial for L/Sig Hancock. (RH12) L/Sig Hancock's sports award medals (RH13) Ralph Hancock - date and location unknown.
Submitted by Ed Paquette: Ralph Hancock and his brother William were wingers of Chief Stoker Harold Richards in the pre war navy. Richards married Hancock's sister. William m Hancock was released shortly after the war started, I believe due to family requirements. Chief Richards later served in HAIDA and won the DSM and clasp. I am told Chief Richards made the embroidered memorial after AB Hancock was lost in SKEENA.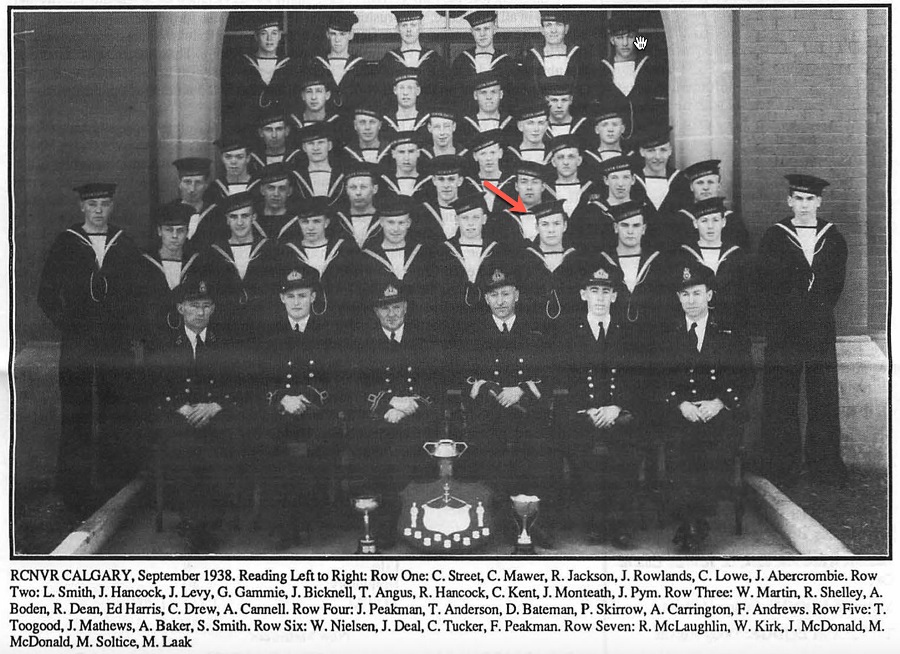 (RH14) RCNVR DIVISION CALGARY - Sep 1939
This photo looks like it was for a sports award for the unit. Ralph Hancock is indicated by the arrow
---
Second World War Casualty Index