In memory of those who have Crossed the Bar
William Ernest (Bill) Bruce

Engineer, RCN

Died: 21 Dec 2007
BRUCE, William Ernest (Bill) - 73, Dartmouth. It is with sadness we, the children and grandchildren, announce the passing of our father and grandfather, Friday, December 21, 2007. Born in Hamilton, Ont., he was the son of the late William and Sarah (Knowles) Bruce. Bill served in the RCN as an engineering technician. During his period of service, he served aboard HMC Ships HAIDA, IROQUOIS, MICMAC, PENETANG, OUTREMONT, BONAVENTURE, CHIGNECTO, PORTE ST LOUIS and PROTECTEUR. He also served in HMC S/M OKANAGAN and British Submarines FINWHALE, AENEAS and WALRUS. Upon his retirement from the forces he was employed with DND as the Aux. Vessels Refit Officer until 1995. He took great pride in the fact that he was deeply involved from the outset with the restoration of HMCS SACKVILLE, the Canadian Naval Memorial, and was later able to assist them in their endeavours. He also enjoyed helping his family, neighbours and many friends and acquaintances in their projects. In particular, he enjoyed cooking for family, neighbours, friends and shut-in seniors. Nobody went hungry when he was around. He was an up person with a good sense of humour and quick dry wit and he particularly enjoyed being the brunt of his own jokes. He was the King of Cole Harbour Lions Club. He was a past member of the Atlantic C&PO's Association, and Submarine Old Comrades Association. Surviving are his sons, William, Dartmouth; Stephen and Glenn, Brampton, Ont.; Scott (Margaret), Kingston; daughter, Colette (Michael) Nied, Moncton, N.B.; grandchildren, Adam, Jessica, Alyssa and Marlies, and sister, Marilyn Bartlett, Brantford, Ont. He was predeceased by his wife, Shirley; his eldest son, Michael, and sister, Blossom. In accordance with his wishes, his remains have been cremated and there is no visitation. A celebration of life service will take place at 11 a.m. Thursday, December 27, Pastor Dave Maffet officiating, with a reception to follow, both in Atlantic Funeral Home, 771 Main St., Dartmouth. Family flowers only. In lieu of flowers, donations may be made to The Children's Wish Foundation of Canada, IWK Health Centre Foundation, or Canadian Cancer Society.
Ships served in:
HMS/m FINWHALE
HMS/m AENEAS
HMS/m WALRUS
---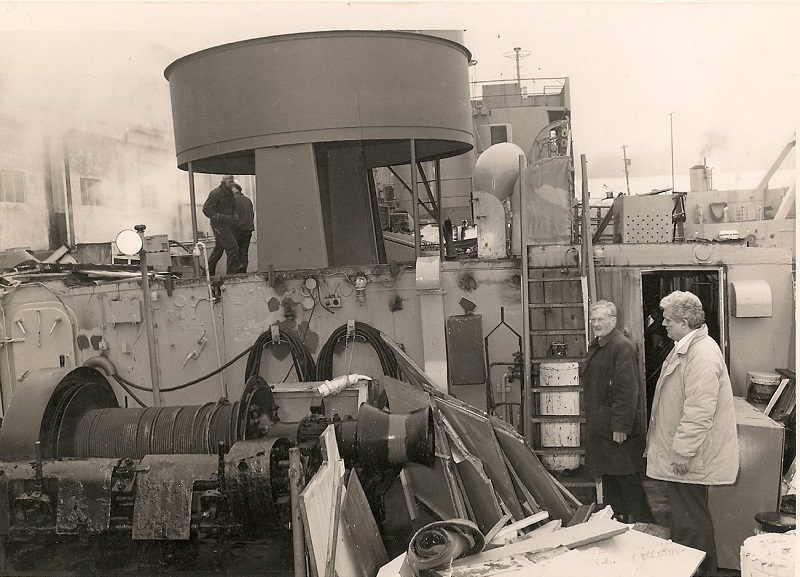 Bill Bruce, on the right in light coloured coat, aboard HMCS SACKVILLE. Bill was involved with restoring the ship to it's original Second World War configuration to ready it as a floating museum in Halifax. The after gun tub (aka bandstand) had just been installed.
---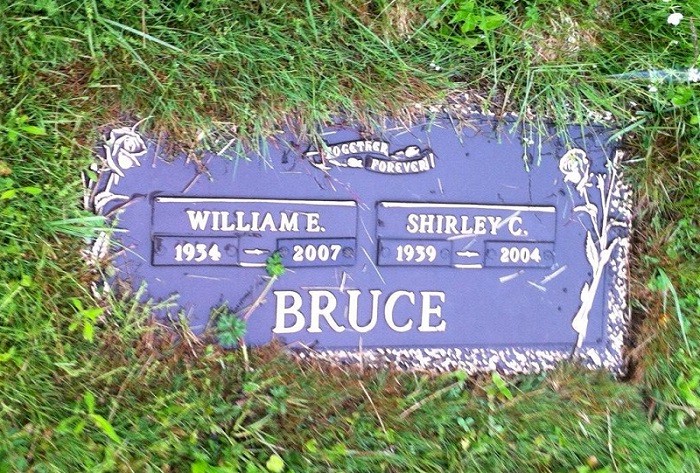 Grave marker for William Bruce at the Pleasant Hill Cemetery, Lower Sackville, N.S.
---