They made the Ultimate Sacrifice
Garnet Russell Eastman

Telegraphist, V11766, RCNVR

Born: 13 Jan 1922, Nipawin, Saskatchewan

Died: 13 Jan 1945, New York, New York, USA

Book of Remembrance
EASTMAN, Garnet Russell, Tel, V11766, RCNVR, died - 13 Jan 1945, HMCS GALT - Son of Russell Edmond and Edna (née Scott) Eastman. Brother of Wilbur Eldon Eastman.
HMCS GALT was docked at Staten Island, New York, in January 1945. Eastman was nowhere to be found when she set sail on her return voyage to Halifax. It is assumed that he slipped on an icy dock and tumbled into the water, but his fully clothed and badly decomposed body did not wash up in New York Harbour until April 25, 1945.
Ships served in:
SASKATOON DIVISION RCNVR - Enlisted 01 Aug 1941. Commenced Active Service 11 Aug 1941.
TORONTO DIVISION RCNVR - Drafted to TORONTO DIVISION RCNVR 02 Oct 1941 as an OS W/T, RCNVR
HMCS ST HYACINTHE - Drafted to ST HYACINTHE 05 Mar 1942 as an OS W/T, RCNVR
* Rated O/Tel 02 May 1942
HMCS STADACONA - Drafted to STADACONA 07 Aug 1942 as an O/Tel, RCNVR
* Rated Tel 11 Aug 1942
HMCS GRANBY - Drafted to Granby 12 Aug 1942 as a Tel, RCNVR
HMCS STADACONA - Drafted to STADACONA 06 Jan 1943 as a Tel, RCNVR
HMCS GALT - Drafted to GALT 03 Mar 1943 as a Tel, RCNVR
Documents from the Service File of Garnet Eastman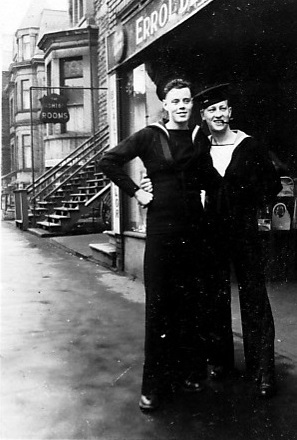 Alan Luckraft (left) and Garnet Eastman ashore in unknown location
From the collection of Alan Luckraft, Tel, RCNVR
---
Second World War Casualty Index