They made the Ultimate Sacrifice
Ernest Wilson

Ordinary Seaman, VR-1920, RNCVR

Lieutenant, O-78775, RCNR

Born: 21 Sep 1901, Liverpool, England

Died: 06 Feb 1943 at sea

Book of Remembrance
WILSON, Ernest. Lt, RCNR, MPK - 06 Feb 1943, HMCS LOUISBURG - Son of John and Winnifred Wilson, of Vancouver, British Columbia; husband of Lillian Wilson, of Ottawa, Ontario.
Lt Wilson died when his ship, HMCS LOUISBURG, which was on convoy duty in the Mediterranean, was sunk by bombs and torpedoes from Italian aircraft.
He'd previously served in the RNCVR during the First World War as an OS. He joined 19 Jan 1917 and was invalided out after approximately six months after having contracted Scarlet Fever. He re-enlisted a month later on 16 Jul 1917 and was demobilized on 23 Jun 1919. Before enlisting in the RCNR for the Second World War he was an employee of the Ottawa post office.
Ships served in:
* Enlisted 19 Jan 1917 as an OS, RNCVR
* Medically discharged Jun 1917
* Re-enlisted 16 Jul 1917 as an OS, RNCVR
HMCS GIVENCHY - Served in GIVENCHY during the First World War as an OS, RNCVR
* Demobilized 23 Jun 1919
* Enlisted 24 Jun 1940 as a Mate, RCNR
HMCS STADACONA - Appointed to STADACONA 26 Jun 1940 for travel time
HMCS STADACONA - Appointed to STADACONA 28 Jun 1940 for training and disposal as an A/Mate, RCNR
HMCS PROTECTOR - Appointed to PROTECTOR 29 Aug 1940 for travel time
HMCS PROTECTOR - Appointed to PROTECTOR 30 Aug 1940 for duty with NOIC Sydney as an A/Mate, RCNR
HMCS STADACONA - Appointed to STADACONA 24 Jan 1941 for disposal as a Mate, RCNR
HMCS VENTURE - Appointed to VENTURE 14 Feb 1941 as a Mate, RCNR, Add'l
HMCS HOCHELAGA II - Appointed to HOCHELAGA 17 May 1941 as a Mate, RCNR, Add'l
HMCS GALT - Appointed to GALT 19 May 1941 as a Mate, RCNR
HMCS STADACONA - Appointed to STADACONA 28 Oct 1941 for disposal as a Mate, RCNR
HMCS HOCHELAGA II - Appointed to HOCHELAGA II 11 Dec 1941 as a Mate, RCNR
HMCS CALGARY - Appointed to CALGARY 16 Dec 1941 as a Mate, RCNR
* Promoted to Lt 26 Feb 1942
HMCS LOUISBURG - Appointed to LOUISBURG 29 Aug 1942 as a Lt, RCNR
Documents from the Service File of Ernest Wilson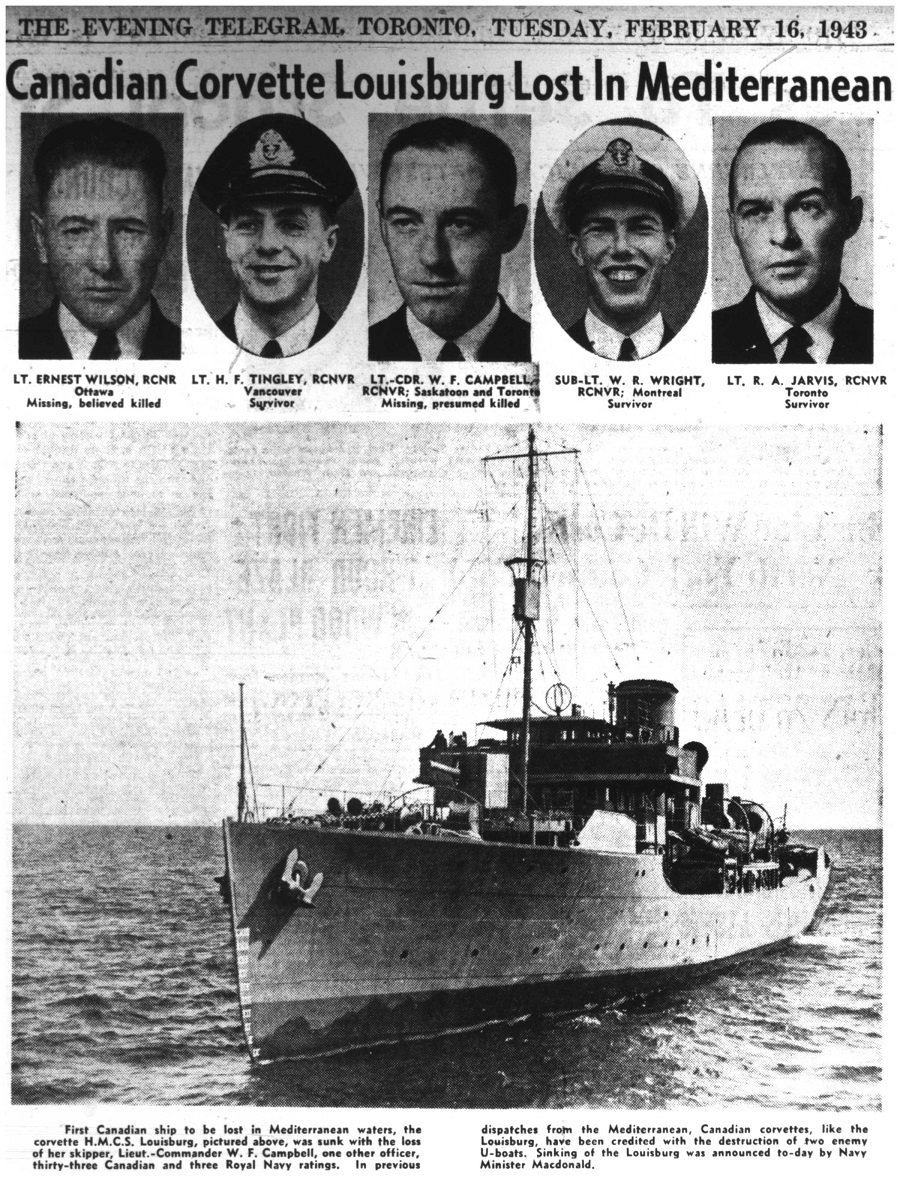 ---
Second World War Casualty Index