In memory of those who have Crossed the Bar
Jorgen Krogsgaard (John) Knudsen, C.D.

RCN

Chief Warrant Officer, C.A.F. (Air)

Born: 31 Aug 1942, Svendborg, Denmark

Died: 01 Jan 2022
KNUDSEN, Jorgen Krogsgaard (John) - Age 79 of Eastern Passage, passed away peacefully on January 1, 2022. Jorgen was the son of the late Lykke and Johanne (Larsen) Knudsen. He was born on August 31, 1942 in Svendborg, Denmark along with twin sister, Birthe. His parents found post-war Denmark difficult, so they brought the twins and their younger daughter, Anne-Lise, to Canada in 1957 through Pier 21 in Halifax, moving to live outside Toronto.
John missed the sea, so he left school to join the Royal Canadian Navy in 1960 and then became a Canadian citizen. He proudly served his country over a 34-year military career. After training in Cornwallis, John was posted to the HMCS HURON (the "old Huron"). He later completed his Radio Air course at HMCS STADACONA and HMCS SHEARWATER. He was then assigned to VS 880 Squadron, a tracker squadron in SHEARWATER and on HMCS BONAVENTURE. He also served postings aboard HMC Ships PROVIDER, FRASER, ANNAPOLIS, HURON (the "new Huron"), PROTECTEUR, NIPIGON and SKEENA. In between ship postings, he served various assignments at SHEARWATER and one at Maritime Air Group HQ in Halifax. Following his promotion to CWO in 1983, he was posted to CFB Cold Lake to work on the CF-18s until 1985 when he returned to Shearwater as Chief of several detachments before becoming BAMEO Chief. A man of few words, he described his job to civilians as "I fix aircraft". He was most proud of his tenure as Base Chief at CFB Shearwater from 1989 to 1992. His most satisfying memories included his responsibilities at SHEARWATER for Operation Friction during the Gulf War and his interest in the process of military discipline and court martials. He took retirement leave until 1994. He then spent several years intermittently at IMP Group before retiring for good in 2002.
In 1964, he met Thelma Morash on a blind date set up by mutual friends. They were married seven months later. Except for the first several months after their wedding and two years in Cold Lake, they lived their entire married lives in Eastern Passage.
John was very active in community and military affairs where he served in various leadership roles. He was a Scout leader becoming a member of Nova Scotia and Halifax District Council and District Staff. He and Thelma revived Scouts, Cubs and Beavers in Eastern Passage in the late 1970s. He was active in the Eastern Passage Ratepayers Association and served on the Board of Directors of the Eastern Passage Credit Union. During his retirement, he was a member of the Royal Canadian Legion Somme Branch (Dartmouth, NS), and for many years he was part of the organizing committee and colour guard for the Battle of Britain and Battle of the Atlantic ceremonies. He was involved with the Air Force Association and served as President of the Shearwater Aviation Museum Foundation. He was an avid gardener, taking great pride in the appearance of his property on Shore Road, for which he and Thelma won many awards.
He was a devoted grandfather to Haley, proudly supporting her many personal, academic and musical endeavours.
He received excellent care when he and Thelma left their house and both moved into Arborstone Enhanced Care and then to Ocean View Continuing Care Centre. The caring staff and activities in both places helped him while struggling to deal with Thelma's advancing dementia, his own deteriorating health and Erick's death on March 4, 2020.
A polio survivor as a child, John led the charge at Ocean View to encourage others to be vaccinated against COVID-19. He was interviewed for their newsletter about his experience and viewpoints. He was first in line when it was his turn for each shot.
Jorgen is survived by his wife of almost 57 years, Thelma (Morash), Eastern Passage; son, Gregg (Tanya), Cole Harbour; granddaughters, Haley, Cole Harbour and Hanna, Victoria, BC; twin sister, Birthe Pedersen (Orla), Vejle, Denmark; younger sister, Anne-Lise Pedersen, Toronto, Ontario; brother, Allan, Innisfil, Ontario; sister-in-law, Carol A. Morash, Eastern Passage; nieces and nephews and their families. Also surviving are brother-in-law Leith Graham and sisters-in-law Marie Morash and Carol H. Morash. In addition to his parents, John was predeceased by son, Erick; sister-in-law, Phyllis Graham; brothers-in-law, Edison Morash and William Morash.
Thank you to all who were involved in John's care including the entire Islandview and Skyview nursing staffs, especially nurse Shannon Morris-Hatton, whose compassionate and frank approach helped reinforce John's trust and respect for the care teams. Also, thanks to music therapist Dana Lawless, whose singing and music activities were invaluable to his comfort. Thanks to the staff and care team on the fourth floor at Arborstone; Thelma's nursing staff in both places, who also helped John as a frequent visitor to their units, the home care workers and many family and friends whose encouragement has been appreciated.
Cremation has taken place. Following his wishes, John's ashes will be scattered at sea according to military protocol. Plans are being made for a proper funeral and a celebration of life to be held this summer, as COVID-19 restrictions dictate. Memorial donations may be made to any charity that honours or supports the Canadian military (including members or veterans), or to the Alzheimers' Society of Nova Scotia. (A.L. Mattatall Funeral Home)
Ships served in: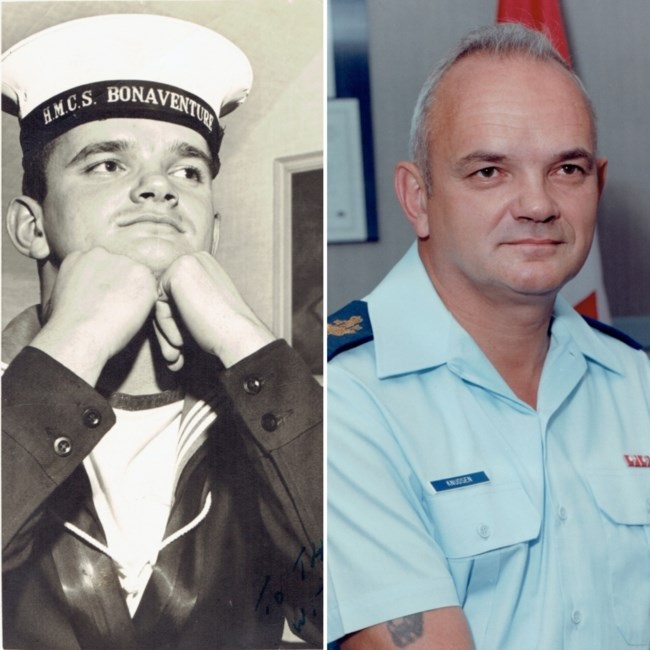 ---