Frank served in the RCNVR -09 Sep 1941 - 27 Aug 1945. After the war Frank was a Machinist at the Collingwood Shipyards, in Ontario.
Ships served in:
HMCS YORK - Enlisted 09 Sep 1941
HMCS COMOX - 15 Oct 1941 - 24 Feb 1942
C.P.S.S. PRINCESS VICTORIA - 08 May 1942 - 30 Jun 1942
HMCS VENCEDOR - 02 Jul 1942 - 25 Sep 1942
HMCS SAULT STE MARIE - Served in Sault Ste Marie 25 Jun 1943 - 10 Aug 1943 - during her trip from Port Arthur, ON, to Halifax.
RMS MAURITANIA - for passage to HMCS Niobe
HMCS OUTREMOUNT - Drafted to Outremont 09 Apr 1944
HMCS YORK - Demobilized 27 Aug 1945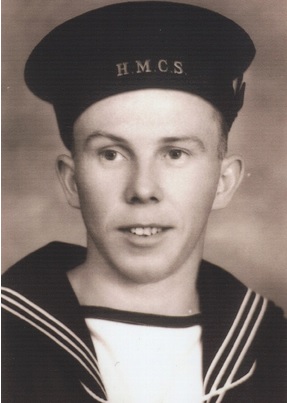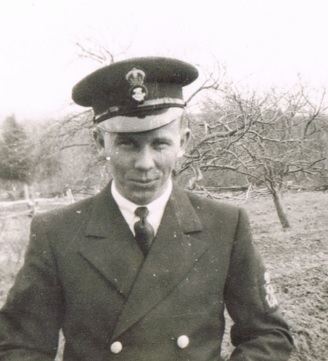 right: Able Seaman Frank Mill - (left) ERA Frank Mills
Courtesy of Mike Harrison
---
9th of Sep. 1941 - 11th Oct. 1941 - Enlistment and Basic Training at CNE Toronto (HMCS York)
12th Oct. 1941 - 15th Oct. 1941 - Drafted to HMCS Naden (Naval Barracks Esquimalt), Victoria B.C.
15th Oct. 1941 - 24th Feb. 1942 - At HMCS Comox for training about ships' boilers and engines in preparation for learning to operate them.
25th Feb 1942 - 07th May 1942 - In machine shops at Givenchy yards. Navy has old ships that need repair, but no new ships built yet to operate.
08th May 1942 - 30th June 1942 - Aboard the C.P.S.S. Princess Victoria as an apprentice learning the practical aspects of operating a Vertical Triple Expansion Steam Engine.
02nd July 1942 - 25th Sept 1942 - Aboard HMCS VENCEDOR Z21, an armed west coast patrol ship. Frank is running the ship's VTE Engine, under the watch of a ship's engineer. During this training on 07th Sept 1942, Frank earns his E.R.A. 4 which makes him fully qualified as a Petty Officer to operate the ship's engines.
26th Sept. 1942 - 15th Jan. 1943 - At HMCS Naden with further training on generators, auxiliary gasoline engines and pumps. Also means of diverting engines and pumps for secondary functions such as emergency flood control.
16th Jan. 1943 - 02 Apr. 1943 - Back in Givenchy machine shops on ship maintenance
03rd Apr. 1943 - 20th Apr. 1943 - Drafted to HMCS Stadacona, Halifax N.S., and in Navy Machine shops
21st Apr. 1943 - 24th June 1943 - Drafted to HMCS Hochelaga, a manning depot at Montreal.
25th June 1943 - 10th Aug. 1943 - Frank sent to Port Arthur for the minesweeper HMCS Sault Ste. Marie.
11th Aug. 1943 - 01st Nov. 1943 - Frank in machine shops at HMCS Stadacona on ship maintenance.
02 Nov. 1943 - 10th Nov. 1943 - At Halifax Frank boards the troopshop "RMS Mauritania" bound for Greenock Scotland and Frank's second stage of military service.
10th Nov.1943 - 10th Dec. 1943 - Frank is drafted to HMCS Niobe, a Canadian hospital, manning and accommodation base at Greenock, Scotland.
11th Dec. 1943 - 08th Apr. 1944 - Frank is drafted to HMS Londonderry in the machine shops performing maintenance on ships of all types coming and going on Convoy duty.
Drafted to HMCS OUTREMONT 09 Apr 1944
09th Apr. 1944 - 06 May 1944 - At sea aboard Outremont, Convoy Duty to and from Murmansk Russia.
07th May 1944 - 26th May 1944 - Re-provisioning and running anti U-Boat patrols at entrance to Lough Foyle and area waters leading to Clyde river and North Channel.
27th May 1944 - 03rd June 1944 - Steamed to Moelfre Bay to rendezvous for D-Day
04th June 1944 - 22nd June 1944 - On D-Day anti U-Boat patrols to block the western entrance to the English Channel
23rd June 1944 - 11th Sept 1944 - Back out to sea in same area as for D-Day, to block the English Channel to U-Boats. Then ordered to protect shipping lanes between Portsmouth and D-Day beaches. Also, to run harbour protection in front of Portsmouth and Plymouth harbours. In and out of Plymouth and Portsmouth several times for refueling, rearming, and restocking.
12th Sept. 1944 - 22nd Oct. 1944 - Londonderry for re-provisioning , then to Scapa Flow, then across to the Faeroe Islands on anti U-Boat patrols. Sunk U1006. Brought 24 U-Boat survivors back to Greenock Scotland. Frank got his souvenir.
23rd Oct' 1944 - 01 Nov. 1944 - First week spent repairing and repainting the Outremont at Londonderry after the battle with U-1006. Then there was the re-provisioning for the next tour of duty.
02nd Nov 1944 - 28th Nov. 1944 - Anti U-Boat patrols around Plymouth area in the English Channel and around Bristol Channel and Lands End area.
30th Nov. 1944 - 23rd Dec. 1944 - Escorting a convoy from Lock Ewe Scotland to Halifax Canada. This was also the Outremont's trip back home. War in Europe was now over for the Outremont. But there was a surprise waiting for the crew. The Outremont stayed in Halifax harbour until Dec. 30, then was sent to Sydney harbour on 31st Dec. 1944.
Jan. 1945 spent cleaning and decommissioning weapons systems.
Feb. 1945 same as Jan. and awaiting orders.
Mar. & Apr. 1945 , in Dry Dock a complete cleaning and painting ships sides above and below water line. Now early May, new bigger and better guns are being fitted to Outremont. The crew has been living on this ship in harbour since Jan. amidst the renovating and they are getting very restless. Rumours are that the Outremont is being outfitted to join the American fleet in the war against Japan. All the crew has had enough of war and by some mysterious means the Outremont is driven into a pier and has the bow caved in. Outremont is repaired and sent out for sea trials and in June is loaded with all ship's stores. End of June 1945 Frank applies for discharge.
On 17th July 1945 Frank is back at HMCS York and he is discharged by the 27th Aug. 1945.