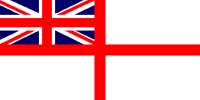 For Posterity's Sake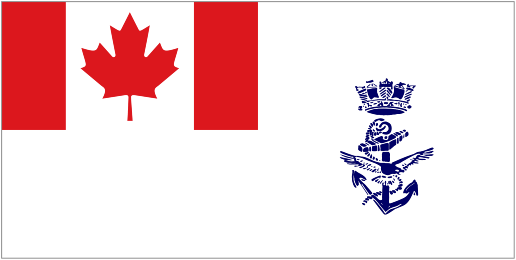 A Royal Canadian Navy Historical Project
In memory of those who have Crossed the Bar
Roy Milton Mosher, M.I.D.

Lieutenant-Commander, O-53740, RCNR

Born: 18 Feb 1901, Bridgewater, Nova Scotia

Died: 07 Apr 1957 at sea
MOSHER, Roy M. - The recent loss of the Kent Lines tug, Glenfield, has brought to a close the career of an outstanding Nova Scotian skipper. He was Captain Roy M. Mosher, well known in the Port of Halifax, and marine superintendent for the Irving owned line since 1947. Captain Mosher was not the Glenfield's regular skipper. He had gone to Liverpool to take the ship back to Saint John after a refitting, in the temporary absence of her captain. Captain Mosher was born at Bridgewater in 1901, a son of the late, Mr. and Mrs. Millage Mosher. He went to sea at age 20, with his uncle, Captain E. E. Manning, who at 95 is one of Nova Scotia's oldest sea captains. He took his master's papers in 1930 and served with Canadian National Steamships and the United Fruit Company, out of New York. In 1940 he joined the RCNR as Lieutenant in command of the corvette Barrie, one of the first Canadian corvettes to serve on convoy duty.. He was promoted to the rank of Lieutenant-Commander and given command of the frigate HMCS Saint John. He was cited for bravery in the King's Birthday Honors in June, 1943. He had kept a record of his travels at sea and up to March 1945, had sailed 1,077,304 miles on the seven seas. He was a member of Acacia Lodge AF and AM, Bridgewater. Captain Mosher's wife is the former Phyllis Gormley of Alexandria, Ontario. There are four sons, Peter Barrie, Thomas Roy, Kenneth and Geoffrey; two brothers, Cecil, Yarmouth and John, Halifax; three sisters, Mrs. G. P. Backman, Mrs. R. M. MacLennan, both of Halifax and Mrs. Percy Staniforth, Arundel, Quebec. Mr. Hastings Curll, Bridgewater, is an uncle of the late Captain Mosher.
Mentioned in Despatches Citation: MOSHER, Roy Milton, Lieutenant, RCNR / HMCS Barrie - Awarded as per Canada Gazette of 5 June 1943 and London Gazette of 2 June 1943. "This Officer, while serving in command of one of His Majesty's Canadian Corvettes in the North Atlantic during the past two years, has displayed outstanding zeal, efficiency and devotion to duty."
Ships served in:
HMCS STADACONA - Appointed to Stadacona as Lt, RCNR 12 Dec 1940 - for Disposal or Training (Navy List Feb 1941)
HMCS BARRIE - 1st Commanding Officer (12 May 1941-09 Jan 1942). Appointed CO 12 May 1941 as Lt, RCNR (Navy List Aug 1941) // 3rd Commanding Officer (29 Mar 1942 - 08 Oct 1943). Appointed CO 29 Mar 1942 as Lt, RCNR (Navy List Apr 1942) // Appointed A/LCdr 01 Jul 1943 while CO (Navy List Aug 1943)
HMCS STADACONA - Appointed to Stadacona, as Staff for Capt. D. Halifax as LCdr, RCNR 11 Oct 1943 (Navy List Oct 1943)
HMCS SAINT JOHN - 1st Commanding Officer (13 Dec 1943 - 20 Feb 1944) (Macpherson-Burgess - The ships of Canada's Naval Forces 1910-1981)
HMCS STADACONA, RCN BARRACKS HALIFAX - Appointed to Stadacona 21 Feb 1944 as LCdr, RCNR, for Disposal or Training (Navy List Feb 1944)
HMCS DUNDURN - 2nd Commanding Officer (03 Apr 1944 - 10 Jun 1945). Appointed CO 03 Apr 1944 as LCdr, RCNR (Navy List May 1944)
** Demobilized 07 Jul 1945 (The Nauticapedia)
Tug GLENFIELD - Assigned as Skipper of the tug Glenfield in Apr 1957 to bring her back to Saint John, NB from refit in Liverpool. During the transit she sank with all hands.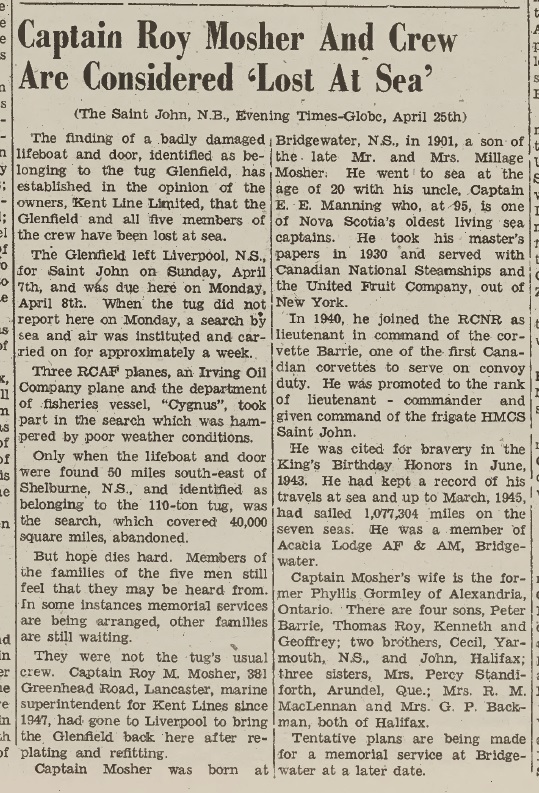 Captain Roy Mosher and crew are considered 'lost at seas'
Article from The Glengarry News, Alexandria, Ontario, Thursday 02 May 1957
---