---
HMCS BADDECK K147
Flower Class Corvette
---
Laid down: 14 Aug 1940

Launched: 20 Nov 1940

Commissioned: 18 May 1941

Paid off: 04 Jul 1945

Fate: Wrecked 11 Mar 1966
Commissioned at Quebec City on 18 May 1941, BADDECK arrived at Halifax on 29 May 1941. She again left Quebec City late in Jun 1941 for Halifax, escorting SS Lady Rodney, but had to return to her builder's at Lauzon owing to an engine breakdown. In Sep 1941 the two set out from Halifax for Jamaica, but again BADDECK's engine failed, and she reached her destination only with difficulty. When further repairs had been completed, she was assigned to Newfoundland Command, leaving Sydney on 05 Oct 1941 for Iceland as ocean escort to convoy SC.48, which lost nine ships to U-boats. Engine repairs kept her at Hvalfjord, Iceland, until mid-Dec 1941 but failed to cure the problem and she was in dock at Halifax for the first six months of 1942. She worked up at Pictou in Jul 1942, then joined WLEF until allocated to duties in connection with the invasion of North Africa, arriving at Londonderry on 01 Nov 1942. For the next four months she escorted U.K.-Mediterranean convoys, returning to Halifax on 04 Apr 1943. Later that month BADDECK was assigned to ERG C-4 for two round trips to Londonderry, then in mid-Jul 1943 went to EG W-2, WLEF. In Aug 1943 she underwent a major refit at Liverpool, N.S., including fo'c's'le extension and, after working up in St. Margaret's Bay in Jan 1944, sailed in Mar 1944 to join EG 9, Londonderry. In Apr 1944 she transferred to Western Approaches Command for invasion escort duties, based at Portsmouth, and on 13 Jun 1944 beat off an attack by motor torpedo boats while so employed. In Sep 1944 she was transferred to Nore Command, based at Sheerness, escorting local convoys until her departure for home on 24 May 1945. She was paid off at Sorel on 04 Jul 1945 and sold for mercantile purposes in 1946, and renamed Efthalia. After a number of name-changes, she was lost ashore near Jeddah as the Greek-flag Evi on 11 Mar 1966.
---
Photos and Documents Ship's company photos
---
Commanding Officers
Lt Alan Herbert Easton, RCNR - 18 May 1941 - 05 Apr 1942

Lt William Ernest Nicholson, RCNR - 06 Apr 1942 - 20 Apr 1942

Lt Lysson Gordon Cumming, RCNVR - 21 Apr 1942 - 05 Oct 1942

Lt John Brock, RCNVR - 06 Oct 1942 - 17 Oct 1943

Lt G.C. Brown, RCNVR - 18 Oct 1943 - 19 Apr 1944

A/LCdr Frank Goddard Hutchings, RCNR - 20 Apr 1944 - 23 Jul 1944

Lt Claude Lane Campbell, RCNVR - 24 Jul 1944 - 14 Oct 1944

Lt Douglas Horton Tozer, RCNVR - 15 Oct 1944 - 04 Jul 1945
---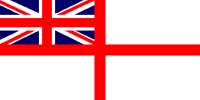 In memory of those who have crossed the bar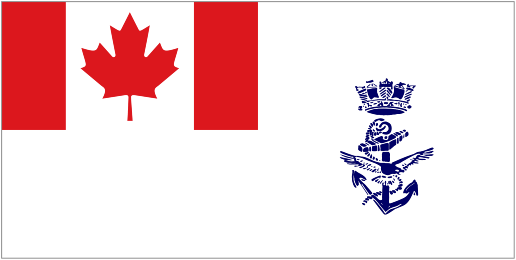 They shall not be forgotten
---
Former Crew Members
Beardmore, Alfred George, SLt, RCNVR - 06 Apr 1942

Bichan, William James, A/Lt, RCNVR - 27 Jun 1941

Brissenden, Barry Samuel, Lt, RCNVR - 01 Mar 1944

Burns, Ronald Mavius, SLt, RCNVR - 18 May 1941

Carruthers, Colin Mackenzie, SLt, RCNVR - 24 Jul 1941

Dodds, Donald Jackson, SLt, RCNVR - 25 May 1942

Gertell, LS, LR3, Commissioning crew

Hickock, AB, Commissioning crew

Kent, William Gerald, Ch/Skpr, RCNR - 18 May 1941

Kirkendale, John, SLt, RCNR - 08 Jun 1942

Large, Ellsworth Field, Lt, RCNVR - 27 May 1942

Lumsden, Peter Digby, SLt, RCNVR - 23 Feb 1944

Mason, AB, QR2, Commissioning crew

McGuire, OS, Commissioning crew

McTagart, OS, Commissioning crew

Saunders, OS, Commissioning crew

Spindler, Fred Royal, SLt, RCNVR - 25 Apr 1942

Thomason, Francis Wilfred, Lt, RCNVR - 06 Apr 1942
---
Photos and Documents
(BDK001) HMCS BADDECK K147 // Credit: Ken MacPherson / Naval Museum of Manitoba
(BDK002) Sailors on an unknown ship - This photo is from the collection of Charles Euwart MacArthur and it is believed this photo was taken on HMCS BADDECK // Courtesy of Ben Mucke
(BDK003) HMCS BADDECK K147 - date unknown. Note how the censor blocked out her radar antenna // Courtesy of Stephen Boyd
(BDK004) HMCS BADDECK after conversion to merchant ship - SS Efthania (Efthai). // Source: Facebook page of the Royal Canadian Legion #53 - BADDECK
---
---
(CS01) HMCS BADDECK K147 jacket patch
(CS02-CS05) Tim Hat painted with HMCS BADDECK, her signature 5 cards and a green maple leaf
Courtesy of Colin Stevens
---
---
(KM121) HMCS BADDECK jacket patch
(KM122-KM124) HMCS BADDECK K147 in the North Atlantic escorting Convoy SC.48 - On 05 Oct 1941, HMCS BADDECK departed Syndey, NS as part of the escort for Convoy SC.48. Nine merchant ships of the 52 in the convoy were lost along with two escorts, HMS Gladiolus and the Free French corvette Mimosa. USS Kearny was also torpedoed but not sunk. She lost 11 of her crew and 22 were wounded. These photos of HMCS BADDECK were taken during that voyage.
(KM125) HMCS BADDECK K147
(KM126) Kenneth Medford in front of the 4-inch gun on HMCS BADDECK K147
(KM127) Unknown sailors on the fo'c's'le of HMCS BADDECK K417. HMCS BADDECK was in the Dartmouth Slips, Halifax Shipyards at the time of the photo - circa Jan 1942
(KM128) Kenneth Medford on the fo'c's'le of HMCS BADDECK K147, Dartmouth, NS
(KM129) Kenneth Medford on HMCS BADDECK, Dartmouth, NS
(KM130) Kenneth Medford sitting on the stern rail of HMCS BADDECK K147
(KM131-KM137) Hvalsfjord, Iceland
"Hvalsfjord, Iceland was used as a Naval Base as no shore facilities were available. Large ships (in these photos) are USS Vulcan and HMS Hecla which were "Mother" ships and provided facilities and repairs normally done in shore bases. It was not unusual to have larger ships and aircraft carriers here."
(KM138) HMCS BADDECK K147 at Gaspé, QC. (Possibly alongside Fort Ramsay)
(KM139) HMCS BADDECK K147 returning from Jamaica escorting the Lady Rodney carrying Winnipeg Rifles who were to go on leave before being shipped to Hong Kong on that fateful mission. Circa summer 1941
(KM140) Unknown sailor on the Lewis gun bandstand on HMCS BADDECK K147
(KM141) Ken Medford by the 4-inch gun on HMCS BADDECK K147
(KM142) Ken Medford on Barrington Street, Halifax - photo taken during the time he was drafted to HMCS BADDECK K147
(KM143-KM145) HMCS BADDECK K147 visits Jamaica - everyone got a tailor made light cotton uniform to replace the heavy issue which was the most uncomfortable piece of clothing imaginable.
From the collection of Kenneth Medford, A/Torpedo Cox'n, RCNVR
Courtesy of Gary Medford
---
---
(JH01) Sailors on HMCS BADDECK
(JH02) Sailors on HMCS BADDECK
(JH03) Ships alongside St. John's, Newfoundland. Photo taken from HMCS BADDECK
(JH04) Sailors on HMCS BADDECK'S gun deck. Joseph Huard 1st on right.
From the collection of Joseph Huard, RCNVR
Courtesy of Claude Huard
---
---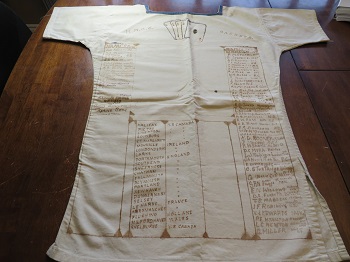 FF01
(FF01) HMCS BADDECK crew list written on a gunshirt. Close-ups of each section below
From the collection of Francis P. Fraser, RCNVR
Courtesy of Shawn Fraser
---