They made the Ultimate Sacrifice
William John Boles

Sub-Lieutenant, O-7415, RCN

Born: 16 Aug 1943, Hamilton, Ontario

Died: 02 Feb 1968, Toronto, Ontario

Book of Remembrance
BOLES, William John (Bill), SLt, RCN, died - 02 Feb 1968, 32 UTILITY SQUADRON - Son of Edward Vernon and Catherine (nee Ferguson) Boles of Hamilton, Ontario. Husband of Barbara Ann (nee Molato) Boles of Dartmouth, Nova Scotia. Brother of Margaret, Barbara Ann and James E. Boles. Buried at the Hamilton (White Chapel) Memorial Gardens.
Bill was from Hamilton ON, joined the RCN September 1964 in the 2nd intake of Short Service Officer Training Plan (SSOTP) and graduated in October 1965. He joined HMCS Yukon as an A/SLt for further training and achieved his watch keeping certificate. Having successfully completed his time in YUKON, Bill transferred to Naval Air and began his training in 1966.
On Friday, February 2, 1968 Bill was part of a Tracker crew with SLt Murray McRadu, SLt Peter Kaersvang, SLt Derek Carriere (who got off in Montreal) and AB Schofield. The aircraft was on an instrument approach to CFB Downsview (Malton) when it lost air speed and crashed into a backyard in Malton.
Ships served in:
HMCS YUKON - Served in Yukon Oct 1965 - Sep 1966
CFB SHEARWATER - 32 UTILITY SQUADRON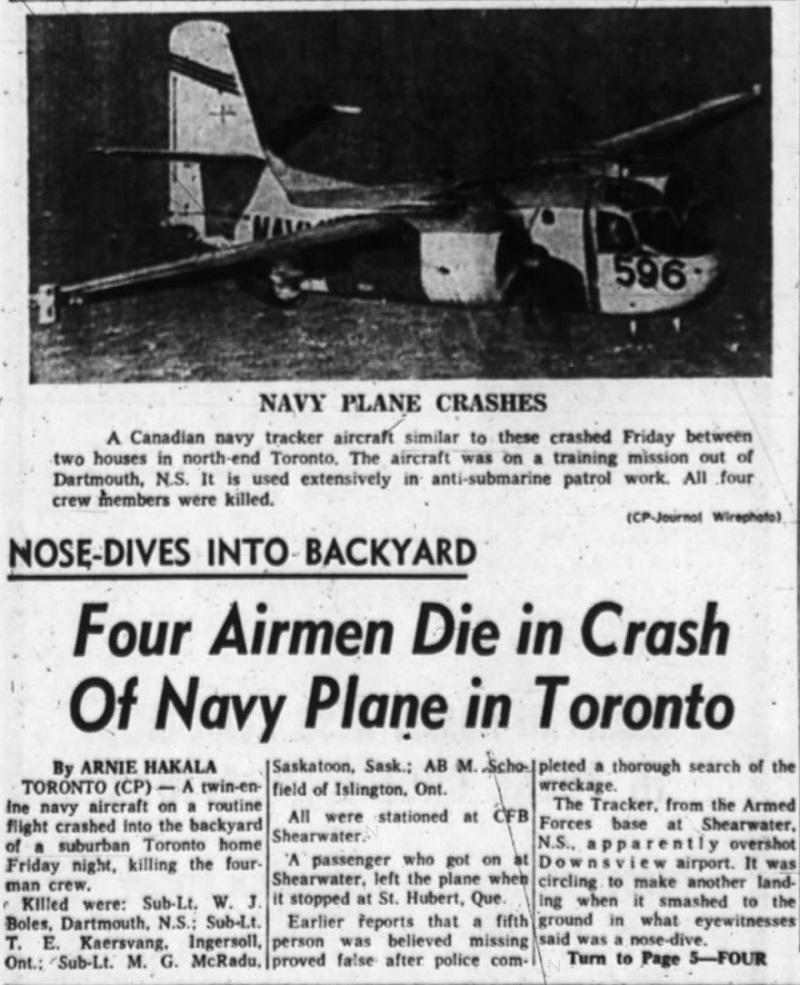 The Ottawa Journal, 03 Feb 1968
---
In Service of Canada - RCN Peacetime Casualty Index