In memory of those who have Crossed the Bar
Hubert Roy Rowsell

Lieutenant, O-64090, RCNVR

Surgeon-Lieutenant, RCN(R)

Born: 29 May 1921 Died: 02 Jul 2013
ROWSELL, Hubert Roy - Peacefully at home on Tuesday, July 2nd, 2013, in his 93rd year. Son of Ida May and Joseph Rowsell. Predeceased by his brothers Baxter and Harry. Survived by his wife of 60 years Blaikie, his children Allan (Kathie), Harry (Debbie), Anne and Mary (Mike) and grandchildren Emily, Blake, Blair, Sarah, Jen, Kevin, David, Derek, Allison and Rachel. A graduate of Bloor Collegiate in Toronto. He and his identical twin brother, Harry, joined the Royal Canadian Naval Volunteer Reserve having never seen the ocean. They served together at sea on HMCS Columbia before going their separate ways after officer's training at King's College. Roy served in motor launches and ended the war on the corvette HMCS New Westminster on convoy duty in the North Atlantic. Like so many of his generation he took advantage of the veteran's programs. He attended medical school at the University of Toronto graduating in 1950. He met Blaikie while on summer duty with the Naval Reserves in Halifax and married her on December 6th, 1952 at the Naden Naval Base on Vancouver Island. He found a home in 1956 at the Oshawa General Hospital where he remained for 50 years. He served as both Chief of Staff and President of the Department of Medicine. He was active in the community serving as president of the Victorian Order of Nurses, a director of the United Way, member of Westmount Kiwanis and many other organizations, as well as a longtime supporter of the Oshawa Generals. As a medical volunteer he traveled to Newfoundland (Grenfell Hospital & United Church Hospitals;) northern British Columbia Guatemala, Honduras, Haiti, Grenada, St. Vincent and the Sahel Region in Africa. He made 18 trips to Guyana with various teams. Overall he made more than 35 medical trips to various destinations. He loved his family, the cottage and farm. He devoted his life to helping others. He leaves a legacy with all who knew him as a kind and gentle man who cared deeply for his patients. Special thanks to all the caregivers who assisted in keeping him in his home until the end. They are too numerous to mention and they know who they are. Donations to the Canadian Memorial Naval Trust, Northminster United Church, the Lakeridge Hospital Foundation or a charity of your choice would be appreciated. A Memorial Service will be held at Northminster United Church on Monday, July 15th, 2013 at 7:00 p.m. Arrangements entrusted to Oshawa Funeral Home, 847 King Street West.
Ships served in:
HMCS KINGS - Appointed to KINGS, For Disposal or Under Training, 07 Jul 1943 as a Prob. SLt, RCNVR (Navy List Aug 1943)
ML Q074 - Appointed to Q074 11 Oct 1943 as a SLt, RCNVR (seniority 24 May 1943) (Navy List Oct 1943).
* Appointed Lt (seniority 24 May 1944) (Navy List Jun 1944)
HMCS NEW WESTMINSTER - Appointed to New Westminster on 12 Jun 1944 as Lt, RCNVR (Navy List Sep 1944-May 1945)
* Appointment terminated (Demobilized) 31 Jul 1945 as a Lt, RCN(R) (Navy List Jul 1946)
* Retired List as a Lt, RCN(R) (seniority 24 May 1944) (Navy List Apr 1946)
* Active List as a Lt, RCN(R) (seniority 24 May 1944) (Navy List Jul 1946)
HMCS YORK - Appointed to YORK 15 Sep 1946 as a Lt, RCN(R) (Navy List Oct 1946). Appointed dated backdated to 17 May 1946 (Navy List Jun 1947)
* Retired List as a Lt, RCN(R) (seniority 24 May 1944) (Navy List Jul 1949)
HMCS YORK - Appointed to YORK 23 Oct 1950 as a Surg-Lt, RCN(R) (seniority 16 Jun 1947) (Navy List Jul 1951)
HMCS YORK (Retired List) as a Surg-Lt, RCN(R) (seniority 16 Oct 1945) (Navy List Jul 1953)
* Last noted on the Retired List at HMCS YORK as a Surg-Lt, RCN(R) (Navy List Jan 1960)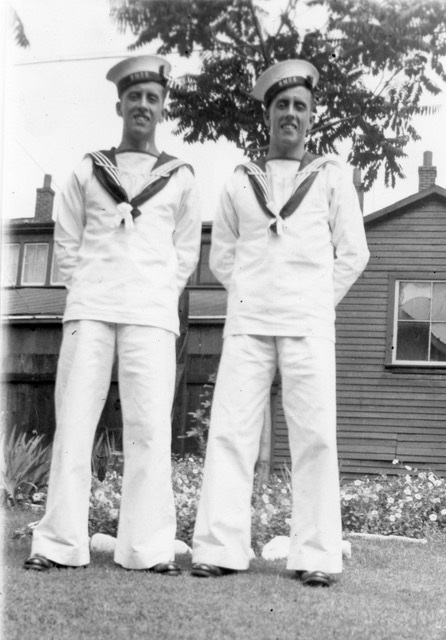 Identical twin brothers Harry and Roy Rowsell, RCNVR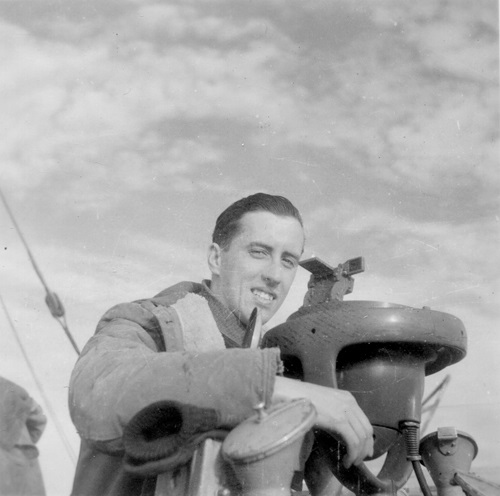 Roy Rowsell on an unknown ship
---