In memory of those who have Crossed the Bar
BRANCH, Charles - After a brief illness at the Henderson General Hospital on Monday, August 4, 1986, Charles Branch, in his 85th year, beloved husband of Florence Rosalie Branch. Dear father of Ruth and her husband, Bruce Gray, Robert Ronal and his wife, Diane, Vernon Gordon and his wife, Vickie and John (Jack). Much loved grandfather of Robin, Rodney, Bob, Charles, James, John and Shawn. Loved brother of Emily, Charlotte, Rose and Alice. Loved brother-in-law of Bernice Price. Mr. Branch had served with the Royal Canadian Navy for 22 years having served in W.W. II and achieved the rank of Warrant Officer and was a retired employee of Westinghouse Canada Limited. Friends will be received at the Cresmount Funeral Home, 322 Fennell Avenue East, Wednesday 2-4 and 7-9 p.m. Service in the Chapel Thursday at 1 p.m. Interment Mount Hamilton Cemetery. Donations to the charity of your choice greatly appreciated.
Ships served in:
HMS HOOD - Served in HOOD 10 Jul 1924 - 25 Aug 1924 - Served in HOOD during her 1924 Empire Cruise. He joined the ship 10 Jul 1924 in San Francisco, CA, USA and was drafted off on 25 Aug 1924 during her port visit to Quebec City, Quebec.
HMCS STADACONA (Depot Ship Halifax) - Served in STADACONA 25 Sep 1925 - 14 Sep 1926
HMCS PATRIOT - Served in PATRIOT 15 Sep 1926 - 02 Jan 1927
HMS WISTERIA - Served in WISERIA 03 Jan 1927 - 08 Feb 1925
HMS COLUMBO - Served in COLUMBO 09 Feb 1927 - 29 Apr 1927
HMCS PATRIOT - Served in PATRIOT 30 Apr 1927 - 31 Dec 1927
HMCS CHAMPLAIN - Served in CHAMPLAIN 01 Jan 1928 - 30 Jun 1928
HMCS STADACONA (Depot Ship Halifax) - Served in STADACONA 01 Jul 1928 - 31 Dec 1928
HMS PEMBROKE - Served in PEMBROKE 01 Jan 1929 - 19 Apr 1929 for an Engineer's Course
HMCS STADACONA (Depot Ship Halifax) - Served in STADACONA 20 Apr 1929 - 31 Dec 1929
HMCS FESTUBERT - Served in FESTUBERT 01 Jan 1930 - 31 Dec 1930
HMCS STADACONA (Depot Ship Halifax) - Served in STADACONA 01 Jan 1931 - 16 Mar 1931
HMS VICTORY - Served in VICTORY 17 Mar 1931 - 13 Apr 1931
HMS VERNON - Served in VERNON 14 Apr 1931 - 19 May 1931 (RN Training Establishment)
HMS VICTORY - Served in VICTORY 20 May 1931 - 21 May 1931
HMCS SAGUENAY - Served in SAGUENAY 22 May 1931 - 03 Dec 1935
HMCS CHAMPLAIN - Served in CHAMPLAIN 04 Dec 1935 - 24 Nov 1936
HMCS STADACONA (Depot Ship Halifax) - Served in STADACONA 25 Nov 1936 - 19 Dec 1936
HMS PEMBROKE - Served in PEMBROKE 20 Dec 1936 - 16 Feb 1937 (RN Shore Establishment)
HMCS ST LAURENT - Served in ST LAURENT 17 Feb 1937 - 18 Jun 1937
HMCS STADACONA (Depot Ship Halifax) - Served in STADACONA - 19 Jun 1937 - 30 Jun 1938
HMCS OTTAWA - Served in OTTAWA 01 Jul 1938 - 07 Oct 1938
HMCS SAGUENAY - Served in SAGUENAY 08 Oct 1938 - 25 Aug 1939
HMCS STADACONA (Depot Ship Halifax) - Served in STADACONA 26 Aug 1939 - 31 Aug 1939
HMCS ASSINIBOINE - Served in ASSINIBOINE 01 Sep 1939 - 23 Nov 1939
HMCS SAGUENAY - Served in SAGUENAY 24 Nov 1939 - 08 Aug 1941
HMCS STADACONA (Depot Ship Halifax) - Served in STADACONA 09 Aug 1941 - 09 Oct 1943
RCN BARRACK HALIFAX - Appointed to RCN BARRACKS HALIFAX, Mechanical Training Establishment 10 Oct 1943 as a Wt. Eng.*, RCN (seniority 25 Aug 1943) (Navy List Oct 1943)
HMCS SHELBURNE - Appointed to SHELBURNE, Base Repairs 10 Nov 1943 as a Wt. Eng.*, RCN (Navy List Feb 1944)
HMCS STADACONA (Depot Ship Halifax) - Appointed to STADACONA, Add'l, For Disposal or Under Training, 12 Aug 1944 as a Wt. Eng.*, RCN (Navy List Sep 1944)
HMCS SCOTIAN - Appointed to SCOTIAN, Staff of Commodore Superintendent, Halifax, Technical Personnel Office 17 Aug 1944 as a Wt. Eng.*, RCN (Navy List Nov 1944)
HMC DOCKYARD HALIFAX - Appointed to HMC DOCKYARD HALIFAX, Staff of Command Engineer Officer 01 Feb 1946 as a Wt. Eng.*, RCN (Navy List Apr 1946
* Retired 13 Nov 1946
* Retired List - As a Wt. Eng.*, RCN (seniority 25 Aug 1943) (Navy List Jun 1947). Last noted on the Retired List for the RCN as a Wt. Eng.* (Navy List Jan 1960)
---
Shadow box for Wt. Eng.* Charles Branch, RCNVR / RCN
---
(CB01) Chief Stoker Charles Branch (CB02) Warrant (E) Charles Branch (CB03) CERA William Brooking and Ch Stoker Charles Branch played major role in saving HMCS SAGUENAY - the Halifax Mail 11 Dec 1940 (CB04) Record of drafts and appointments for Charles Branch (CB05) HMCS SAGUENAY entering Willemstad Harbour, Netherlands Antilles, 1934
(CB06) Stoker Charles Branch (left) with shipmate in Vera Cruz (CB07) Charles Branch with an unknown Petty Officer onboard HMCS SAGUENAY 206 in the 1980s for a trip from Toronto (or Hamilton) to Halifax
(CB08) Song about the torpedoing of HMCS SAGUENAY in 1940
---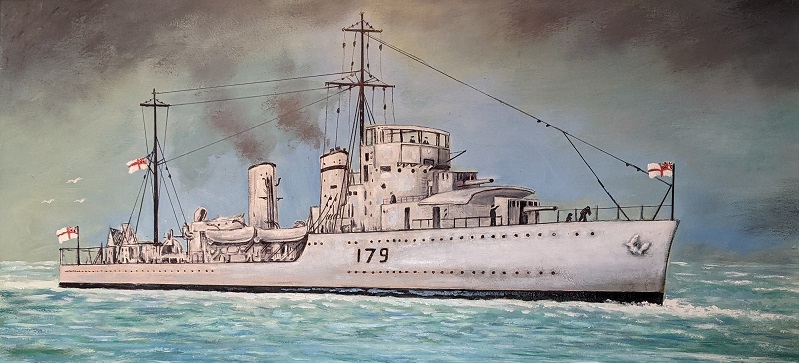 Painting of HMCS SAGUENAY I79 by Jack Branch, son of Charles Branch
Click on the above photo to view the full image
---