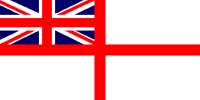 For Posterity's Sake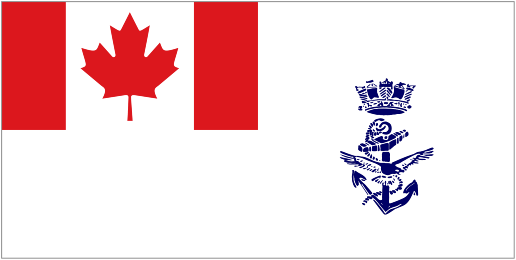 A Royal Canadian Navy Historical Project
HMCS THETFORD MINES K459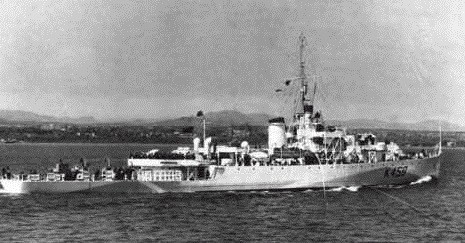 HMCS Thetford Mines K459
Battle honours and awards: Gulf of St. Lawrence 1944, Atlantic 1945
Laid down: 07 Jul 1943

Launched: 30 Oct 1943

Commissioned: 24 May 1944

Paid off: 18 Nov 1945

Sold: 03 Jan 1946

Fate: Unknown
Built by Morton Engineering & Dry Dock, Co., Quebec City, she was commissioned on 24 May 1944, at Quebec City. Thetford Mines arrived in Bermuda on 12 Jul 1944 to work up, returning to Halifax on 16 Aug 1944. Soon afterward assigned to EG 25, she was transferred with the group to Londonderry in November, and served in U.K. waters from then until VE-Day, working out of 'Derry and for a time out of Rosyth. On 07 Mar 1945, she helped sink U 1302 in St. George's Channel, and on 23 Mar 1945, HMCS Thetford Mines rescued 33 of the 47 crewmembers of U-1003 (sunk by HMCS New Glasgow), 16 miles northwest of Innistrahull. Two of the rescued men later died. On 11 May 1945 she arrived in Lough Foyle as escort to eight surrendered U-Boats. She returned home late in May 1945, was paid off 18 Nov 1945 at Sydney and laid up at Shelburne. In 1947 she was sold to a Honduran buyer who proposed converting her into a refrigerated fruit carrier.
Commanding Officers

LCdr John Alfred Roberts Allan, DSC, RCNVR - 24 May 1944 - 12 Jun 1945

Lt James Manley Scott Clark, RCNVR - 13 Jun 1945 - 30 Jun 1945

LCdr John Alfred Robert Allan, DSC, RCNVR - 01 Jul 1945 - 20 Jul 1945

A/Cdr Thomas Gilmour, RCNR - 21 Jul 1945 - 18 Nov 1945
In memory of those who have crossed the bar

They shall not be forgotten

A-B

____-1994

1st Commanding Officer

3rd Commanding Officer

____-2006

Berry, Arthur Herbert

1920-2016

____-2006

C-D

____-1996

1924-2007

Cole, Charles George

1915-____

Cooper, Robert

____-1999

E-F

____-2012

G-H

1919-2013

M-N

1919-2011

Q-R

1924-2008

W-X

1926-2007
U-Boats Sunk
U-1302 (Kptlt Wolfgang Herwatz) a type VIIC/41 U-boat, sunk on 07 Mar 1945 by HMCS La Hulloise K668, HMCS Thetford Mines K459 and HMCS Stathadam K682 in St. George's Channel, position 52-19 N, 05-23 W. Of her crew of 48 there were no survivors.
Former Crew Members

Allan, John Alfred Roberts, LCdr, RCNVR - 04 May 1944

(Stand by) CO / 24 May 1944

Archer, Allan Keith, Slt, RCNVR - 05 Jun 1944

Baker, Allan Aylesworth, Lt (E), RCNVR - 01 Apr 1944 (Stand by) / 24 May 1944

Gauthier, Fernand

Glass, Ogden, Lt, RCNVR - 01 Jul 1944

Harris, George Walter, Paym/Lt, RCNVR - 12 Jun 1944

Kitz, Joseph Russell, Lt (E), RCNVR - 11 Jun 1945

O'Grady, John Wesley

Potts, Charles Powers, Lt, RCNVR - 29 May 1944

Waller, Dalton McFarlane, A/Lt, RCNVR - 15 May 1944 (Stand by) / 24 May 1944
Links
Personal photo gallery for John A.R. Allan
Personal photo gallery for Robert Cooper
Ship's company photos for HMCS Thetford Mines