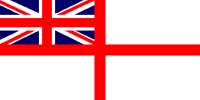 For Posterity's Sake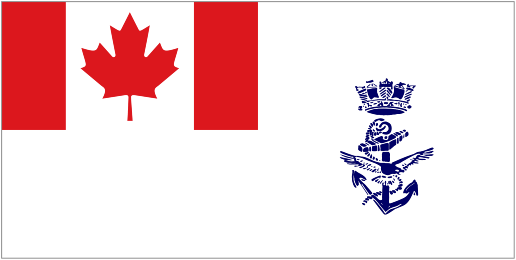 A Royal Canadian Navy Historical Project
HMCS SHEARWATER K02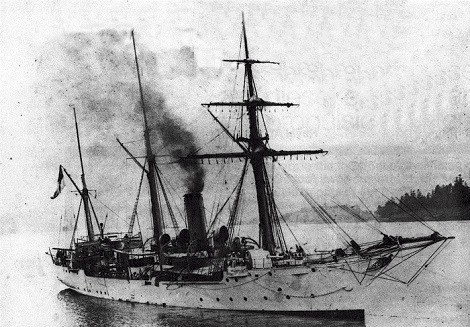 HMS SHEARWATER
Source / Credit: Corvus Publishing
Laid down: 1899

Launched: 10 Feb 1900

Commissioned: 1900

Paid off: 1914

Transferred to RCN: 1914

Commissioned: 8 Sep 1914

Paid off: 13 Jun 1919

Fate: Registry closed 1937. Broken up in 1938
Stationed at Esquimalt, the sloops HMS SHEARWATER and HMS ALGERINE were, in 1914, the last remnants of the vanished RN Pacific Squadron. Shearwater's two 4-inch guns were put ashore to defend Seymour Narrows when the First World War broke out, and her crew was sent to Halifax to man HMCS NIOBE. The Admiralty agreed to lend Shearwater to the RCN, and on 08 Sep 1914, she was commissioned as HMCS SHEARWATER, a tender to the newly acquired submarines CC1 and CC2. On 21 Jun 1917, HMCS SHEARWATER, with CC1 and CC2, sailed from Esquimalt via the Panama Canal to Halifax. On 03 Jul 1917 they arrived in Seattle and were invited, along with the crews of CC1 and CC2, to lead the Seattle Independence day Parade on 04 Jul 1917. She was paid off 13 Jun 1919, and in 1924 sold into mercantile hands and renamed Vedas.
In 1933, J. Earle McQueen, a tug boat captain, purchased the old rumrunner VEDAS from Canada Customs for $1,285. The VEDAS, which still had two working boilers, was rented out to a dredging company that was pumping out the channel of the Detroit River and were in desperate need to extra boilers for steam, for $800 per month. Fiver years later he sold the hull for scrap for $4,500. (Source: MacLean's Magazine 01 Sep 1947 - Thars Gold in Them Thar Hulls)
Historical tidbits of info: The helm of SHEARWATER is mounted over the pool table at the local legion - presented to the Legion by Capt McQueen. SHEARWATER'S mast was mounted at a park in Windsor, Ontario along the Detroit River for years, but dry rot set in and it was taken down. Vedas (ex-SHEARWATER) is mentioned in a book titled "Booze Boats & Billions" by C.W. Hunt when she was a rum runner.
---
Photos and Documents Ship's company photos
Commanding Officers

LCdr Bertram Edward Jones, RCN
In memory of those who have crossed the bar

They shall not be forgotten

A-B

1901-1985

Served in Shearwater as a Boy Sailor, RNCVR 13 Nov 1917 - 19 Jul 1918 and 13 Aug 1918 - 19 Aug 1918

1865-1940

Served in Shearwater 1915-1918 as Medical Officer, RNCVR

Birley, Yvon

____-____

Drafted to Shearwater 19 Apr 1916 as Slt, RCN

Bissett, Clarence

____-____

Drafted to Shearwater 18 Jun 1918 as Head Schoolmaster, RCN

1882-1946

Served in Shearwater 29 Dec 1916 - 05 Jan 1917 as an OS, RNCVR

Byrne, Harold John

____-____

Drafted to Shearwater 1918 as Art (E), RN

C-D

____-____

Served in Shearwater 1914-1918 as Gunner, RN, Gunnery Officer

E-F

Edwards, George Hamilton Scandrett

____-____

Drafted to Shearwater 27 Jul 1915 as Lt, RNCVR

G-H

____-1981

Served in Shearwater 1917-1918 as Lt, RCN

1902-____

I-J

Jellet, Herbert St. Clair

____-____

Drafted to Shearwater 18 Jun 1917 as Mate, RNCVR

____-1975

Served in Shearwater as CO from 1914 - 1919. Also CO Sub flotilla 1915-1919.

K-L

____-1918

Served in Shearwater for training voyage to Bermuda in 1917

M-N

McDonald, William Robert

____-____

Drafted to Shearwater as Lt, RNCVR

Milman, Henry August

____-____

Drafted to Shearwater as A/Paym, RN

Q-R

Ray, Malcolm Philip

____-____

Drafted to Shearwater 19 Jun 1917 as A/St/Paym, RNCVR

S-T

Thomas, Arthur Francis

____-____

Drafted to Shearwater 16 Jun 1916 as Lt(N)

W-X

Walker, Wilfred Tyrrel

____-____

1886-1955

Winsloe, Richard Edmond

____-____

Drafted to Shearwater 28 Jul 1915 as A/Slt, RNCVR

1897-2000

Served in Shearwater in 1917
Photos and Documents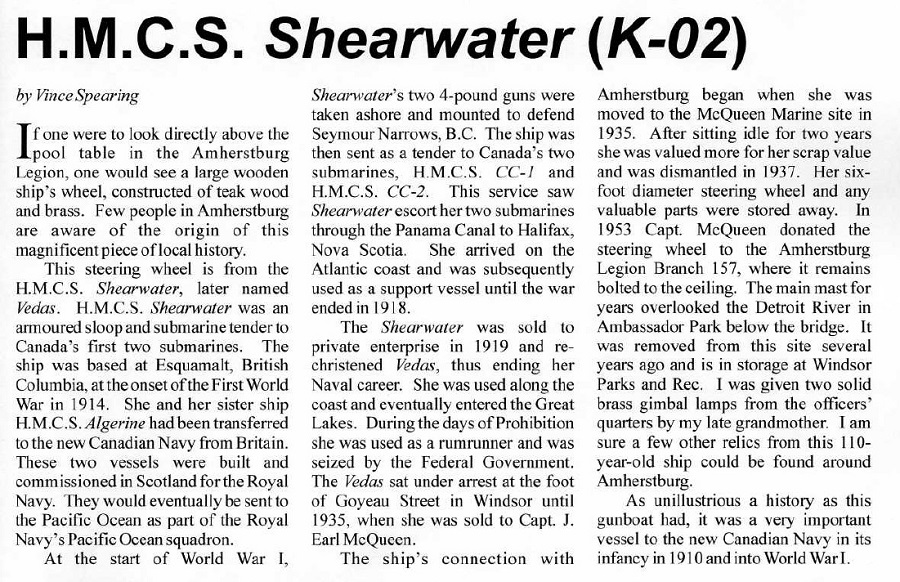 HMCS SHEARWATER'S connection to Amherstburg, Ontario
Source: "Reflections" - Newsletter of the Marsh Historical Collection, Amherstburg, Ontario
Volume IV Issue 4 - Summer 2011
Postcard - HMS SHEARWATER crew with First Nations people onboard

Courtesy of Daron Fairfax

A sailor from HMCS SHEARWATER poses behind one of the ship's 3-pounder Hotchkiss guns. This relatively small gun formed part of Shearwater's limited armament. A sloop designed and used before the war for patrol work, Shearwater was lightly armed with four 4-inch guns and four 3-pounder Hotchkiss guns like the one seen here. The unidentified crew member's cap tally reads "RNCVR," indicating that he is a member of the Royal Naval Canadian Volunteer Reserve, which had been established in May 1914.

George Metcalf Archival Collection

CWM 19840218-002_20

Courtesy of the Canadian War Museum

HMCS SHEARWATER, seen here during a transit of the Panama Canal, was one of three warships on Canada's west coast at the start of the First World War. Originally a Royal Navy vessel, Shearwater and another British ship, HMS Algerine, were transferred to the Royal Canadian Navy in September 1914. Soon afterwards, many of Shearwater's crew were sent to HMCS Niobe in Halifax, which was short of trained sailors. Shearwater subsequently served as a tender - or support ship - for submarines CC-1 and CC-2, escorting them on an almost four-month long trip to Halifax in mid-1917.

George Metcalf Archival Collection

CWM 19840218-002_8

Courtesy of the Canadian War Museum

HMS SHEARWATER in Esquimalt Harbour, circa 1908

Nine members of HMCS SHEARWATER's crew pose against one of the ship's guns, with the barrel seen on the right. This is one of several photographs from Shearwater's voyage with CC-1 and CC-2 that belonged to Abner Beckwith Willford, an American-born stoker in Shearwater's crew. Willford (back row, second from right) was responsible for tending the ship's coal-fired boilers. While the location of the photograph is unknown, the weather is warm enough that two sailors (middle row) are not wearing their uniform jumpers over their white gunshirts.

George Metcalf Archival Collection

CWM 19840218-002_19

Courtesy of the Canadian War Museum

HMCS SHEARWATER

HMCS SHEARWATER (left) HMCS Rainbow (right) 1910

Source: Library and Archives of Canada

Bertram E. Jones, Commanding Officer HMCS SHEARWATER, with ship's mascot. Photo taken off Jamaica, 1917

From the B.E. Jones, R.N. Collection

Courtesy of Julie H. Ferguson

HMCS SHEARWATER

RCN Photo

Article on SHEARWATER'S post-WWI career

The Windsor Daily Star 02 Mar 1937

Researched by / Courtesy of Andrea Grimes

Note: The article makes an incorrect ref to Shearwater being pressed into service as a minesweeper during WWI. She served as a tender for CC1 and CC2.