In memory of those who have Crossed the Bar
RICKARD, John Aaron - age 78 years a resident of 366 Wardrope Avenue, passed away in a Thunder Bay hospital, Monday, February 21st, 1994. Born and raised in Port Arthur, he was a lifetime resident of the city. A member of the Royal Canadian Sea Cadet Corps. 'Vindictive' from 1926 - 1936. After graduating from Hillcrest Technical School, he found full time employment, in the finishing room at Abitibi, Thunder Bay Mill in 1936. With the conflict in Europe, John joined the R.C.N.V.R. at HMCS GRIFFON, in October of 1939. During the war John was transferred to HMCS WASKESIU and it was during these actions in the Bay of Biscay, he was awarded the Distinguished Service Medal, as he rose to the occasion and provided the leadership and skill in bringing about the destruction of an enemy submarine. Following the war, John return to Abitibi, Thunder Bay Mill and was active in Local 134. He married the former Dorothy Whittaker, August 18, 1945. Until his retirement in 1981, John was very active in mill activities, especially those that included the youth of our community. John organized and ran the 'Kid's Picnic' for the mill for many years and played 'Santa' for thousands of children with the mill and Port Arthur Branch #5, Royal Canadian Legion, over a thirty five year period. John supported all children's programs, such as the Navy League of Canada, Royal Canadian Sea Cadets, Boy Scouts and other activities involving our young Canadians. During his retirement, John was an active member of '55 Plus Centre', Past President of the Northwestern Ontario Senior Games and worked with the Thunder Bay Seniors and Duluth Friendship Games Committee. John is survived by his wife Dorothy (Whittaker), son John H. and wife Carolyn, daughter Judy Roy and husband Robert, 6 grandchildren and 3 great-grandchildren, 1 brother James, 2 sisters Clair (Sis) McCartney and Mary Beaucage, all of Thunder Bay, numerous nieces and nephews also survive. He was predeceased by his father George in 1960 and his mother Giles in 1959. Funeral services will be held Thursday, February 24th at 11:00 a.m. in the Sargent & Son Funeral Chapel, 21 North Court Street with Archdeacon Mark S. Conliffe officiating. Interment Military Plot Riverside Cemetery. Port Arthur Branch #5, Royal Canadian Legion will hold their services immediately following the funeral service. In lieu of flowers should friends so desire memorials to '55 Plus Centre', 700 River Street or to the charity of choice would be appreciated. Visitation from 7.9 p.m. Wednesday.
John's brother James Allan Rickard also served in the RCNVR during the Second World War
Distinguished Service Medal Citation: RICKARD, John Herren, Able Seaman, V16076, Distinguished Service Medal, RCNVR, HMCS WASKESIU - Awarded as per Canada Gazette of 9 September 1944 and London Gazette of 7 July 1944 "For good service in the destruction of an enemy submarine. For courage, resolution and skill in HMCS WASKESIU in successful operations against U-Boats in the Atlantic."
Note: On 24 February 1944, HMCS WASKESIU sank U-257 in the mid-Atlantic
Ships served in:
HMCS ROSS NORMAN - Served in ROSS NORMAN in 1940
HMCS WASKESIU - Served in WASKESIU 1943-1945
(JR01) Portrait of John Rickard with an HMCS SKEENA I59 jacket patch (JR02) Medals award to John Rickard - DSM, 1939-45 Star, Atlantic Star and France and Germany Bar, Arctic Star, CVSM, 1939-45 War Medal and the Soviet Medal for participation in the Murmansk Run (see note 1 below) (JR03) Letter from the Agent General for Ontario, London, England congratulating AB John Rickard on his award of the DSM (JR04) Letter from the Office of the High Commissioner of Canada, London, England congratulating AB John Rickard on his award of the DSM (JR05) Award of the Soviet medal to John Rickard in 1988 for his participation in the Murmansk Run
Note 1: John was a member of the Royal Canadian Legion and received the RCL medal for 60 years membership
(JR06) Supplement to the London Gazette showing the award of the DSM to Able Seaman John Rickard (JR07) AB John A. Rickard being presented with the DSM by Rear Admiral L W Murray 09 Sep 1944
---
HMCS GRIFFON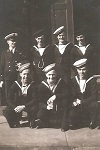 JR08
(JR08) OS John A. Rickard at HMCS GRIFFON after receiving his uniform
---
HMCS ROSS NORMAN
(JR09) John Rickard on the aft deck of HMCS ROSS NORMAN - 1940 (JR10) John Rickard (left) with Bill Colamie splicing lines in the after hold of HMCS ROSS NORMAN
---
HMCS SKEENA I59
(JR11) HMCS SKEENA jacket patch (JR12) Bob Bolly and John Rickard (right) aboard HMCS SKEENA, Newfoundland - 1941 (JR13) Christmas aboard HMCS SKEENA - 1941. Assuming left to right: J.Kiss, E. Rammel, D. Frane, L. Haywood, J.Hards, V. Abbott, J. Finlayson, J. Moss, H. Gollmek, and J. Benson (JR14) Lorne Palmer on duty on HMCS SKEENA I59, Newfoundland - 1941 (JR15) Bob Landgraff on duty on HMCS SKEENA I59, Newfoundland - 1941
(JR16) John Rickard (left) and Ken Currie aboard HMCS SKEENA I59, St. John's, Newfoundland - 1941 (JR17) HMCS SKEENA taking a wave amidships - Oct 1941
---
HMCS WASKESIU K330
(JR18) John Rickard aboard HMCS WASKESIU K330 - 1944 (JR19) John Rickard down scrambling net to help bring survivors of U-257 aboard HMCS WASKESIU K330 - 24 Feb 1944 (JR20) John Rickard pushing U-257 survivors over the rails on HMCS WASKESIU K330 - 24 Feb 1944
---
HMCS TRENTONIAN K368
John A. Rickard's brother, James Allen Rickard survived the sinking of HMCS TRENTONIAN
(JR21) James Allen Rickard and Douglas Campbell - survivors of the sinking of HMCS TRENTONIAN K386 in hospital - 27 Feb 1945
(JR22) Article on the sinking of HMCS TRENTONIAN. Crew listed in the article: Lt Cotin S. Glassco, CO; Lt W. Burnley Kinsman; Lt J.K. Mowat; Wt (E) H.F. Hindle; M.R. Angus; Douglas Excess; George Goar; Coder Barrie Meyer; AB Mike Vak; AB Jimmy Rickard; Jack Scott. Also mentioned, Officers Steward Samuel Vak, brother of Mike Vak. Samuel Vak was not a crew member of TRENTONIAN - dated 26 Mar 1945
(JR23) Survivors of HMCS TRENTONTIAN from Ontario: AB James Davidson (of Sudbury); AB Michael Vak (of Port Arthur); Jack Scott (of Port Arthur); AB Weldon Runtz (of Arnprior); CERA Murray Angus (of Kingston); L/Ck Norman McIntyre (of Sault Ste. Marie) and A/Sto PO Norman Crampton (of Carleton Place) - Dated 26 Mar 1945
---
Newspaper articles
(JR24) Two Ontario men - LCdr (E) J.F. Lloyd and AB D.R. Langton serving in HMCS ALGONQUIN during the D-Day invasion - dated 09 Jun 1944
(JR25) CPO Torpedo Cox'n W.J. Johnson, RCNVR of Shelburne, NS - serving in HMCS ALGONQUIN during the D-Day invasion - dated 09 Jun 1944
(JR26) HMCS FORT WILLIAM honoured at civic banquet. Crew listed in the article: LCdr H. Campbell, DSC, CO; PO ERA Gus Kallio; Sig Steve Lysak; AB Joe Black; Tel Milbert Mounk; Elmer McDonald; Lt Hector McGowan - dated 04 Apr 1945
(JR27) LS Lloyd (Bud) Edwards of Fort William, ON - a survivor of the sinking of HMCS ATHABASKAN G07 - was freed from POW camp - dated 09 May 1945
(JR28) Lt Charles W. (Bill) King assumes command of HMCS SOREL - dated 22 Feb 1945
(JR29) Brothers Home From Overseas - AB Lyle Bennett of HMCS KOKANEE and Trooper Leonard Bennett - dated 28 Jul 1945
(JR30) AB Jack Wilson, Boxing Instructor on HMCS IROQUOIS is home on leave - dated 28 Jul 1945
(JR31) Blood Donors Praised By Injured On "Annan". Listed in the article - LCdr C.P. Balfry, RCNR, CO (HMCS ANNAN); Surg-Lt J.D.L. Fitzgerald, RCNVR (HMCS ANNAN); Surg-Lt R.M. MacDonald, RCNVR (HMCS LOCH ACHANALT); Lt David M. Howitt, RCNVR (wounded HMCS ANNAN); Sick Bay Petty Officer W.E. 'Jock' Baxter (HMCS ANNAN) - dated 04 Apr 1945
(JR32) Port Arthur Man on "Annan". Listed in Article - Surg-Lt Robert M. MacDonald, RCNVR (HMCS ANNAN) and Sick Bay Petty Officer W.E. J. Baxter (HMCS ANNAN) of Port Arthur, ON - dated 04 Apr 1945
(JR33) Canadian Frigate Annan Wins Battle With U-Boat - Listed in the article: Awarded DSC: LCdr Charles Patrick Balfry, CO; Lt David M. Howitt, Gunnery Officer. Awarded DSM: CPO Douglas William Barket; LS James Wilson McLeod MacKenzie; AB Daniel George Stone. Awarded: M.I.D.: Lt John Harper Corbet; PO George Arnold Wesbrook; ERA Cyril Libeau - dated 08 Apr 1945
(JR34) Article on LCdr H.S. Rayner, CO of HMCS HURON when she and HMCS HAIDA took part in the sinking of 2 German destroyers - dated 10 Jun 1944
(JR35) Article on HMCS HAIDA taking part in the sinking of 2 German destroyers - dated 10 Jun 1944
(JR36) Article on LCdr Robert Carter, RCNVR as XO of HMCS PRINCE David - dated 10 Jun 1944
(JR37) Article on Warrant Supply Officer Leslie Arthur Fitch, RCN of HMCS PRINCE HENRY - dated 10 Jun 1944
(JR38) Article on Surg-Lt George Eugene Large, RCNVR, Medical Officer on HMCS PRINCE HENRY - dated 10 Jun 1944
---