---
HMCS GRIFFON
Port Arthur Division RCNVR
---
Thunder Bay, Ontario
---
| | |
| --- | --- |
| | 125 Algoma Street North, Thunder Bay |
First established on 03 May 1937 as the RCNVR Half-Company Port Arthur, it shared quarters with the Lake Superior Regiment at the Port Arthur Armoury. On 01 Nov 1941, she was re-named HMCS GRIFFON and commissioned as a tender to HMCS NADEN. On 01 Sep 1942 she was re-commissioned as an independent shore establishment. HMCS GRIFFON moved into its current location at 125 Algoma St North in 1944.
---
Photos and Documents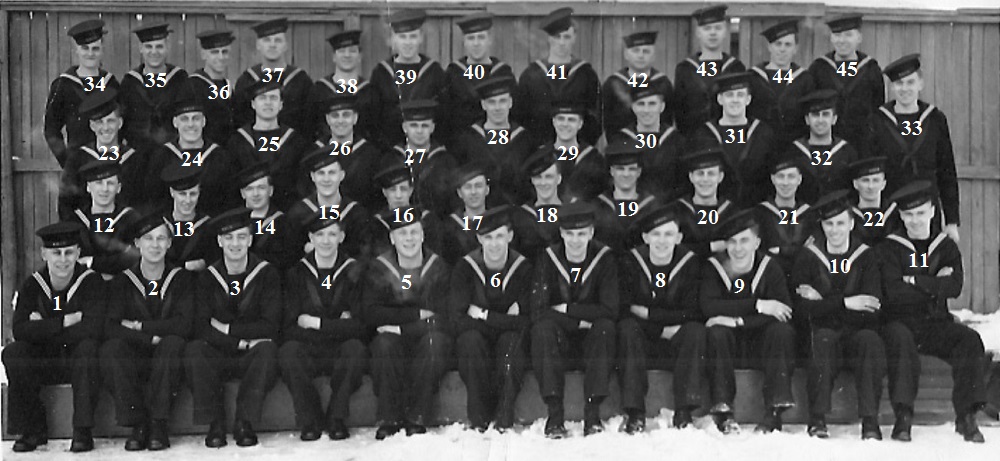 RCNVR DIVISION PORT ARTHUR
First Draft, Port Arthur, ON, 1939
From the collection of Donald V. Dynes
Courtesy of Bill Dynes
Click on the above photo to view a larger image
(11) Donald V. Hynes
---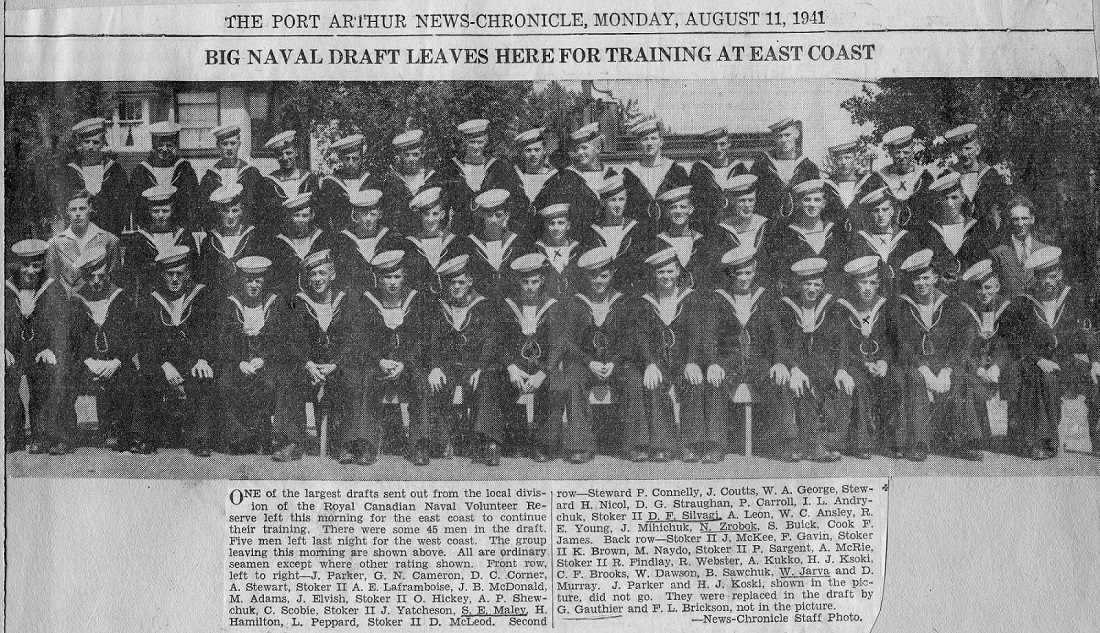 Article from the Port Arthur News-Chronicle, Monday 11 Aug 1941
Big Naval Draft Leaves Here For Training At East Coast
Front: L-R: J. Parker, G.M. Cameron, D.C. Corner, A. Stewart, Stoker 11 A.E. Laframboise, J.B. McDonald, M. Adams, J. Elvish, Stoker II O. Hickey, A.P. Shewchuk, C. Scotia, Stoker II J. Yatcheson, S.E. Maley, H. Hamilton, L. Peppard, Stoker II D. McLeod
2nd row: L-R: Stwd P. Connelly, J. Coutts, W.A. George, Stwd H. Nicol, D.G. Straughan, P. Carroll, I.L. Andrychuk, Stoker II D.F. Silvagi, A. Leon, W.C. Ansley, R.E. Young, J. Mihichuk, N. Zrobok, S. Buick, Cook F. James
Back Row: L-R: Stoker II J. McKee, F. Gaving, Stoker II K. Grown, M. Naydo, Stoker II P. Sargent, A. McRie, Stoker II R. Findlay, R. Webster, A. Kukko, H.J. Ksoki, C.F. Brooks, W. Dawson, B. Sawchuk, W. Jarva and D. Murray.
** J. Paker and H.J. Koski, shown in the photo did not go. They were replaced in the draft by G. Gauthier and F.L. Brickson, not in the picture.
---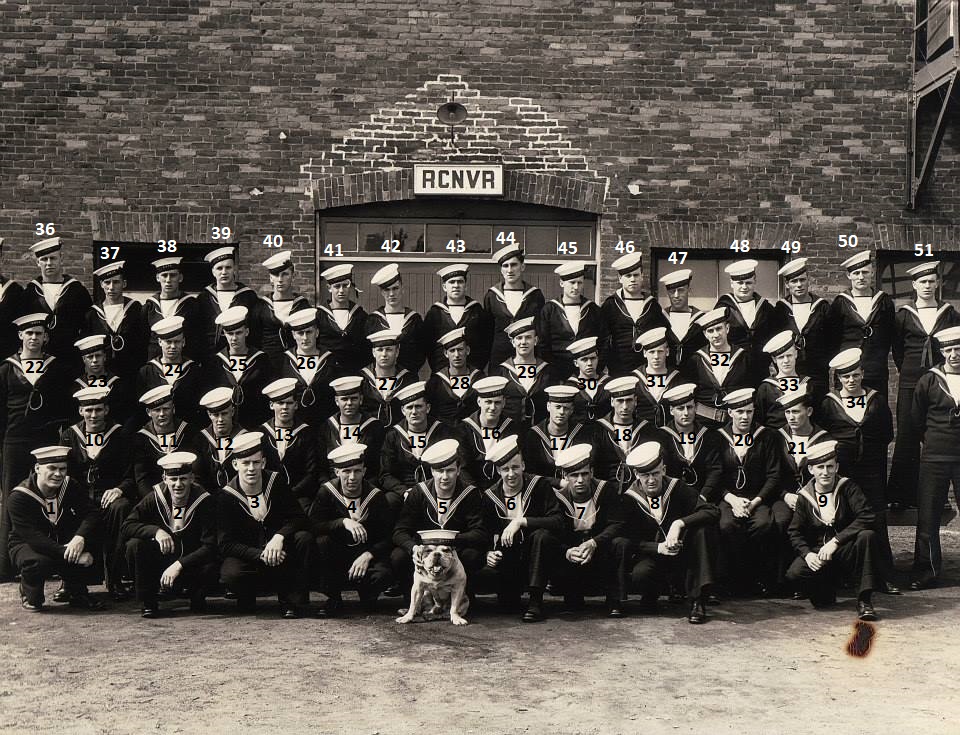 RCNVR DIVISION PORT ARTHUR - New Entry Photo
Jun 1941
From the collection of John (Bud) Watters, RCNVR
Courtesy of Kathleen Millen
(41) John Clifford (Bud) Watters
---
(WP134-WP135) Mess Dinner HMCS GRIFFON 1952 (WP136-WP137) Mess dinner HMCS GRIFFON 1953 (WP138) Mess dinner / formal dance at HMCS GRIFFON 1953
(WP139-WP140) Invitation to HMCS GRIFFON's 20th Annual Chief and Petty Officers Mess Banquet - 1969
Death of the "Sweepers"
Memorial Service at HMCS GRIFFON 1964
From the collection of William (Bill) Argyle Paterson, P1BN, RCN / C.A.F.
Courtesy of Bruce Paterson
---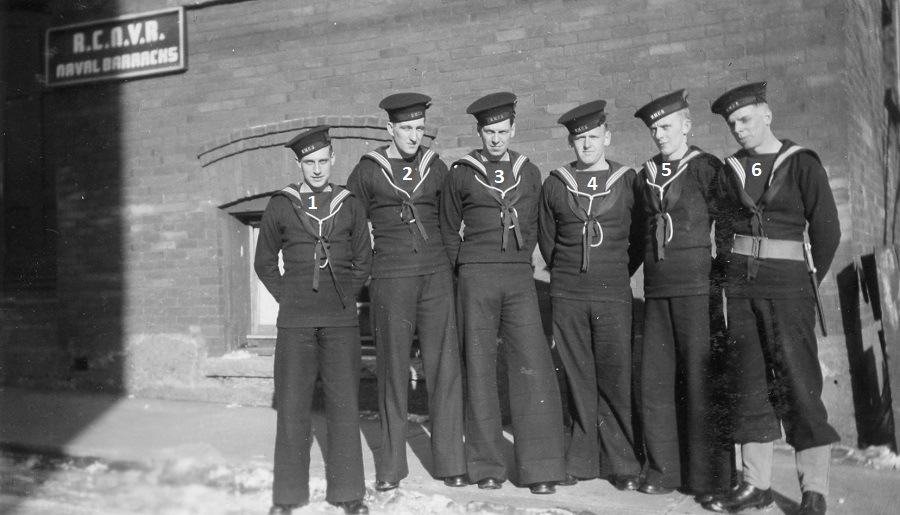 Sailors outside of RCNVR DIVISION GRIFFON
From the collection of Nelson Dow, RCNVR
Courtesy of David Dow
(4) Dow, Nelson, RCNVR
---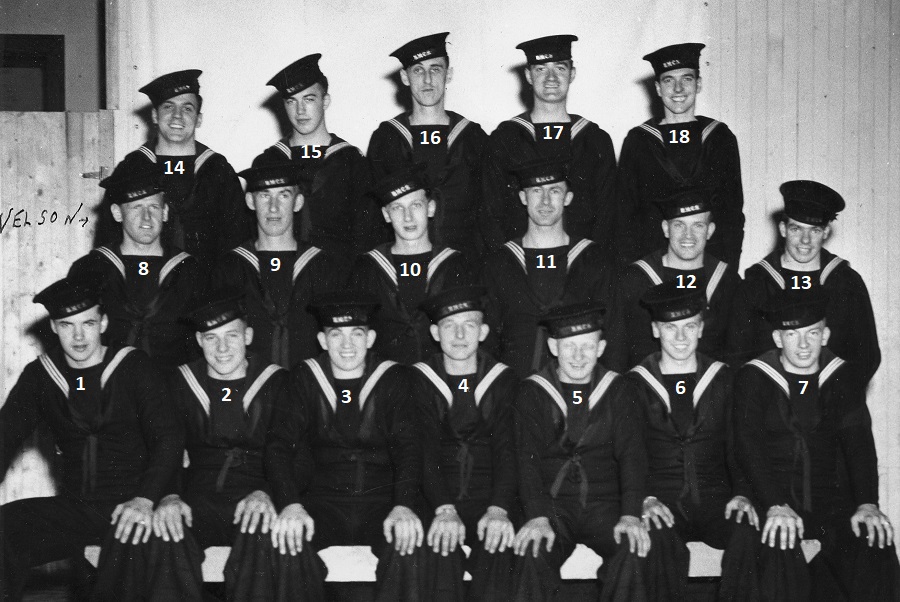 Training photo at RCNVR DIVISION GRIFFON
From the collection of Nelson Dow, RCNVR
Courtesy of David Dow
(8) Dow, Nelson, RCNVR
---