In memory of those who have Crossed the Bar
Donald Leonard Cameron

Able Seaman, RCNVR

Born: 06 Nov 1923 Died: 03 Sep 1990
CAMERON, Donald Leonard - Embraced by the love of his family, Dad passed away at home at the age of 66 on September 3, 1990. He was the very loving husband of Norah Ewing (d. 2015) for nearly 42 years, a wonderful Dad to Alex, Donna, Nancy, Harold, Sheila, Heather and Bonnie and Grampa to five little ones at the time of his passing. Dad was born November 6, 1923, one of four children to Alexander Cameron and Jessie Ann Beaton. He participated in the Sea Cadets as a teenager in Ottawa before joining the Royal Canadian Naval Volunteer Reserve (RCNVR) in 1941 at the age of 18, where he served on ships crossing the North Atlantic until the end of the Second World War. He married his lovely Norah in 1948 and joined the Canadian Army in 1950. He served as a Lieutenant in Western Canada and Germany and then, longing for home, the family settled back into civilian life in Ottawa in 1956 when Dad joined the federal government. With a growing family, Mom and Dad moved to Stittsville and built a happy home for us kids and a rustic cottage on O'Brien Lake, Dad's favourite place to canoe, read and mix seemingly endless amounts of cement. Dad was survived by his sisters Mary McCarthy and Margaret Talbot. He was predeceased by both his parents in 1938, his dear brother RCAF Sgt. Alexander Angus Cameron (1944) and infant son Timothy Donald (1961). Dad experienced hardship in his younger years, but he persevered to build a family and home of his own. He was a strong, hard-working, intelligent man who dearly loved his country, his family and, most of all, his little Norah.
Ships served in:
HMCS CARLETON - Enlisted 08 Nov 1941. Commenced Active Service 11 Dec 1941
HMCS CHARNY - Served in CHARNY 12 Jun 1942 - 19 Jun 1942 was in training at HMCS CORNWALLIS
HMCS CALGARY - Served in CALGARY 06 Nov 1943 - 22 Mar 1944 as an OS, A/AB and AB, RCNVR. Rated AB 06 Mar 1944
HDPC # 3 - Served in HDPC # 3 08 May 1944 - 02 Oct 1944 as an AB, RCNVR while drafted to HMCS SHELBURNE
HMCS ETTRICK - Served in ETTRICK 20 Oct 1944 - 29 May 1945 as an AB, RCNVR
HMCS DONNACONA - Served in DONNACONA 13 Jul 1945 - 12 Aug 1945
HMCS CARLETON - Served in CARLETON 13 Aug 1945 - 24 Oct 1945. Demobilized 24 Oct 1945
---
Below is an interview of Donald Cameron's by his daughter Heather when she was in school in the 1980s writing a project on the Battle of the Atlantic
A day or two after his 18th birthday in 1941, our young man joined the Royal Canadian Navy Volunteer Reserve and underwent six weeks of training before being assigned to a ship as an able seaman serving in the Battle of the Atlantic, mostly upon corvettes.
On the corvette HMCS CALGARY, he spent 12-hours-a-day acting as a helmsman in addition to ever-changing four-hour shifts as a lookout. On the sailors' own time, guns had to be cleaned, ammunition checked, decks cleaned and food prepared, among other duties. When crossing the North Atlantic in winter and when nearing Iceland, additional duties included pick-axing ice from cables and decks to prevent the ship from keeling over.
The most gruelling and exhausting aspect of the corvette was the action station - jobs performed at the sighting of a U-boat. Sub scares occurred at least twice in a 24-hour period. An alarm would sound and because the men became so accustomed to them, they could reach their stations in a matter of seconds.
Our particular seaman set and fired depth charges while gunners tried to cover him nearby. At night, all duties, navigation, gunning and bombing had to be done in darkness. The sub scares would typically last two to three hours.
It seems that the days never ended for these men. They were conditioned to get only an hours sleep after action stations before going back on duty. The runs lasted from 15 to 21 days and were tedious. The same clothing, never time to wash them or change them, food running down to where stale bread, hardly enough, was common.
In 1943, our seaman was aboard the HMCS CALGARY, a flower-class corvette, when it sank a German U-boat, along with the NENE and Snowberry, northeast of the Azores. At one point he ended up on the HMCS ETTRICK. While a corvette would stay with is assigned convoy to defend it against attack, a frigate was a striker, moving all around and on call to assist any convoy crossing the Atlantic. The frigate would chase down U-boats, permitting convoys to escape.
---
(DC01) Portrait of Donald Cameron (DC02) Donald Cameron in winter (DC03) Page 2 of Donald Cameron's Certificate of Service (DC04) Telegram sent in Dec 1943 by Donald Cameron after action in the Bay of Biscay (DC05) Depot ship HMCS BYTOWN being painted in the Rideau Canal, Ottawa, ON. Donald Cameron 1st on left.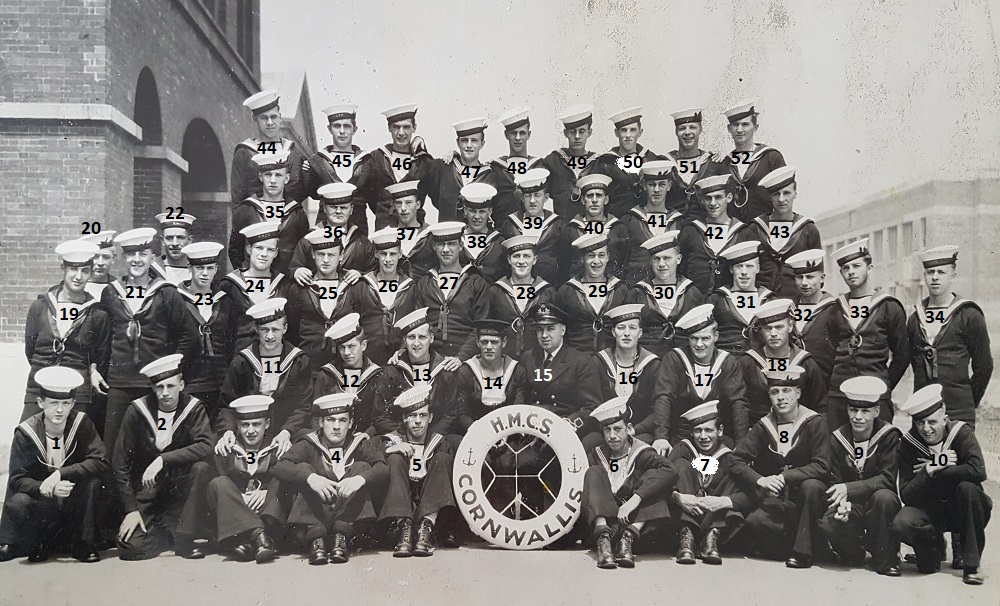 (DC06) HMCS CORNWALLIS
New Entry course photo circa Jan-Apr 1942
This photo is also posted on a New Entry Course photo page with any known name listed
#47 Cameron, Donald Leonard
---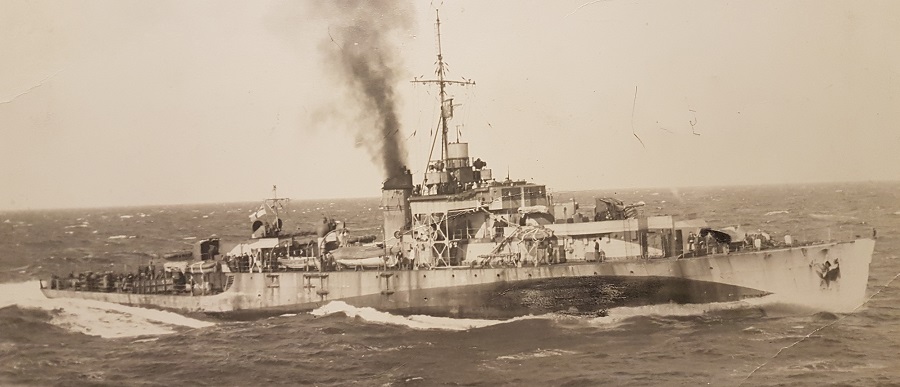 (DC07) HMCS ETTRICK K254
---