In memory of those who have Crossed the Bar
BRIAN, Harry Albert Joseph - died peacefully at home on July 8, 2011 at the age of 84, surrounded by his family. Loving and devoted husband of 62 years to Daisy. Proud and supportive father of Henry (deceased 1961), Anne (Amherstburg), Barbara (Welland), Madeline (Thailand/Toronto), Martha (Sweden), Colleen (White Rock, BC), Edward (Windsor), David (Hong Kong/Morpeth), John (Edmonton). Caring grandfather of Rob and Scott Bourgault (BC), April and Christopher Sabucco (Germany), Mathew Meleg (Japan), Amy Flannigan (Chicago), Joshua and Cameron Ahlnas (Sweden), Claudia Mitzel (BC), Michael Brian (Kingsville), Nicholas Brian (Windsor), Timothy Brian (New York), Jordan Brian (Edmonton), and Weston Flannigan (great-grandson, Chicago). Also survived by brother-in-law, John Black (Orillia) and several nieces and nephews. Predeceased by siblings, Kay, Geraldine, Margorie, Ken, Donald, and Mac. Proudly served in WWII aboard HMC Corvette CAMROSE. Member of Plumbers and Steamfitters Union, Local 552. Special thank you to the nurses of St. Elizabeth. Donations to the Frank Chauvin Orphanage in Haiti or Windsor Downtown Mission. Harry was a true gentleman. Visiting Sunday from 7 to 9 pm at Famlies First 1065 Lauzon Rd, East Windsor. Visiting will resume on Monday at 10 am at Our Lady of Guadalupe Church until the time of the Mass of Christian Burial at 11 am.
Ships served in:
(HB01) Harry Brian on the fo'c's'le HMCS CAMROSE K154 (HB02) Cooks on HMCS CAMROSE K154 (HB03) Sailors on HMCS CAMROSE K154 in Bermuda - Back: L-R: Walter, Brovner, Harry, unknown - Front: Unknown, Wednt, Smarb(t) (HB04) Sailors on HMCS CAMROSE K154 in Bermuda (HB05) Sailors on HMCS CAMROSE with duffle bags ready to go ashore
(HB06) Unknown corvette (HB07) Painting ship (HB08) Staff Laurence (HB09) Unknown sailors jacking around on HMCS CAMROSE K154 (HB10) Royal Navy corvette HMS STONECROP K142
(HB11) Painting with Staff Laurence (HB12) Staff Laurence, ? Sandcliffe and Harry Brian - Trafalgar Square, London, England, 21 Jun 1945 (HB13) British Destroyer (HB14) Ship's mascot for HMCS CAMROSE K154 (HB15) Corvettes at Portsmouth, England. HMCS ORILLIA K119 centre of 3 nested ships
(HB16) Damage to HMCS CAMROSE K154 after being rammed by HMS NASTURTIUM K107 in the English Channel 02 Feb 1945 (HB17) HMS NASTURTIUM K107 with damage to her bow (HB18) Watt, Brian, Laurence, Day on the fo'c's'le of HMCS CAMROSE K154 (HB19) Gun deck and fo'c's'le of HMCS CAMROSE K154 (HB20) Harry Brian on an AA gun on HMCS CAMROSE K154
(HB21) Supply ships in Scotland (HB22) Staff Laurence on HMCS CAMROSE K154 (HB23) Unknown sailor on HMCS CAMROSE K154 (HB24-HB25) Horta, Azores 07 Jan 1945
(HB26) unknown location - possibly off the French coast (HB27) Merchant ship with either HMS RODNEY or HMS NELSON in the background (HB28-HB29) Moville, Irish Free State, on the way to Londonderry (HB30) Convoy - possibly in the English Channel
(HB31) Fort de l'Ouest and the entrance to the harbour at Cherbourg in Normandy, France (...) British Monitor HMS ROBERTS off Normandy (...) Phoenix Cassion being towed across the English Channel to Normandy. Historical note: The Phoenix Cassions were used to create the Mulberry portable harbour breakwaters to facilitate landing of troops and material until harbour facilities in France could be repaired and brought back into use.
(HB35-HB37) Torpedoed Tanker (HB38-HB39) Recovering the body of a downed British airman
---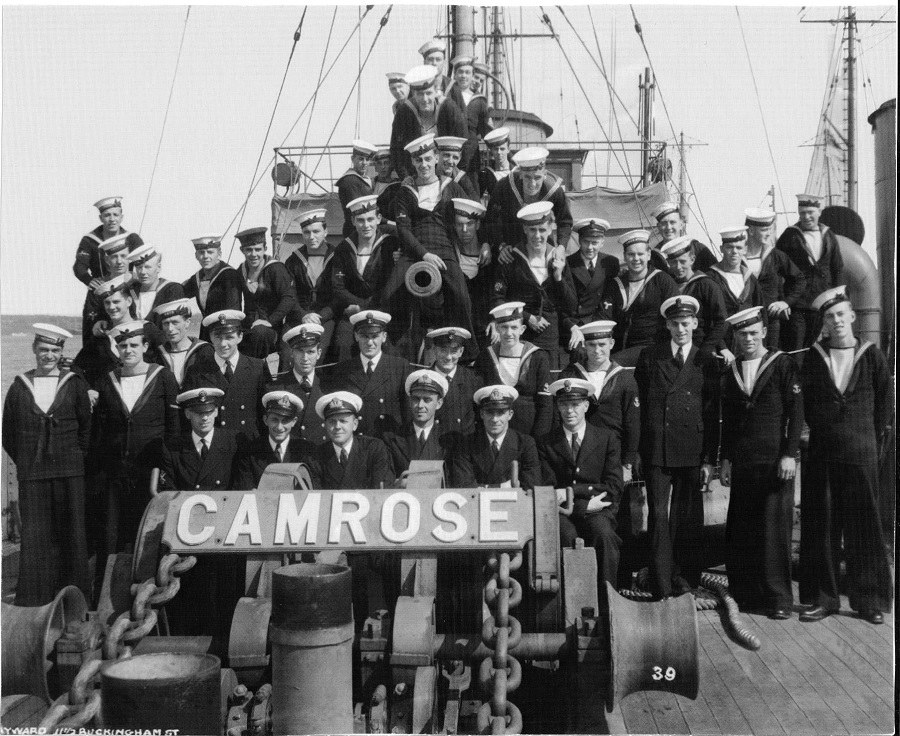 Ship's Company HMCS CAMROSE K154
This photo is also posted on the ship's company photo page for HMCS CAMROSE K154 with crew numbered for identification
---