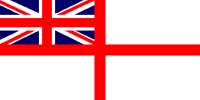 For Posterity's Sake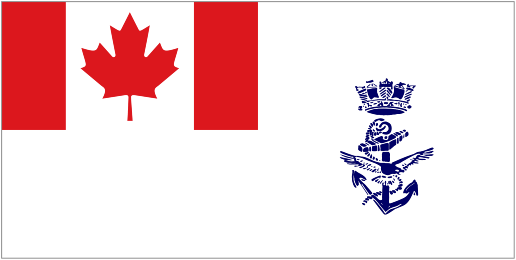 A Royal Canadian Navy Historical Project
In memory of those who have Crossed the Bar
Clarence Aubrey (Butch) Redden

Chief Petty Officer 1st Class, Electronic Technician, 3003-H, RCN

Born: 10 May 1918, Windsor Forks, Hants Co., Nova Scotia

Died: 24 Jul 2007
REDDEN, Clarence Aubrey (Butch) - 89, Lake Echo, died peacefully on July 24, 2007, in the company of his loving wife of 63 years and his family. Aubrey was born in Windsor Forks, on May 10, 1918 and remained a country boy at heart. He was a son of the late William and Margaret (Benedict) Redden.
He served in the Royal Canadian Navy from 1937 to July of 1960. He was a proud veteran of the Second World War, who enjoyed telling stories of his time in the military. Aubrey held many occupations over the years, from Lumberjack to Quality Control Administrator (DND). He will be remembered as a hard working, honest and generous soul. He was an avid outdoorsman, his hunting and fishing trips provided many pleasant memories (and stories!) for him as he progressed in years.
He is survived by his loving wife, Sadie; daughters, Kendra, Sherri (Colin); sons, Barry (Ellen), Bryan (John), Kevin, Keith (Bonnie); brothers, Ralston, Ellis and Ronnie; grandchildren, great-grandchildren, many nieces and nephews. Aubrey had a special relationship with Stephanie, Monika, Tyler and Julie.
He was predeceased by sisters, Anita, Anna, Doris, Jean, Rosalind, Stella, and brother, Gerald.
There will be no visitation at Aubrey's request. Cremation has taken place. A celebration of Aubrey's life will be held at a memorial service on Saturday, July 28, at 2 p.m. in St. Margaret of Scotland Church in Halifax, Archdeacon Dianne Parker officiating. Reception to follow the service, with burial in Fairview Lawn Cemetery. Family flowers only. The family would like to offer a special thanks to Always HomeCare - Willa, Charlene and Liona.
Ships served in:
---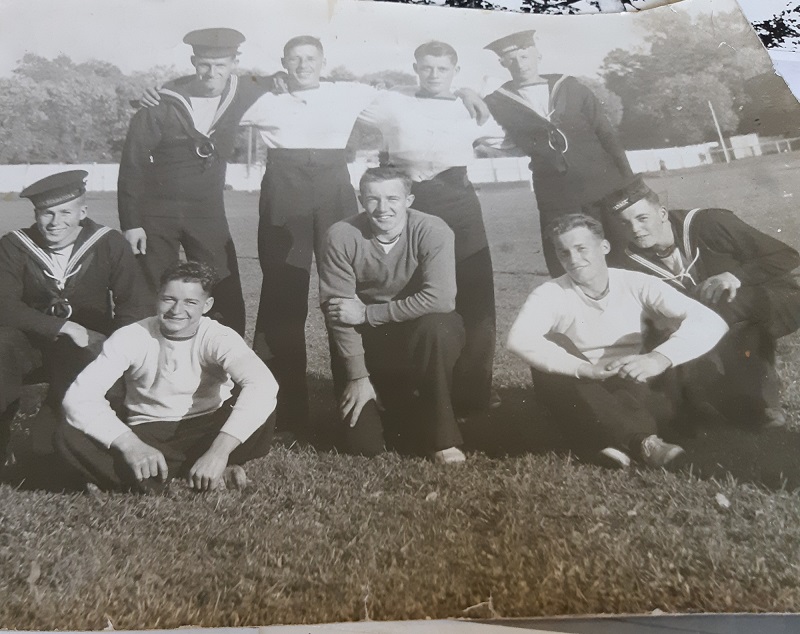 (CR01) Sports Meet - Army / Navy
Wanderer's Grounds, Halifax - 1937
Click on the above photo to view a larger image
Clarence Aubrey Redden - front right, white shirt with legs crossed
Click here to view the names on the back of the photo
Names written on the back: Douglas Ripley, H. Sheppard (lost Saguenay), Barge Robert Elvins, G. Munroe (lost Margaree)
D. Patterson (given his discharge S.N.L.R.), Douglas Gillis, Pincher Adrian Martin, C. Aubrey Redden, Clifford Evans Nauss
---
(CR02) Stan "Dusty" Rhodes, Lloyd Finter, C. Aubrey Redden (right) - HMCS VENTURE Winter Cruise 1937-38 (CR03) Aubrey Redden on HMCS Venture (CR04) LS Johnny Hann and AB Aubrey Redden (right), HMCS SAGUENAY 1938-39 (CR05) Aubrey Redden & unknown USN sailor - Kingston, Jamaica 1938-39 (CR06) Visit of His Royal Highness King George VI to HMCS COLUMBIA, Devonport, England, 1941. HMS KELLY with Lord Louis Mountbatten in command alongside HMCS COLUMBIA. Sir Dudley Pound, First Sea Loard, in attendance (CR07) Damage to HMCS COLUMBIA I49 after she rammed a cliff in Motion Bay, Newfoundland on 25 Feb 1944 which resulted in the death of 2 crew
(CR08) Damage to HMCS COLUMBIA I49 after she rammed a cliff in Motion Bay, Newfoundland on 25 Feb 1944 which resulted in the death of 2 crew (CR09) Christmas on board HMCS ST THOMAS, 23 Dec 1944. Officers & Chiefs & Petty Officers in Ward Room (CR10) Group of sailors ashore - with a donkey. Unknown ship, unknown location. (CR11) HMCS MAGNIFICENT (lead ship) and HMS OCEAN in Malta - 1951 (CR12) Sunday Divisions on HMCS MAGNIFICENT - 1951. Barbados Police Band in attendance. (CR13) CPO1 Redden receiving the LS & GC medal from Capt James Plomer (Jungle Jim) and Master-at-Arms Crawford - Cornwallis 1953 (CR14) CPO Redden speaking with RAdm Bedweel and Cdr E.J. Semmens
---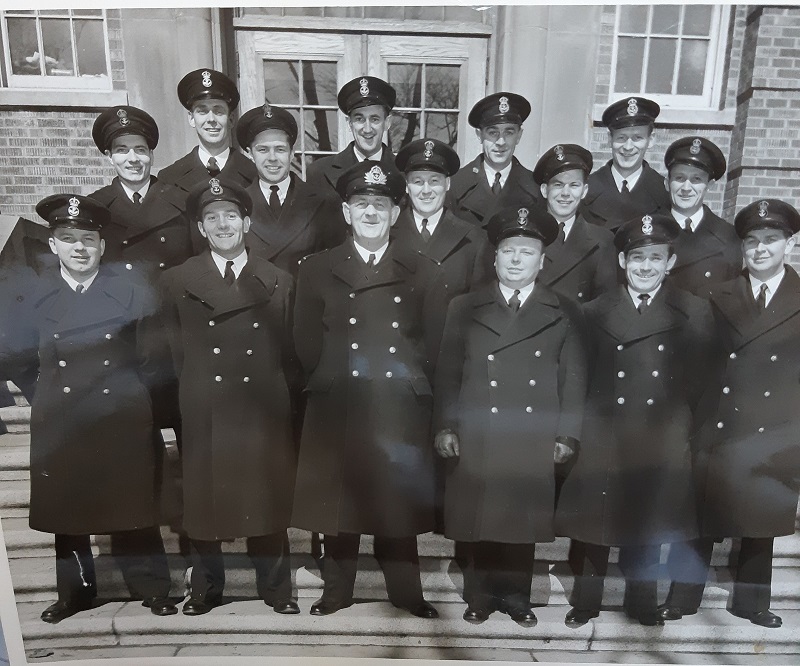 (CR15) Divisional Course - 1947
Click on the above photo to view a larger image
Front: Humpries, Ace O'Connell, Speed Gangon, Peggy Evans (Bos'n), Archie Simms, Fred Henderson (Air(E))
Middle: Bill Rye, Bob Spidell, C.A. Redden, A. Watson (TAS), A. Tonge (Touge?)
Rear: Ellis Parker, Reginemal? Smith, G. Trevor, Unknown air type, McEwachern?
Click here to view the names written on the back of the photo
---
(CR16) HMC Electrical School Staff - 1947
Click here to view the names on the back of the photo
---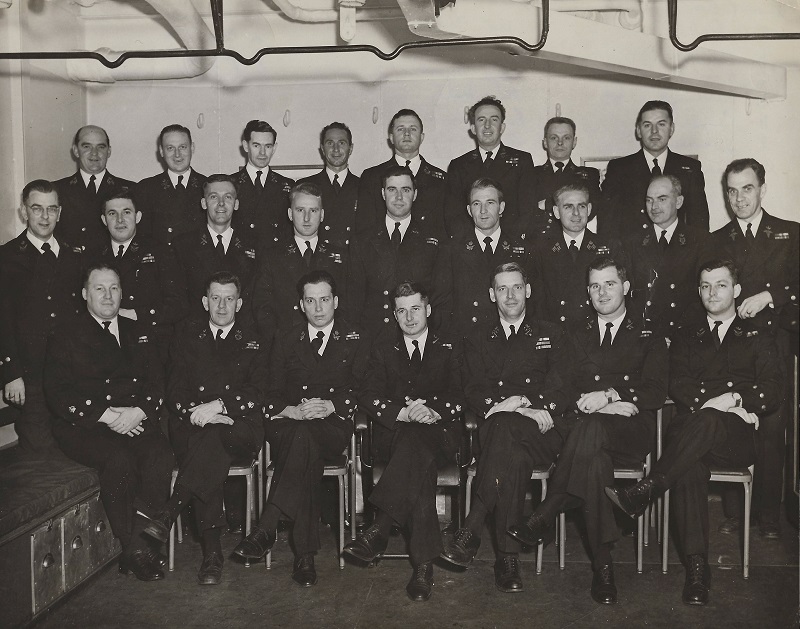 (CR17) HMCS MAGNIFICENT
10-H mess - Chiefs' Mess - 1950-52
Front L-R: C.A. Redden, K. Campbell, G. Green, W. Dunningham, H. Cooper, J. Johnston, J? Vanesse
Middle L-R: Stan Cooper, Bud West, Lloyd Myers, Ken Lantz, Frank Dennis, Al Young, Jim Layton, Vic Goodridge, Johnny Hines
Back L-R Al Bonner, L. Cooper, J. Jackson, Andy Sphirs, Joe Kitson, Herb Clarke, Sam Rumson, Fred "Poll" Poluchuck
Click here to view the names written on the back of the photo
---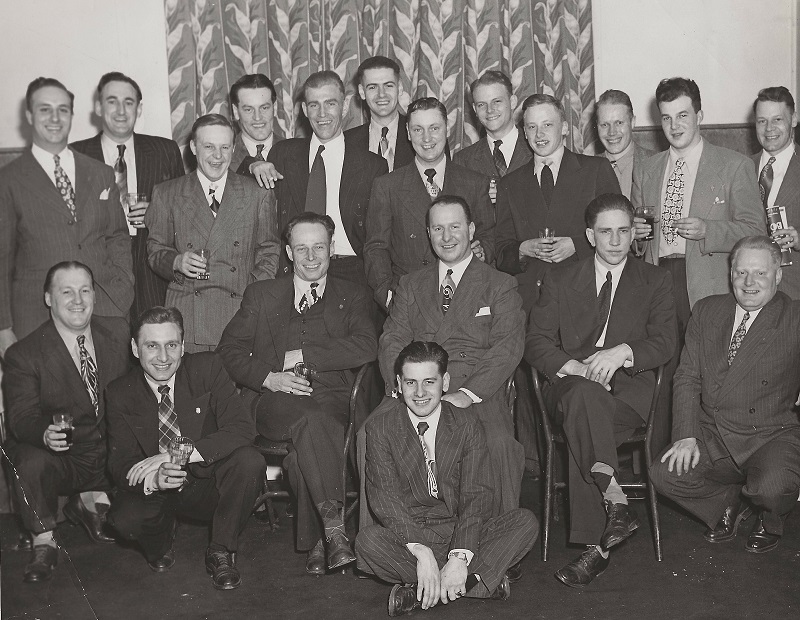 (CR18) HMC Electrical School
Radio Tech "C" Class Trade Group 4 Conversion course
1948-1949
Click here to view the names on the back of the photo
---