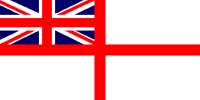 For Posterity's Sake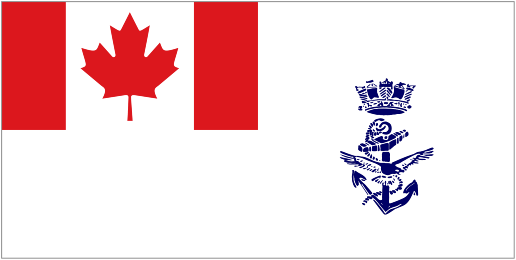 A Royal Canadian Navy Historical Project
In memory of those who have Crossed the Bar
MCDONALD, James A. (Jim) - Beloved husband, father, grandfather and great grandfather, passed away peacefully in his 90th year at Broadmead Lodge after a valiant ten year struggle with Alzheimers. Jim was a good man who led an admirable life. He was born in Winnipeg in 1919 and grew up in Saskatchewan, where he excelled at hockey, boxing and academics. After the outbreak of war, Jim joined the navy, serving on convoy duty in the North Atlantic. While on leave in Victoria, he married his lifelong partner Cedulia (Julia) Gagnon. Returning from the war, he finished his undergraduate degree at the University of Saskatchewan and was awarded a Rhodes scholarship. Jim completed postgraduate studies in economics at Oxford, where his first daughter Linda was born. While there, he captained the Oxford ice hockey team. After completing his studies, Jim and his young family moved to Montreal where he joined Canadian National Railway as Special Assistant to Donald Gordon. He rose rapidly through the ranks at CN, becoming a Regional VP. During this time, sons Duncan, Ian and daughter Janet were added to the family. He was subsequently recruited to join Penn Central Limited as a Senior VP. After five years in Philadelphia, Jim returned to Montreal, signing on with Canadian Pacific Limited as an Executive VP. During his time with CP, he also served as Chair of the Canadian Chamber of Commerce. Daughter Linda presented him with two grandchildren, Matthew and Kaylie. Son Duncan added a third grandchild, Christopher. After a long and successful career, Jim and Julia retired to Victoria, where he enjoyed cruising, golfing, skiing and his beloved tennis, which he continued to play into his eighties. Jim became a great grandfather with the birth of Chloe, daughter of Matthew and partner Heather. He will be sorely missed by his extended family, to whom he was a source of inspiration, guidance and support. The family extends heartfelt thanks to the staff at Broadmead Lodge for their exceptionally competent and compassionate care. Cremation and interment at Royal Oak Burial Park. A memorial celebration for family and friends will be arranged at a future date. (Victoria Times Colonist 05 May 2009)
Jim McDonald enlisted in the RCNVR in Saskatoon on 28 Sep 1938 as a Telegraphist. After training at HMCS Naden, he was drafted to HMCS Nootka, a minesweeper based out of Esquimalt. After being drafted off Nootka in Mar 1940, he served at various shore establishments - Naden, Naden II, and York Island - being rated A/Leading Tel on 01 Nov 1940. On 16 Feb 1942 he commissioned from the ranks and was appointed Probationary Sub-Lieutenant. Jim was released from the RCNVR on 03 Oct 1945 at HMCS Unicorn, Saskatoon
Ships served in:
SASKATOON DIVISION RCNVR - Volunteered 28 Sep 1938. Enrolled 30 Sep 1938 as a Provisional Ordinary Telegraphist, RCNVR
HMCS NOOTKA - Served in Nootka 30 Sep 1939 - 02 Mar 1940 as an A/Tel, RCNVR
HMCS KINGS - Appointed to Kings Apr 1942 as a Probationary SLt, RCNVR (Navy List Apr 1942)
HMCS KITCHENER - Appointed to Kitchener 28 Jun 1942 as a SLt, RCNVR (Navy List Sep 1942)
HMCS AVALON - Appointed to Avalon 07 Jul 1942 as a SLt, RCNVR (Navy List Aug 1943)
HMCS ARISTOCRAT - Appointed to Aristocrat 11 Feb 1944 an an A/Lt, RCNVR (Navy List Feb 1944)
HMCS STADACONA - Appointed to Stadacona as an A/Lt, RCNVR for Duty with Deputy Superintendent - H/F D/F Maintenance (Navy List May 1944)
HMCS SCOTIAN - Appointed to Scotian 01 Jun 1944 as an A/Lt, RCNVR for Duty with Commodore Superintendent Halifax - Chief Radio Engineering Office (Navy List Nov 1944)
HMCS UNICORN - Released 03 Oct 1945 as a Lt, RCNVR
(1-4) Certificate of Service (5) Certificate of Discharge (6) Probationary Sub Lieutenant Jim McDonald (7) SLt McDonald, Ottawa - 1943 (8) SLt McDonald with the family dog - 1943
(9) Lt McDonald - 1945 (10) Jim and Julia, Halifax -1944 (11) Jim and Julia on leave during the war 1943-44 (12) Julia and Jim McDonald, Janet Gagnon, Christina Rochford, Victoria, BC - 1944 (13) Jim & Julia (left) Edith and Don McDonald (Jim's sister-in-law and brother) (14) Jim and Julia on one of the twin bronze lions at the entrance to the Memorial Tower at The Dingle (Sir Sanford Flemming Park), Halifax, NS - Apr 1944 (15-16) Halifax, Apr 1944 - Met up with old friends from Esquimalt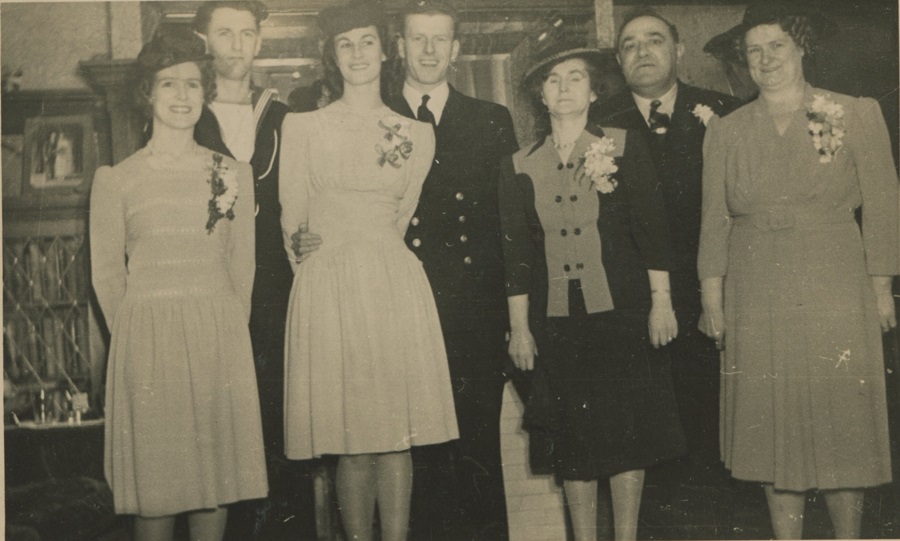 Wedding Day, 27 Feb 1943
Above photo - L-R - Christina (Chris) Rochfort (matron of honour), John Clements (best man), Julia and Jim McDonald (bride and groom), Mrs. Whyte, Amedee and Janet Gagnon (parents of the bride). Mrs. Whyte was a good friend and neighbour of Amedee and Janet Gagnon.
Wedding Announcement for SLt James McDonald and Cedulia Gagnon
Daily Colonist Sunday, 28 Feb 1943, pg 3
Sub-Lieut. and Mrs J.A. McDonald
The marriage between Cedulia, youngest daughter of Mr. and Mrs. A. Gagnon, Fraser Street, Esquimalt, and Sub-Lieut. James A. McDonald, RCNVR, younger son of Mr. And Mrs. J.D. McDonald , Winnipeg, took place on Saturday evening at the residence of the officiating minister, Rev. James Hood, Grafton Street, in the presence of close relations. The bride wore an afternoon dress of dusky rose crepe with nigger brown accessories and a corsage bouquet of orchids, and was attended by her sister, Mrs. C. Rochfort, in an aquamarine dress with black accessories and a shoulder spray of yellow rosebuds and violets. The groomsman was Mr. John Clements. A few additional guests were present at the reception held at the home of Mr. and Mrs. A. Ross, 467 Fraser street, who assisted the bride's parents in welcoming them. Spring flowers adorned the rooms and the lace-covered supper table was centred with the cake. For a honeymoon trip to Jasper, the bride left in a moss green coat with a fur collar over her wedding outfit. Sub-Lieutenant and Mrs. McDonald will make their home in Halifax for the immediate future.
---