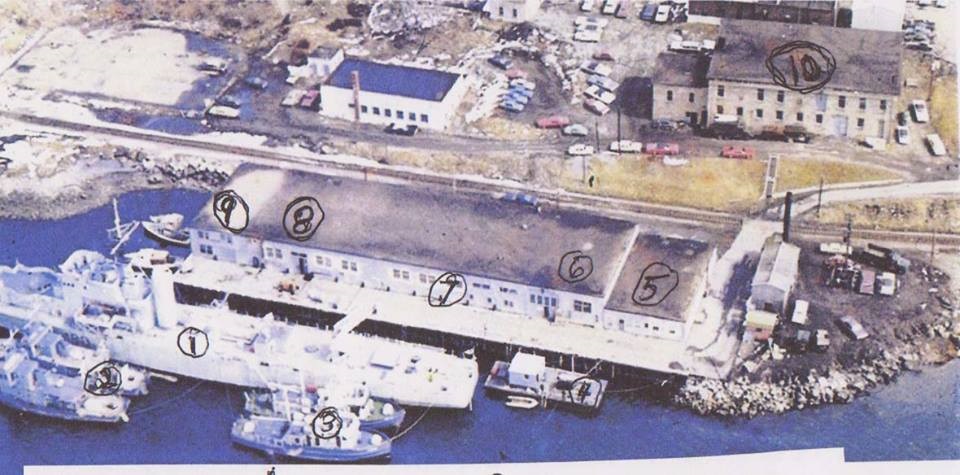 FDU(A) when it was located at the old French Cable Wharf in Dartmouth, NS
(1) Victoriaville, re-commissioned as HMCS Granby - House personnel on course, single living quarters, daytime meals for ship personnel, etc
(2) YMY/YDT - Yard Maintainers / Diving Tenders - nick named "the Iron Clads", YMT 11 and YMT 12. These diving tenders had a steel hull with an aluminum frame which at times acted like a sail in heavy winds and seas.
(3) YMT's 6 & 8 - Wooden hulled boats used for harbour work, attack swims, housed various working diver groups using CDBA - Clearance Diving Breathing Apparatus
(4) School's Diving Training Barge - used by the diving training school for Ship's Diver, Ship's Diving Officer Training and also Clearance Diving Officers and men of the Diver's trades for O2 and compressed air swims, etc.
Building: (5) Admin building (6) Workshop for storage of diving equipment (7) Diving School Training section (8) Boats Engineering section (9) Lower Deck ratings section
(10) French Cable Building - Housed the EOD Centre No. 1, with a rifle, pistol and archery range; Under Water Weapons section (mines, torpedoes, rockets, etc of various nations). On first level, the RCC (Dive Chamber). In front of the building you can see the drab 4x4 bomb truck and trailer.