---
HMC NRS CHURCHILL
Naval Radio Station
---
In 1942, the United States Army Air Corps established a base called Fort Churchill, located five miles east of the town. Naval Radio Station CHURCHILL was activated as an ionospheric study station by the RCN in support of the U-boat HFDF net and became operational on August 1, 1943. It commissioned as HMC NRS and remained that way from 1 Dec 1950 to July 1956. From July 1956 to July 1966 the station became HMCS CHURCHILL then changing to CFS CHURCHILL in July 1966 until the base closed.
---
---
Photos and Documents
---
(LK92) Article from the Winnipeg Free Press on LCdr Kennedy taking command of HMCS CHURCHILL. Article states (in error) that he was discharged from the RCNVR in Sep 1946 - he was discharged in May 1945
(LK93) Sep 1963 itinerary for inspection by Chief of Naval Personnel, Rear Admiral M. G. Stirling, and HQ party of eleven of HMCS CHURCHILL
(LK94) Lt Wilson, XO of HMCS CHURCHILL greeting RAdm Stirling and his party on their arrival at the base. LCdr Lionel Kennedy, CO is standing to the left of Lt Wilson
(LK95) Lt Wilson reporting the Chiefs and Petty Officers of HMCS CHURCHILL ready for inspection to RAdm Stirling
(LK96) RAdm Stirling inspecting the C&POs of HMCS CHURCHILL
(LK97) RAdm Stirling addressing the C&POs of HMCS CHURCHILL. Officers L-R: RAdm Stirling, LCdr Lionel Kennedy, CO of HMCS CHURCHILL and Lt Wilson, XO of HMCS CHURCHILL
(LK98) RAdm Stirling inspecting the Supply Section at HMCS CHURCHILL. Lt Ernest B. Larkin, Supply Officer, to the Admiral's right. The name of the Victualling Storesman in the photo is unknown
(LK99) RAdm Stirling with Lt Wilson, guard officer, inspects the guard during his inspection of HMCS CHURCHILL
(LK100) Gathering in the Wardroom (officer's mess) at HMCS CHURCHILL after RAdm Stirling's inspection. Seated: L-R: Captain A.O. Solomon, Commander B. Gaynor, Rear Admiral M.G. Stirling, LCDR E.M.L. Kennedy, C.O. HMCS Churchill. Standing: L-R: Lt. E.B. Larkin, Supply Officer, HMCS CHURCHILL; Lt. R.A. Wilson, Executive Officer, HMCS CHURCHILL; unknown civilian; Mr. C. Lamb, A/Operations Officer, HMCS CHURCHILL; unknown HQ officers; HQ Chaplain (P) C.H. Maclean; unknown HQ Commander; unknown HQ Commander; unknown; unknown; HQ LCDR T.J. Bailey; unknown HQ officer
(LK101) Thank you letter from RAdm Stirling to LCdr Kennedy
(LK102) LCDR Kennedy 2nd from left with kilted A/Commander D.V. Willoughby, Medical Officer in charge of Fort Churchill Hospital, 3rd from left. RCN POs on either side unidentified. LCDR Kennedy is holding a Malacca cane that belonged to his wife that she agreed he could present to A/Cdr Willoughby as a farewell gift before he left Churchill. Kennedy was Chairman of the Fort Churchill Hospital Board at the time. The two RCN Chief Petty Officers are unknown. Photo taken in the entrance hall at HMCS CHURCHILL
(LK103) Unknown RCN and USN officers in the wardroom of HMCS CHURCHILL. Photo by Defence Research Northern Laboratory, Fort Churchill
(LK104) Lionel & Betty Kennedy New Year's Eve 1963 before attending party at Fort Churchill Officers Mess
(LK105) Entrance of HMCS CHURCHILL - 1964
(LK106) Former HMCS / CFS CHURCHILL - photo taken by Barbara Holliday in 1992 - 24 years after the base was paid off (shut down).
(LK106) Fort Churchill PMQs
(LK107) Fort Churchill Officers Mess after wedding of Arlene Kennedy to Flying Officer Lloyd Rain, RCAF. L-R: Mrs. Strome Galloway, Colonel Strome Galloway (Fort Churchill Camp Commander) FO Lloyd Rain, Arlene Rain, mother of bride, Betty Kennedy, and father of bride, LCDR Lionel Kennedy, CO HMCS CHURCHILL - Dec 1963
(LK108) Presentation of Polar Bears on the occasion of the closing of the Fort Churchill Officers Mess - 31 Mar 1964. LCdr L. Kennedy presenting polar bear to Colonel Strome Galloway, Camp Commander, Fort Churchill. L-R: LCdr Kennedy, Col. Galloway, Lt R. A. Wilson, Lt E.B. Larkin, Lt L.C. Laurie and Commissioned Officer N.R. Marsaw
Note: Fort Churchill was a United States Strategic Air Command base and support centre for the Churchill Rocket Range
New Years Eve at HMCS CHURCHILL - 1964
(LK109) Back row: Lt G.J. Clark, Supply Officer, officer 2nd from left unknown. Middle row L-R: Woman on left unknown; Reverend Bill Walter; Commissioned Officer Roy Marsaw; LCdr Lionel Kennedy, CO; Lieutenant L.C. Laurie; unknown SLt. Front row (seated) L-R: Dr. Stella Walter, Mrs. Amy Marsaw, Mrs. Betty Kennedy, remaining 3 women unknown
(LK110) L-R: LCDR Lionel Kennedy, Mrs. Amy Marsaw, unknown woman, and Lt G.J. Clark - whose collar appears a bit tight
From the collection of LCdr Lionel Kennedy, RCN
Courtesy of Barbara Holliday
---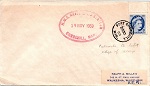 Postal cover HMCNRS Churchill - 19 Nov 1959
Courtesy of Mike Street
---