---
Q080
Fairmile Motor Launch
---
Fairmile ML Q080

Source: Flickr photo collection of Don Gorham
Laid down: 20 Aug 1941

Launched: 20 May 1942

Delivered to the RCN: 17 Jun 1942

Removed from service: 12 Jul 1945

Fate: Found abandoned in 2007. Final disposition unknown.
Built by Taylor and Sons, J.J., Toronto, Ont., she was delivered to the RCN on 17 Jun 1942. While she flew the White Ensign, she was not commissioned into the RCN but instead was listed as a tender to HMCS SAMBRO, the depot ship for escorts (tenders were not commissioned vessels). Q080 was a "B" Type ML, Length: 112 ft, Beam: 17.9 ft, Draft: 4.9 ft, Complement: 3 officers, 14 men, Armament: 3-20mm.
In Apr 1944 and 1945, Q080 was listed as part of the 79th ML Flotilla.
From The Fairmiles - Canada's Little Ships "After the war Q080 was sold to United Boat Service Corp., New York, USA. and was renamed Almeta Queen, Cosa Grande and Quarterdeck. According to the coxswain, Leading Torpedoman C. Muloine, HMC ML080 spent the summer and fall of 1942 in the Gulf of St Lawrence. She struck Prince Edward Island in the area where the present Wood Island ferry docks in a storm in mid January, 1943, and the crew was rescued by a farmer with a horse and sleigh. She was towed to Pictou, Nova Scotia and repaired but was a training vessel after that. He recorded this on page 23 in the book Fading Memories. HMC ML080 was also involved in the incident that ripped the upper deck off of HMC ML064 as noted above. The Air Force recorded Fairmile # 080 as visiting RCAF Dartmouth on May 3rd, 1945, on page 145 in the book The Royal Canadian Air Force Marine Squadrons, volume two, 1945 – 1985 by Geoff D. Pilborough. If this was HMC ML080 she probably served around Halifax as a training vessel."
Sold 1945 she was re-named: Quarterdeck, later Almeta Queen, Cosa Grande. She was found abandoned 2007.
---
Photos and Documents Crew photos
---
Commanding Officers
SLt John William Collins, RCNVR - 21 Apr 1942 - unk

SLt George Elden Burrell, RCNVR - 01 Jun 1942 - unk

SLt George Elden Burrell, RCNVR - 09 Sep 1942 - 06 Oct 1943

Lt John Ernest M. Jones, RCNVR - 07 Oct 1943 - 15 Dec 1944

Lt Jean Jacques Caya, RCNVR - 23 Apr 1945 - unk

Lt Jean Jacques Caya, RCNVR - 01 Jun 1945 - 12 Jul 1945
---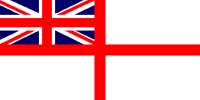 In memory of those who have crossed the bar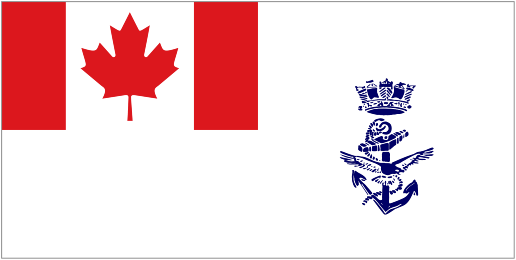 They shall not be forgotten
---
Former Crew Members
Bates, J. - 1944

Bonhomme, R.R. - 1944

Croft, B. - 1944

Jenkins, Thomas Rowland Harries, SLt, RCNVR - 30 Apr 1945

McCabe, Gerald Edward, Lt, RCNVR - 23 Apr 1945

McIlveen, William Wright, SLt, RCNVR - 09 Apr 1944

Nelson, D., Cook - 1944

Pearson, Donald Edward Thomas, Lt, RCNVR - 1944

Watson, J., PO, Cox'n - 1944

Young, B. - 1944
---
Photos and Documents
(GS01) ML Q080 (GS02) ML Q080 iced up - showing winter conditions in the Gulf of St. Lawrence (GS02) Funnel art on ML Q080 - Popeye kicking a U-boat (GS03) (GS04) Crew of ML Q080. CPO Sterne, front row, 3rd from right
Photo GS04 is also posted on the ship's company photo page for Q080
(GS05) Colours on ML Q080. CPO Stern port side rank, 1st on left (GS06) Officers on ML Q080 (GS07) Officers on ML Q080 (GS08) ML Q064 and Q080 alongside and unknown location
From the collection of George Beatty Sterne, CPO.MM
Courtesy of Bob Sterne
---
ML Q080
From the collection of Douglas Moore
Courtesy of Harold Moore
---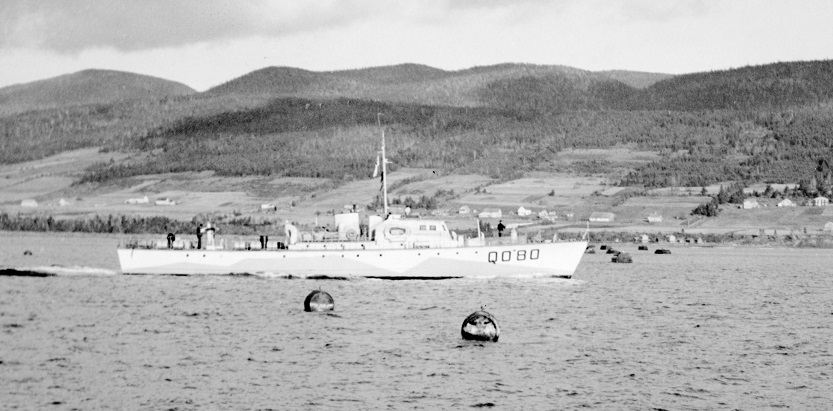 ML Q080
RCN Photo # O-4989
Courtesy of the Comox RCAF Museum
---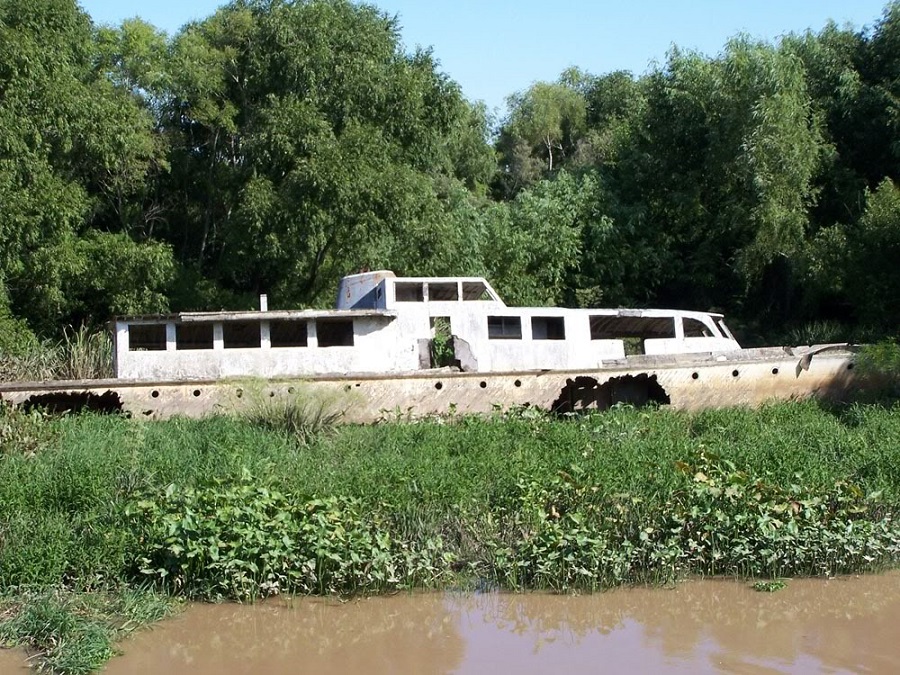 Former Fairmile Motor Launch Q080 - found abandoned in the Parana Delta River, Argentina, August 2007. Pablo Brinckmann collection
Photo credit: RCN FAIRMILES
---
HOME PAGE
SHIP INDEX
CONTACT