In memory of those who have Crossed the Bar
Alfred Ridler Howells, M.I.D.

Chief Engine Room Artificer, V22769, RCNVR

Born: 15 Oct 1903, Lydney, Gloucestershire, England

Died: 23 May 1980, Mississauga, Ontario
HOWELLS, Alfred Ridler - was born in Lydney, England. He emigrated to Mandeville, Jamaica in January 1928. His daughter Patricia Rosemary was born in Jamaica in Jan 1928. They immigrated to Canada 10 May 1929 through Niagara Falls via New York, having arrived in New York on 07 May 1929. The family moved to Vancouver, BC where Alfred joined the RCNR. After the war he worked for Gaspe Copper Mines Ltd and was awarded the John T Ryan Award in 1964. He was in some way involved in building the mines in Rouyn-Noranda).
---
Citation for Mentioned in Despatches:
HOWELLS, Alfred Ridler, Chief Engine Room Artificer, V22769, Mention in Despatches, RCNVR, HMCS NEW GLASGOW - Awarded as per Canada Gazette of 5 January 1946 and London Gazette of 1 January 1946.
"Chief Engine Room Artificer Howells has served at sea for the past four years. While serving in HMCS New Glasgow, his ability, sense of responsibility and exemplary conduct afloat were of the highest order. His service has been an inspiration to the men serving with him, and is in keeping with the high traditions of the Royal Canadian Navy."
---
Ships served in: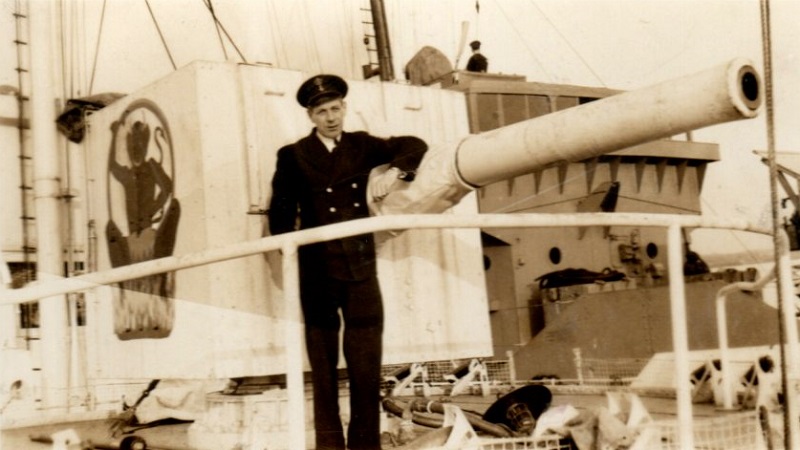 Petty Officer ERA Alfred Howells by the forward gun on HMCS DRUMHELLER
---