In memory of those who have Crossed the Bar
Warren Freeman Wood

Stoker, VR-5984, RNCVR

Born: 18 Feb 1896

Died: Aug 1968, Nova Scotia
WOOD, Warren Freeman - My father served in the Canadian Navy on board HMCS ARMENTIERES. He was a stoker and his battle station was assistant gunner. He didn't tell me too much about life on the ship. He told me once they thought they had a U-Boat on the surface, but it turned out to be a whale. Other than that, he didn't say much. He told us (family) about stopping on some (apparently) Caribbean island and talked about getting fresh fruit straight from the trees. It is possible that he sailed on ARMENTIERES to Esquimalt, BC, and then worked his way overland either back home to Nova Scotia or to the States. At some point, he wound up in Chicago, after his tour of duty. He was in Halifax when the two ships collided in the harbor and exploded in 1917. It sounds like he joined the Canadian Navy shortly after that.
Ships served in: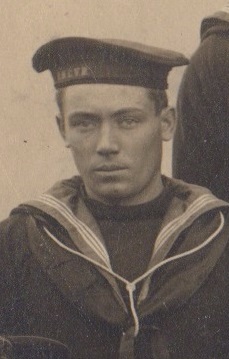 Warren F. Wood
Photo cropped from HMCS ARMENTIERES' crew photo
Letters that Warren wrote to his mother. The letter on the left, dated 12 Nov 1918, is about the Armistice celebrations in Sydney, Cape Breton, NS. The letter on the right, dated 18 Nov 1918, is about a crew photo being taken and a possible voyage to the west coast to Esquimalt - after repairs are made to the ARMENTIERES.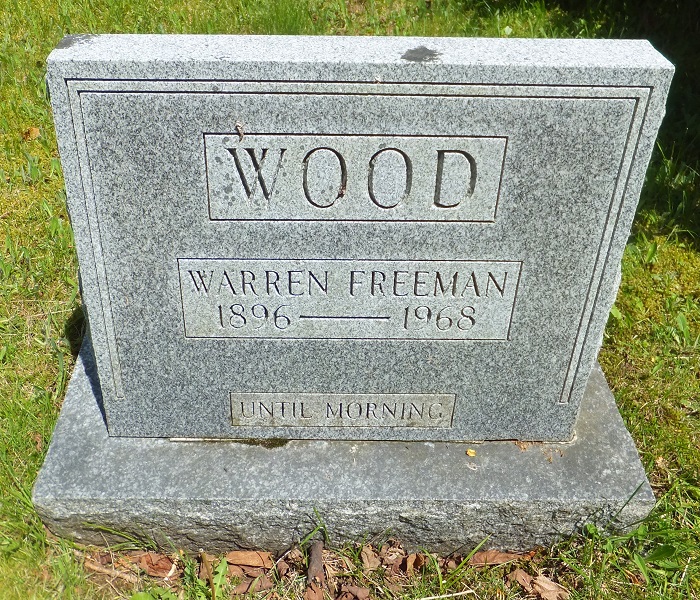 United Church Cemetery, Centre Rawdon, Hants Co., NS
(source: Find-a-Grave website)
---