In memory of those who have Crossed the Bar
John David Smith

Commander, RCN / C.A.F (Navy)

Born: 15 Jan 1945 Died: 31 Jul 2022
SMITH, John David, Dr., B.Eng, M.D. - Age 77, of Dartmouth, (Mineville) passed away on Sunday, July 31, 2022 after a short battle with pancreatic cancer and Alzheimer's disease.
Born in Montreal, Quebec, he was the oldest son of Cecil and Elizabeth "Betty" Smith (nee Dalgleish). When John was 4 years old Cecil, a member of the Royal Canadian Navy, was posted to Halifax where they made their family home on Joffre Street in Dartmouth. John followed in his father's and Uncle John's footsteps and joined the Royal Canadian Navy Reserves while attending Dartmouth High School before attending Dalhousie University's engineering program with the support of the ROTP.
With his engineering diploma, he joined the Canadian Navy Submariner brotherhood where he served on HMCS OKANAGAN and HMCS ONONDAGA in the early 1970's and met lifelong friend John Madison. While training at Submariner School in 1968 in New London, Connecticut he met and was soon married to Donna Hollister who was serving in the U.S. Navy. John and Donna raised their family in Lake Echo, while John started several more careers beyond his Navy service. John returned to Dalhousie in 1973 to study medicine. He graduated from Dalhousie Medical School in 1978 and used his medical degree while serving on HMCS PROTECTEUR and eventually became the Chief Medical Officer at Stadacona.
John retired in 1991 from the Royal Canadian Navy as Command Surgeon for Maritime Command. Fun Fact - John spent all of his 29-year Navy career posted in Halifax. While doing all of this, he somehow found time to start a family medical practice in 1979 serving communities along the Eastern Shore such as Lake Echo and East Preston. His first family doctor's office was a renovated single car garage in the basement of the family home on Theresa Ct. The kitchen table served as the administrative "office" and Donna was his secretary and administrative assistant booking appointments in the evenings and weekends. John was a 24-7 family doctor and never turned a walk-in patient away. Many nights he would still be seeing patients after 11pm which meant if you were a patient of Dr. John's and had an appointment at 10:45, you needed to ask "am or pm?" In 1993, shortly after his retirement from the RCN, John and Donna built their dream home in Mineville. What dream home wouldn't include a doctor's office directly off of the kitchen? He ran his family practice out of the home in Mineville for many years with the support of Lynn Naugle and Janice Weatherby as his ever valued administrative assistants over the years. He eventually moved his expanding practice from his home and built the multi-service Mineville Medical Clinic in 2005.
If running a full-time family medicine practice weren't enough, John also served the Nova Scotia Medical Examiner's Office, eventually becoming Chief Medical Examiner, a role that suited his curious personality well. John had special knowledge of Hyperbaric Medicine from his days supporting the Navy Fleet Diving Unit at Shearwater and was instrumental in convincing Petro Canada to purchase a hyperbaric medicine chamber to support the booming offshore oil industry in Nova Scotia. This equipment and related services are still in use today at the VG site. He was a pioneer of sorts in this field of medicine at the time, eventually being invited to lecture on the topic at medical conferences around North America. If those weren't enough hats to wear (he always had a stylish hat covering his bald head), he also served the Victoria General Hospital staff as Occupational Health Physician for many years. John knew every nook and cranny of the Capital Health system and used his network of health professionals to support high quality care for his family medicine patients. Yes, John was the definition of a work-a-holic, but he also made time for his family and had many lifelong friendships.
He loved shopping, gadgets, technology (it didn't love him) and his cell phone. You knew you were on his "A list" when you received a call from him after getting in his car for a chat along the way. These chats were always short lived because there is a dead zone about 3 minutes away from home between the two hills along Hwy 107 adjacent to East Preston where his call would inevitably be dropped mid-sentence… he never did learn that lesson.
John was an avid world traveler having visited every corner of the earth with Donna and their travel group and then with his second wife Elizabeth Walton. Along with travel, he and Elizabeth shared a love for the movies, restaurants, Costco and relaxing evenings on the deck with the birds and squirrels and most recently watching the action at Dartmouth Yacht Club from their apartment balcony. As longer trips abroad became more challenging, John and Elizabeth supplemented their travel with "get-a-way" weekends around the south shore and valley and also had an annual cottage week on PEI each summer.
John was a lover of animals. He owned no fewer than 16 family dogs and at least 7 family cats over his lifetime. He also loved Serena, his horse in Texas. After the passing of Donna in 2009, he would often travel to Texas alone to spend time with his horse Serena and brother in-law Richard Tekell. Choosing to rehome her in 2018 was an agonizing decision for him. John was also a lover of nature and enjoyed hunting with friends and his son in Nova Scotia and Newfoundland. He was not a very good hunter, almost always returning home empty handed, but he did enjoy the social aspect of a week in the hunt camp.
Lastly, John was not a sports fan, but loved watching his grandkids play sports. He was a dedicated paddling spectator at Lake Banook, a loyal Metro West Force and Lockview female hockey fan, an Eastern Shore Breakers lacrosse onlooker, an East Preston Pacers basketball cheerleader, a United Dartmouth Football Club hoodlum and finally a Cole Harbour Rockets basketball supporter. John had a large social circle including his coffee group originally at Hungry Jack's and most recently in Madison's garage, his Friday Big Leagues Pub happy hour boys, his retired submariner brotherhood and many other friends that have loved and supported him over the years. Alongside John Madison, he had special bonds with Dr. Dave Andrews, Bill Kydd, Ron Comeau and Dan Brennan all of whom you will need to seek out and hear a good Dr. John story, as there is no shortage of good material. Everybody seems to know of or have a connection to Dr. John.
John was predeceased by his wife of 40 years, Donna Hollister Smith and his parents Cecil and Betty Smith.
He is survived by his wife Elizabeth Walton of Dartmouth; his son Scott (Sarah Grant Smith) of Fall River; daughter Lindsay (Eric Munroe) of Mineville; step children Steven Lundie (Isabel) B.C., Mark Garrison (Sanjeev Chadha) Australia, Kimberly Humes (Antonio Abdo) of Halifax and Katherine Humes of Dartmouth; loving grandchildren Madeline and Julia Smith, Will, Donna, Amy and Leisa Munroe and Elizabeth "Ellie" Abdo. He is also survived by his brother Donald Smith of Dartmouth.
Funeral arrangements have been entrusted to Atlantic Funeral Home, 771 Main Street, Dartmouth where visitation will be held from 2-4 and 7-9pm on Saturday August 6th
The funeral service will take place at 3pm on Sunday August 7th in the funeral home chapel, Rev. Paul Wilson officiating.
Family flowers only. Please consider making a donation in John's name to our local S.P.C.A. or the Canadian Alzheimer's Society or to a charity of your choice.
Special thanks to the staff of the Palliative Care Unit at the Victoria General Hospital (7A), and his family physician Dr. Edith Lafleur. (Saltwire Network 03 Aug 2022)
Ships served in:
1ST CANADIAN SUBMARINE SQUADRON
COMMAND SURGEON MARITIME COMMAND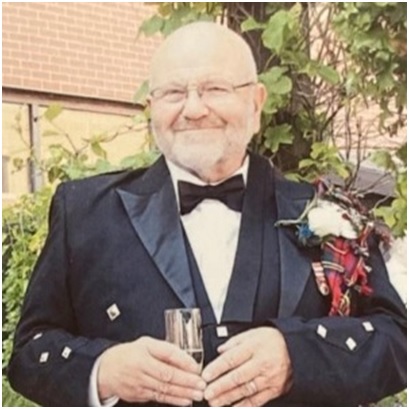 ---