In memory of those who have Crossed the Bar
BOYD, Ronald Irvine - Ron will be greatly missed by his wife Elizabeth of 59 years; his daughters Gail (Dennis) and Rhonda (Doug), grandchildren Heather, Adam and Darren; and great-grandchildren Jake and Chase. Give Corey a big hug for all of his. We love you.
Ron served in the navy during the Second World War as a Submarine Detector (ASDIC Operator). After leaving the navy Ron went to art school. He worked for more than 25 yrs at Canada Packers formerly Maple Leaf as a butcher, but on the side the side he worked as their cartoonist. He was also a volunteer fire fighter in Surrey, BC.
Ships served in:
HMCS LUNENBURG - Served in Lunenburg 1941-1945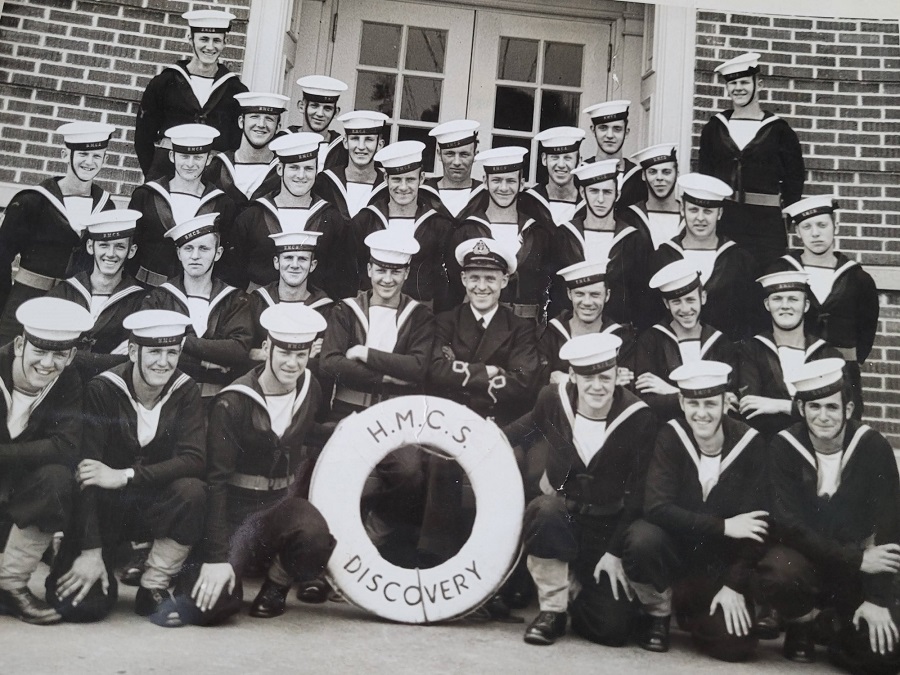 (RB00) New entry recruits at HMCS DISCOVERY
Ron Boyd front row, 2nd from right
(RB01) Sailor in Truro. Ron Boyd front, 2nd from right (RB02) Sailors ashore - location unknown. Ron Boyd, standing, 3rd from right (RB03) Ron Boyd (on right) on HMCS LUNENBURG (RB04) Sailors on HMCS LUNENBURG'S gun deck. Ron Boyd on top of gun, 4th from left (RB05) Sailors on HMCS LUNENBURG posing with Bug Bunny
(RB06) unknown sailor on HMCS LUNENBURG (RB07) Two sailors sitting in an engine room air intake on HMCS LUNENBURG (RB08) HMCS CHILLIWACK K131 viewed in the pom-pom site of HMCS LUNENBURG (RB09) Sailors on HMCS LUNENBURG posing with NAZI flag they they acquired when HMCS LUNENBURG stopped at the Channel Island of St. Helier in May 1945 during the Allied re-occupation of the Channel Islands. Ron Boyd, 3rd from left with paper sticking out of his pocket.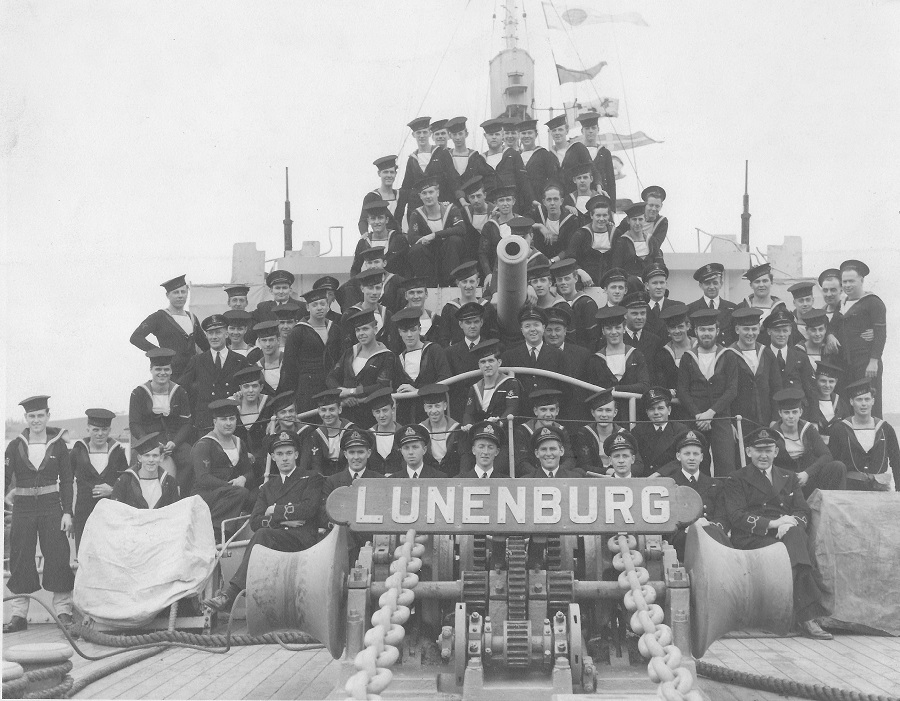 (RB11) HMCS LUNENBURG K151
Ship's Company Photo
This photo is also post on the ship's company photo page for HMCS LUNENBURG K151
---
(RB12) Ron's School of Art Diploma (RB13-RB15) Article in the Maple Leaf company magazine as the "Safety Cartoonist"
(RB16-RB17) Ron's certificate of qualification and fire fighter's badge. Ron served as a volunteer in the Surry, B.C. Fire Dept.
---