In memory of those who have Crossed the Bar
John A. (Jack) Gibson

Chief Petty Officer, Steward, RCNVR

Born: 24 Jul 1926, St Catharines, Ontario

Died: 19 Jul 2018, Clearwater, Florida, USA
GIBSON, John A. (Jack) - 91 of Clearwater went to be with the Lord Thursday, July 19th. Jack was born July 24, 1926 in St. Catharines, Ontario, Canada. Jack is survived by his daughter, Debbie (Geoff); his son Bruce (Tracy); and niece Jennifer (Chuck). He is preceded in death by his wife Marie of 65 years; his sister Betty and brother Billy. Jack volunteered for the Royal Canadian Navy during WWII. As a young man he was very active in many sports, professionally rowing for Canada. But he LOVED HOCKEY to the end. Thanks TB Lightning! Jack worked in Canada for Bell Canada before coming to Clearwater in 1960 where he worked for GTE for 32 years in many capacities. He was an early supporter and lifetime fan of the Clearwater Bombers. Jack rose to the 32nd degree as a Mason awarded with 55 years of service. He was an active member of the Telephone Pioneers and enjoyed many years of travel with his many friends from this organization. Jack also loved his church family as a member of the First Christian Church for 55 years. Jack is most known for his jokes and jovial personality. A celebration of life will be held Friday, July 27th at 11am at the First Christian Church, 2299 Drew Street, Clearwater, 33765 with Reverend Mike McGinnis presiding. In Lieu of flowers donations may be made to First Christian Church in memory of Jack Gibson. Curlew Hills FH.
---
The following notes were collected directly from Jack over several exchanges

Compiled by Geoff Conrad (son-in-law) and Deborah Conrad (daughter)
Billy the older brother of Jack was a solider in Army on the side of Britain early in the war. Billy went to war and little was heard from him. Billy was declared missing and presumed to be MIA or a POW. No communications were received. During this time Jack was in school and not of age to join the services. According to Jack his father John said "son we need you to join the Army or Navy now and go find your brother and bring him home".
Jack Gibson joined the Navy and was assigned to destroyer escorts on the North Atlantic. He didn't share much about his rank or work only saying he stood lots of watches, did not get seasick and made ports of call in Scotland, Wales and Ireland. John took his family task to heart always making inquiries as to his brother whereabouts or any news at every opportunity.

Jack boxed for the pride of his ship and by all accounts a contender. He lost his sense of smell and taste due to blows to his nose and face. He lived most of his long life with this condition, he had mental recollections of how things used to taste.
Jack did locate Billy, as the story goes a group of released POWs had been returned. They were pier side awaiting transport back to Canada. Billy did not look anything like he did after his POW experiences. Billy has some inclination that Jack was in the Navy and maybe onboard. Billy boarded the ship and Jack was inspecting the return POWs looking for his lost brother. They did not initially recognize each other. Billy inquired once on deck if there was a John Gibson onboard, a sailor then pointed out Jack to him. Jack had managed to be at the right place and time to find his missing brother. Picture attached of the two of them after being reunited.
Billy did not share much about what happened to him leading up to his becoming a POW. Jack did not share with me what happened, only saying Billy never talked about it. One can only speculate backed on any number of false attempts to invade France prior to D-day or other campaigns in North Africa where large number of prisons were taken.
After the war Jack returned to St Catherine's to start his life once again. He had several other adventures that were in store for him:
a) A near fatal motorcycle accident that broke many bones and laid Jack up for two years.
b) Rowed for Royal Henley in St. Catharines.
c) Marrying Marie Filman they were married for 65 years
d) Working for Bell Canada as an accomplished lineman and troubleshooter.
e) On a Florida vacation on a whim applying for a job with General Telephone Company, hired on the spot the Gibson's picked up stakes and moved to Clearwater Florida.
The Gibson's put down strong roots in the area with family, work, religious beliefs, Masons, lifelong friendships, and volunteerism. Jack and Marie Gibson were loved, appreciated, and respected. Everyone knew them for all they did in living their lives to the fullest.
---
Ships served in:
---
---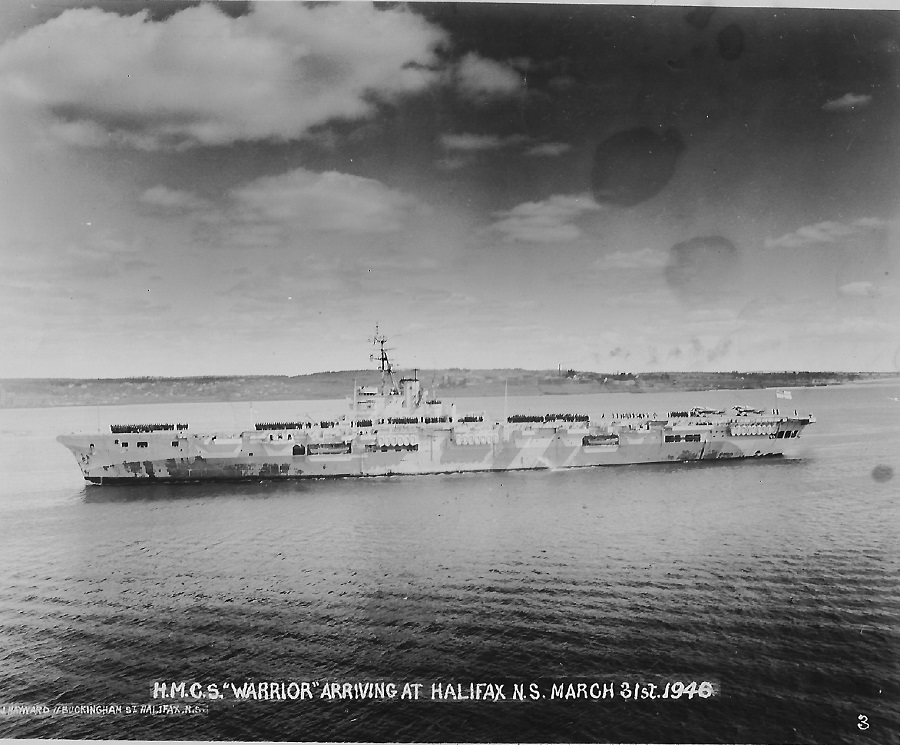 HMCS WARRIOR arriving at Halifax, NS, 31 Mar 1948
---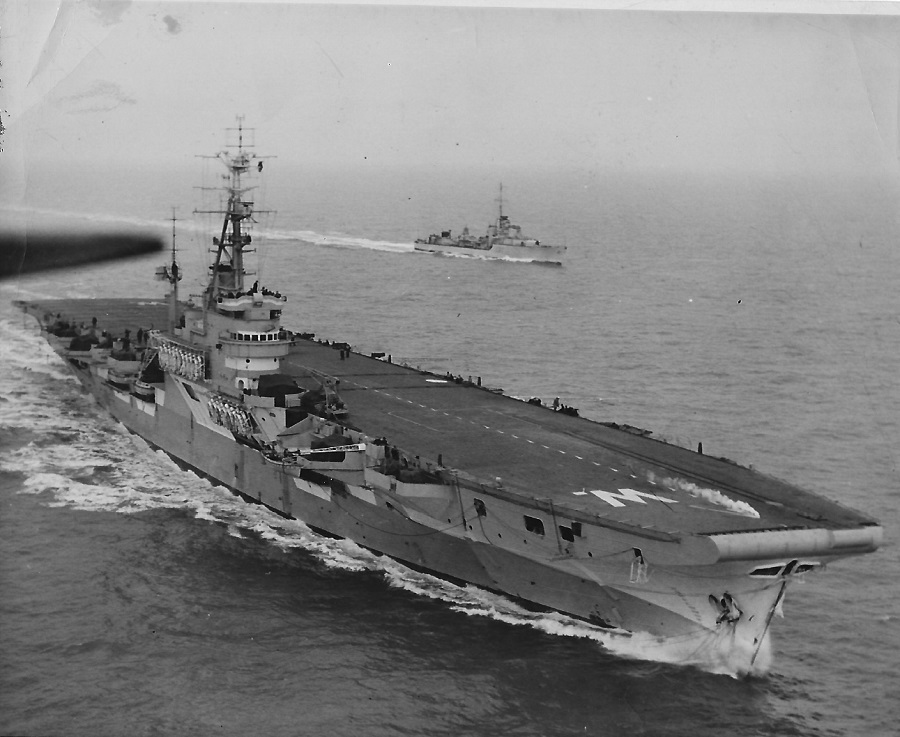 HMCS WARRIOR
---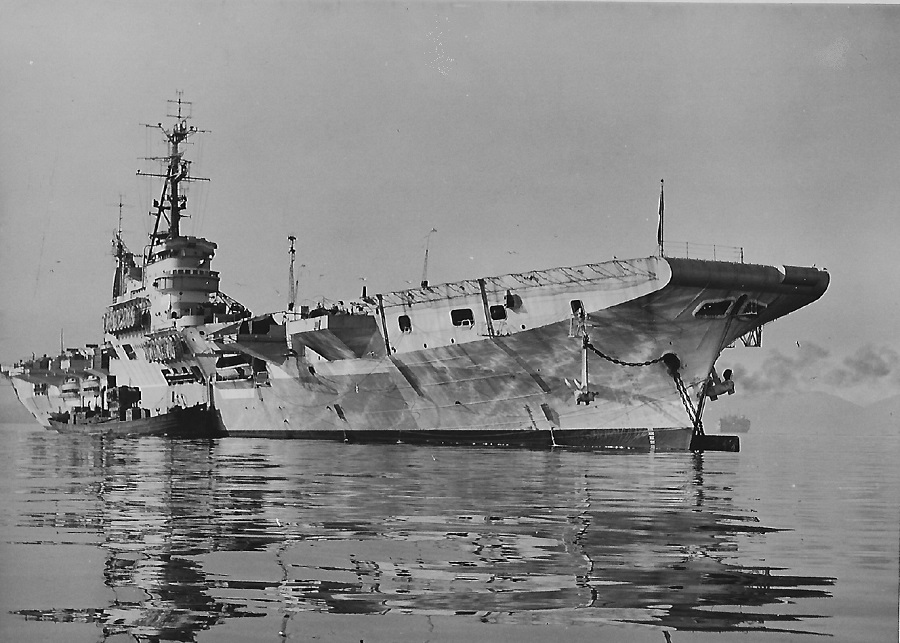 HMCS WARRIOR
---