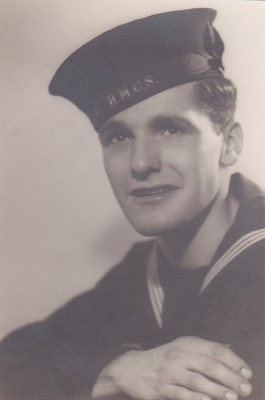 Memories of My Days on H.M.C.S. Barrie - by Terry Sheard

I was an Able Seaman and by the end of the war slung my hammock in the eyes of the ship in the forecastle. In time, my action station was the starboard after-depth charge thrower. The D/C thrower was like a cannon, which instead of throwing a ball, threw a heavy D/C and its cradle some hundred yards from a corvette. There were two guns on each side of the ship, fore and aft. The ship attacked a sub with a pattern of at least six D/C's, four from each side, including at least two rolled off the stern. I remember the great Lt. Harry Magill, saying "Sheard, go back and put some shoes on."

H.M.C.S. Barrie, on which I was destined to spend about a year and a half, was a happy ship, which I credit to First Lieutenant Harry Magill who was actually in charge of the Barrie from the time she was commissioned in 1941. For some reason he seemed to adopt her, and all efforts to promote him to a different command failed. It was well known that he had good friends in the Halifax drafting office, and if someone wasn't compatible, he was drafted off next time we reached Halifax. That was how I came to be drafted aboard her in September, when she came to Halifax after having a refit for extended forecastle, and doing work-ups in Bermuda.

Magill had a hand-picked crew. For example, our cook Whitey had been on the crack CNR transcontinental trains. Our two main petty officers were Howard English, the Coxswain, and Maxwell Martin, the bos'n or buffer. Both these guys had worked on Great Lakes freighters. Another officer I remember well was Lieutenant Donald Boxer who was greatly respected among the crew, since he was so chronically seasick that he had to bring a bucket on watch. It was a big moment for me when I was on the wheel one night and Lieutenant Boxer asked down the voice pipe "Who's on the wheel?" When the answer came "Sheard, sir", he said, "Well keep him there." I suspect he remembered I had grown up on the Georgian Bay, and so had learned how to keep "weather helm".

Of course, when the sea was particularly rough, Able Seaman "Newfie" Cox was always called to the wheelhouse. On my very first day on board, before reporting to the coxswain, I leaned my ditty bag up against the fuel oil overflow, which was a mistake. I then moved forward to the forecastle where I was confronted by an immense creature who I subsequently learned was "Newfie" Cox. He took one look at me and said, "I gets you tots, DOOEY! " So I saluted him several times and then moved up to the forecastle. "Newfie" Cox was the most experienced deep-water sailor on board, having been a helmsman for the Bluenose in her races.
---
H.M.C.S. Barrie and her Sister-Ship H.M.C.S. Shawinigan

Barrie was not only a happy ship; she was also a very lucky ship. In November 1944, we escorted a ship to Newfoundland, together with our sister corvette H.M.C.S. Shawinigan (K136-we were K 138). We both tied up for the night and then were asked to produce a patrol south of Newfoundland the following night, and legend has it that our skipper won the toss. Shawinigan was struck by an acoustic torpedo and only about six bodies were found, apparently, the upper deck watch in life jackets. The captain of the U-boat told the story quite clearly in his log as he survived the war. After that, we "streamed the C.A.T." (Counter Acoustic Torpedo). The new German torpedo was used on escorts near Halifax Harbour well into 1945.

1944 Rescue:

I remember well the day that the Barrie picked up fourteen survivors adrift in an open boat after their ship had been torpedoed. It was my first day at sea after joining the Barrie in Halifax, and we were escorting the CNR ship Lady Rodney to St Johns. Jack Sheedy and I had the afternoon bridge lookout watch--12:00 till 4:00. Perhaps because we were both young, green hands, the brass (officers) put us on bridge watch so they could keep an eye on us. Sheedy had the port side, looking toward land, and I had the starboard. Jack Sheedy, who was the youngest person aboard, spotted the lifeboat. The story was well written up in the newspaper, and two of Barrie's people got mentioned in dispatches. One was the Sick Bay Artificer, Mosher, and the other was the person who brought the doctor to us from Lady Rodney. It was so rough that he could not row, but had to use a paddle to move the rowboat. When we landed the survivors in St. Johns, the newspapers were there to cover the story. By the way, until I read the news story, I didn't know that both Barry and Shawinigan had picked up submarine-like contacts!
---
An email from Terry to his children on March 30th, 2020 during the Covid-19 pandemic:

Quite a scene on TV today as a big Navy hospital ship sailed into NY harbor. I have to tell you it reminded me of another dramatic scene when the small corvette Barrie tore full-speed up New York's East River, under the bridges, on up the river, horn blowing and flags flying, to berth at the US Staten Island naval base. And the great treatment we got there: Strawberry ice cream!! Nothing like that in Canadian ports. I remember it almost 80 years later.