Bob was from Iroquois, Ontario and was an avid angler and hunter. Bob enlisted in the navy on 19 Jun 1940. After the war, he went on to become a successful businessman, establishing a well-known sporting goods store in Ottawa called 'Laurentian Trading Post'. Bob was a proud member of the Free Masons. In 1945 Bob married Evelyn Joan Rogers on June 30 1945 in Montreal and they raised three children.
Ships served in:
HMCS ST CROIX - Served in St. Croix 1940-1941
Excerpt from the Ottawa Citizen or Ottawa Journal article during WW2.

Bob McDonald Tells of Blasting U-Boats
Petty Officer Cook Robert McDonald, 23-year-old son of Mr. and Mrs. Alfred E. McDonald of 78 Fulton avenue, who has seen action in many forms while serving with the Canadian navy, says the Germans whom his ship captured when the Nazi U-boat was scuttled by her crew in the Atlantic were mighty arrogant and declared firmly that the Germans would win the war, but he wonders what they are thinking now that Nazi U-boats are being swept from the sea. He is enjoying 28 days' leave here, the first in a year and a half.
While on his first trip with a destroyer he was returning from Britain in convoy when a plane from a U.S. carrier sighted a German U-boat and dropped depth charges on her, blowing the tail off her. The plane then swooped low over the sub, machine gunning her decks, and signalled for the destroyer to finish her off.
"True to Nazi style, however, the Germans scuttled their sub," stated McDonald. "We got 21 survivors of the 65 of her crew, including her commander and the first lieutenant."
"The first lieutenant of our ship went overboard after the first lieutenant of the German U-boat." Petty Officer McDonald continued. "I saw he was having trouble so I jumped in too. It was mighty cold and I was in bed for a few days after with a cold and so was he. What made me mad was the German's arrogance. He was so sure the Germans would win the war. I wonder what he thinks now!"
When the young seaman enlisted for active service June 19, 1940, he was soon assigned to the destroyer, St. Croix. On his first trip to England, severe storm was encountered and the crew was at "abandon ship stations" for two days before the sea calmed and they made port safely. This gave him a seven days' leave which he spent with his family. His next action came when his ship got a German sub three days off Newfoundland in the winter of 1941.
"It wasn't much really," he said. "We picked up her position and went after her. After dropping depth charges twice, she was done for. Oil and wood splinters came to the surface. There was a lot of handshaking on board, extra rum rations were issued and we had quite a time."
Soon afterward young McDonald got a promotion to leading cook and was drafted to barracks in Halifax for six months, after which he went to sea in a corvette on convoy duty on this side of the Atlantic, but saw no action.
Later, Petty Officer McDonald was acting as assistant dietitian in a hospital in St. John's, Newfoundland, when the tragic fire broke out in the Knights of Columbus Hut. Then the warning came over the radio, he said, and he went with the ambulance from the hospital.
"I worked all night," he stated, "and it was the most terrible thing I have ever seen in my life. I had a friend who was burned to death. A 21-year-old lad who was on the hospital staff. He had just started to board at the hut two days before."
"When did you get the urge to 'go active' in the navy?" he was asked.
"Well," he replied, "I think it was when I was serving as a merchant seaman. I saw a Canadian freighter sink in the Great Lakes in a storm. We picked up the survivors and I decided I wanted to get into action.
In addition to Robert, two others served in the merchant navy before the war and are on active service now in the regular navy. First Class Stoker James McDonald, 25, enlisted at the same time Robert did, at Kingstone, after serving three years in the merchant navy. He has been to sea and is at present stationed at Saint John, NB, since he received an injury to his arm a year ago when he had a bad fall on board ship. He is married to a Saint John girl.
Petty Officer Lionel McDonald, 21, who also sailed the seas with the merchant navy before the war, in his vacation period, ran away from home in Iroquois to enlist on October 18, 1941. He was trained at Halifax and after a service at seas, he is now serving with the engineers of the navy. He is married to a girl from Sonora, N.S.
Mr. McDonald doesn't know where the boys get their love of the sea. He was never a seaman. Instead, he was a professional hockey player. Known as "Cap" McDonald, he used to play for the Smiths Falls hockey team, and later became coach and manager of the "Sydney Millionaires." He was also with the Western Ontario League, the old International League, and for three years was with the "Lyceums" in Pittsburgh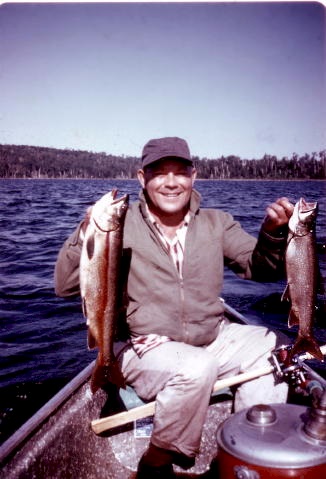 Robert McDonald - an avid trout fisherman
Courtesy of Stephen McDonald
---