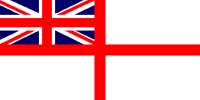 For Posterity's Sake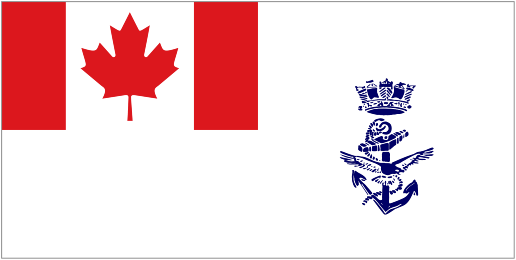 A Royal Canadian Navy Historical Project
Fairmile Motor Launch - Q121
Then PTC 721 (1948)
Then INSHORE FISHERMAN (1953)
Then DENNIS D.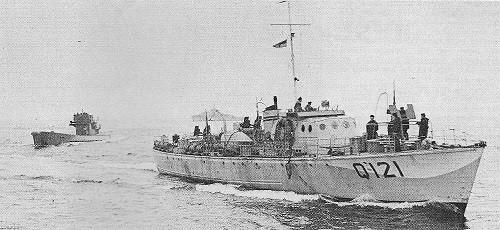 ML Q121 escorting U-889 into Shelburne, NS
Source: The Crowsnest Magazine
Click on the above photo to view a larger image
Laid down: 27 Jun 1943

Launched: 30 Mar 1944

Delivered to the RCN: 17 Apr 1944

Renamed: Jun 1948 to PTC 721

Removed from service: 1950

Fate: Broken up about 1972
Built by LeBlanc Shipbuilding Co. J.H., Weymouth, N.S., she was delivered to the RCN on 17 Apr 1944. While she flew the White Ensign, she was not commissioned into the RCN but instead was listed as a tender to HMCS Sambro, the depot ship for escorts (tenders were not commissioned vessels). She was a "B" Type ML, Displacement: 79 tons, Length: 112 ft, Beam: 17 ft, Draft: 4.9 ft, Speed: 22 kts, Complement: 3 officers, 14 men, Armament: 3-20mm. In Apr 1944 Q121 was listed as part of the 82 ML Flotilla. Retained after the war she was renamed PTC 721 in Jun 1948. she was intended to be transferred to HMCS Cataraqui, but was removed from service in 1950 and sold in 1953 becoming Inshore Fisherman and later Denis D. She was scrapped in 1972 or soon there after.
Commanding Officers

Lt Ross Norton McDiarmid, RCNVR - 17 Apr 1944 - 09 Jan 1945

Lt John Gordon William MacKenzie, RCNVR - 17 Apr 1945 - 26 Jul 1945

LCdr John Maxwell Todd, RCNVR - 27 Jul 1945 - 26 Aug 1945

Cdr H.K. Hill, RCN(R) - 1949
In memory of those who have crossed the bar

They shall not be forgotten

C-D

1923-2005

S-T

1926-2001

1926-1994
Former Crew Members

Buck, William W. - 1949

Carroll, Kenneth J. - 1949

Casey, Joseph Henry, Slt, RCNVR - 19 Apr 1945

Childs, K.H., - 1949

Chown, M. - 1949

Colvard, Roy R. - 1949

Edmunds, A.G. - 1949

Geizer, Arthur - 1949

Goldfinch, Garnet W. - 1949

Green, Edward A. - 1949

Hill, Kenneth M. - 1949

MacKey, John Conrad, Slt, RCNVR - 17 Apr 1944

Ormshaw, Alan - 1949

Phipps-Walker, E., Lt (E), RCN(R) - 1949

Thompson, Walter J. - 1949
Links
Personal photo gallery of Roy Cardy