---
LCI(L) 249
Landing Craft Infantry - Large
---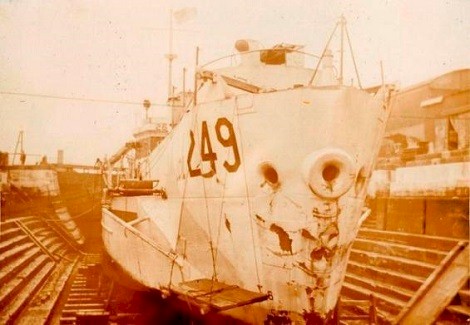 LCI(L) 249 in Drydock, Portsmouth England
Source: Canadian War Museum George Metcalf Archival Collection CWM 20020039-001_p20a
Courtesy of the Canadian War Museum
Laid down: 22 Oct 1942

Launched: 16 Dec 1942

Transferred to RCN: 04 Dec 1943

Paid off: 03 Sep 1944

Fate: Returned to the RN and later USN. Final disposition unknown.
Built in the USA, she was transferred to the RN on completion and commissioned into the RN on 24 Dec 1942 as LCI(L)-249. She was transferred to the RCN on 04 Dec 1943. During the D-Day landing she struck a mine on the way in to the beach though none of 192 soldiers on board were injured, but they had to disembark in deeper water than had been planned and struggled to get their equipment ashore. Another landing craft towed 249 back to England, where the damage was repaired. On 03 Sep 1944 she was transferred back to the RN, and in Jan 1948, back to the USN.
---
Commanding Officers
Lt John Edward O'Rourke, RCNVR
---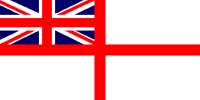 In memory of those who have crossed the bar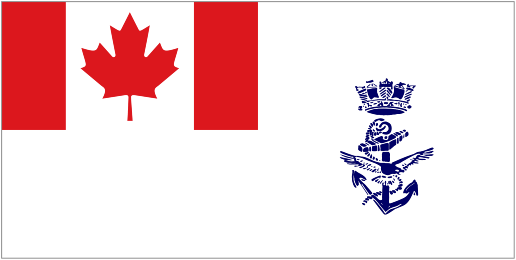 They shall not be forgotten
---
Photos and Documents
LCI(L) 249, Berničres-sur-Mer, 6 June 1944

Royal Canadian Navy Telegraphist James Grant took this photograph from LCI(L) 249 of troops going ashore under fire on D-Day. Soldiers from the landing craft (foreground) use a walkway and ramp (centre) to enter the water and wade ashore under enemy fire. At the water's edge are tanks and other vehicles that had been unloaded from other types of landing craft to support the infantry, including two amphibious Sherman tanks (right) and a Churchill AVRE (Armoured Vehicle, Royal Engineers) (left), designed to deal with enemy fortifications and obstacles.

Source: Canadian War Museum

George Metcalf Archival Collection CWM 20020039-001_p3c

Courtesy of the Canadian War Museum

LCI(L -249 at Salerno, 10 September 1943. Italian civilians bring a small boat to British sailors to keep their feet dry. Source: NaveSource.org Credit: Jerry Gilmartin MMC(SW) USN Ret. Secretary AFMM LCI 713, Curator PT-658 Save the PT Boat Inc, courtesy Dennis Blocker LCI National Association Historian

(FT42) Stoker Gellatly on LCI(L) 249 (FT43) PO Stoker Campbell on LCI(L) 249 (FT44) Torpedoman Wiseman on LCI(L) 249 (FT45) Seaman Woods on LCI(L) 249

(FT46) Cox'n Rondpré, LCI(L) 249 (FT47) Lt Dave A. Moon, 2nd in Command (X.O.), LCI(L) 249 (FT48) Bob Taylor, QR3 on LCI(L) 249 (FT49) Unknown crew member of LCI(L) 249 (FT50) Unknown crew member of LCI(L) 249

(FT51) Beales (1st name not known) on LCI(L) 249 (FT52) Gunner Gunter on LCI(L) 249 (FT53) Stoker (M) Lockhart on LCI(L) 249 (FT54) Torpedoman Watson on LCI(L) 249 (FT55) Maximuik (Maximurik??) on LCI(L) 249 (FT56) Unknown crew member of either LCI(L) 249 or LCI(L) 266

---

(FT59) LCI(L) 249 in the Irish Sea, on route from Liverpool to Plymouth, 1944

Photo taken from LCI(L) 266

From the collection of Frank Tucker

Courtesy of Joe Phelan
---