---
HMCS SONGHEE
---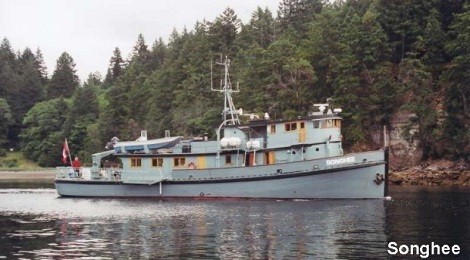 Former RCN Tug SONGHEE, at Nanaimo BC, 2007
Source: Shipspotting.com
Photographer / © Patrick Johnstone 2007
Built: 1944

Commissioned:

Paid off: 24 Jul 1953

Acquired by RCN: 1954

Re-designated: 1954 CNAV SONGHEE

Taken out of Service: 1990

Fate: Sold to commercial interests. Currently in use as an off shore fishing accommodations resort (2015).
Built by Star Shipyards (Mercer's) Ltd. of New Westminster, BC, in 1944 for the RCAF she was originally named M-468 SONGHEE after the First Nations group Songee. She was an RCAF supply vessel tasked with provisioning and providing personnel transport to RCAF coastal radar outposts. Taken over by the RCN, she became HMCS SONGHEE, pendant number YPT1 / YMR1 for a brief period before transferring to the auxiliary fleet. In 1961 SONGHEE was used to conduct an extensive site survey for the establishment of the Patricia Bay Under Water Range. Removed from service in 1990, she was then sold to commercial interests. In 2011, she was working out of Duncan BC providing charters and tours. SONGHEE, owned by Jim Roome of Vancouver Island, was purchased by QCL in 2012 to be part of their fishing lodge experience. They renamed her MV Driftwood - to maintain the familiarity their customers had with their previous vessel named Driftwood. She is still in service with QCL today - 2014. It should be mentioned, the the former QCL vessel, MV Driftwood (sold prior to the purchase and renaming of the original SONGHEE), is still in service and her new owners renamed her SONGHEE.
---
Photos and Documents The Ship's Bell
---
Photos and Documents
Rear-Admiral (RCN) Hugh Francis Pullen aboard SONGHEE, 08 Sep 1955. RAdm. Pullen was appointed as the Flag Officer Pacific Coast in 1955.

Courtesy of the CFB Esquimalt Naval and Military Museum

Rear-Admiral (RCN) Hugh Francis Pullen aboard SONGHEE, 08 Sep 1955. RAdm. Pullen was appointed as the Flag Officer Pacific Coast in 1955.

Courtesy of the CFB Esquimalt Naval and Military Museum

MV Driftwood - former CFAV SONGHEE - under conversion to a fishing accommodations lodge for QCL, 2012

Courtesy of Duane Foerter, QCL, Haida Gwaii

CNAV SONGHEE YPT-1

Source: A History of the West Coast Canadian Forces Auxiliary Fleet

Photo credit: CFMETR yearly Historical reports
HOME PAGE
SHIP INDEX
CONTACT