In memory of those who have Crossed the Bar
Donald Hugh Black

RCNVR

Died: 02 Apr 2021, Bathurst, New Brunswick
BLACK, Donald Hugh - The family of Donald Hugh Black, husband of Yolande (Henry) Black, are saddened to announce his passing on Friday April 2nd, 2021 at the Robert L. Knowles Veterans Unit, Bathurst at the age of 99.
Born in Big River, he was the last surviving member of his immediate family to the late James and Katherine (Bateman) Black.
Donald was a veteran of World War II, serving in Canada and overseas and was a member of the Herman J. Good, V.C. Br. 18, Royal Canadian Legion, Bathurst. Proud member of the North Shore Regiment, he first joined the Army then the Navy. He served in HMCS BOWMANVILLE during the war. When the war was over, he went to Forestry School in Fredericton where he met his lifelong partner and married shortly after. He worked for the Provincial Government as a surveyor for many years. He loved the outdoors.
In later years, he worked as a prospector which took him to many places across Canada. He stayed in many outdoor tents and loved to cook. Donald was a great storyteller and had a great memory for details. He loved to converse with people and always had a joke or two for them.
In the last years, he was at home at the Robert L. Knowles Veterans Unit. Amazingly while there he found his singing voice. He could be heard singing in his room, at events or for the residents in the hall.
He was the father to Sally Black, Nancy Arseneault (Camille) and Joey Black (Sandra) all of Bathurst.
Grandfather to Kim Smith (Steven), Carolyn Arseneault Jardine (Scott), Claude Arseneault (Isabelle), Tyler Black and David Roy.
Great-grandfather to Ethan Bertin, Nora Bertin, Alicia Arseneault and Emily Arseneault.
He is also survived by many nieces and nephews.
He will be sadly missed by the many that knew him including his puppy "Star".
He was the last surviving member of his immediate family and was predeceased by brothers: James, Cecil, Lloyd and sisters: Martha Carey, Beatrice Branch, Myrtle Smith, Doris Blanchard and Pearl Branch.
The family would like to take this opportunity to thank the outstanding staff members at the R.L. Knowles Veteran's Unit as well as Dr. Goulard for their kind and compassionate care he received during his stay.
Also, a thank you to his niece Dawn Branch who visited him frequently during his stay at the Veteran's unit.
There will be no visitation at the funeral home. A graveside service will be celebrated at a later date.
Donations in memory of Donald may be made to the Robert L. Knowles Veterans Unit or a charity of the donor's choice. Arrangements are in the care of Elhatton Funeral Home, Bathurst.
Ships served in:
HMCS BOWMANVILLE - Donald served in BOWMANVILLE 1944-1945 as a Ck (S)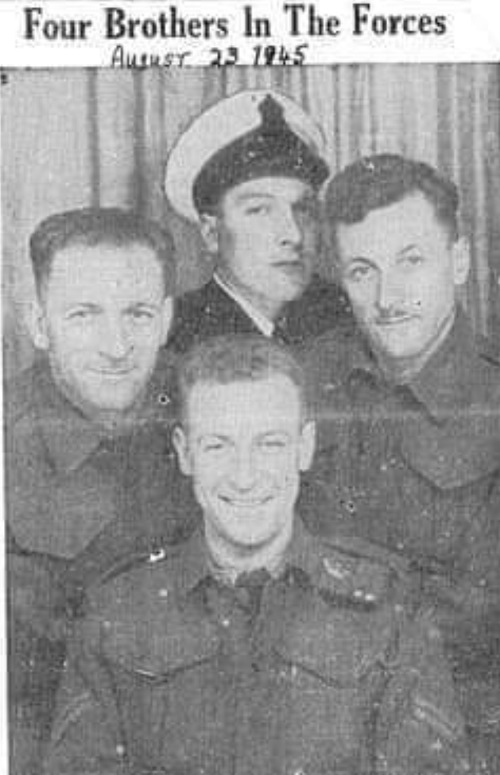 The four sons of Mr. and Mrs. James Black who have been serving in the war.
Front: Cecil
L-R Back row: Loyd, Donald and James
---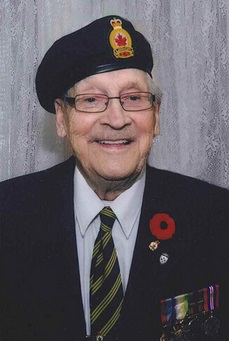 Donald Hugh Black
---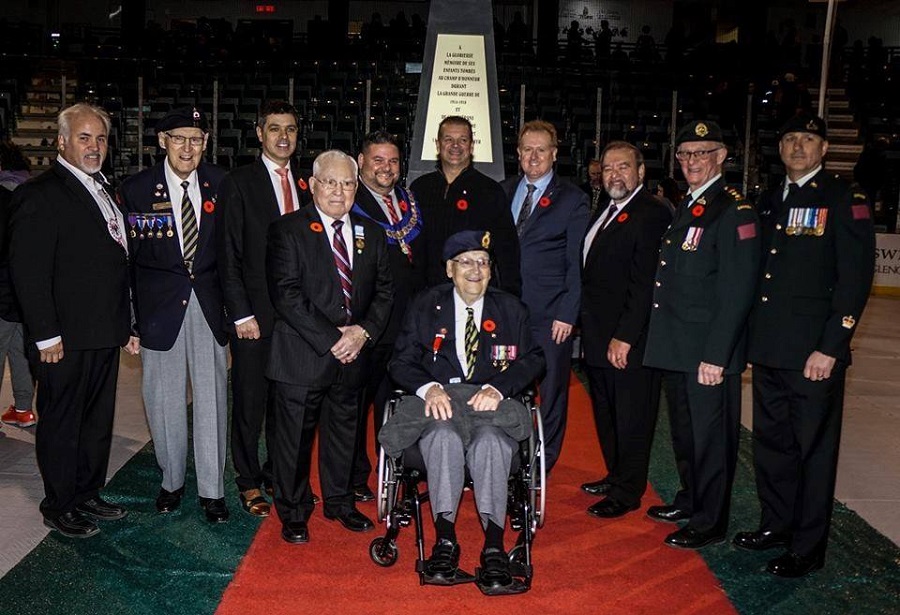 "Mr Donald Black from Bathurst, New Brunswick. Mr. Donald Black was born on July 3, 1921. He has served with the 2nd Battalion North Shore (NB) Regiment from July 1940 to July 19, 1943. He then re-mustered to the Navy and served on the HMCS Bowmanville. They delivered supplies to the front lines. He was discharged from the Navy and he returned home to Bathurst and went to the Ranger School and worked for the provincial government as a surveyor. He is married to Yolande Henry and they have three children."
Photo taken 2019
Courtesy of Kasey Hussey
---