In memory of those who have Crossed the Bar
Arthur John Kenneth (Ken) Hussey

RCNVR

Born: 27 Jun 1923, Bathurst, Gloucester Co., New Brunswick

Died: 07 Apr 1984, Bathurst, Gloucester Co., New Brunswick
HUSSEY, Arthur John Kenneth (Ken) - Kenneth Hussey, 60, of 279 St. Andrew Street, Bathurst, New Brunswick, died Saturday 7 April 1984 at the Chaleur General Hospital after a brief illness.
Born in Bathurst, he was the son of the late Arthur Day Hussey and Mary Anne (Sullivan) Hussey. He was employed by Consolidated-Bathurst in the stock room. He served overseas with the Royal Canadian Navy on HMCS KINCARDINE in the Second World War.
He was a member of the Herman J. Good V.C., Branch 38, Royal Canadian Legion, and was a past president of the Bathurst Branch of the Canadian Diabetes Association.
He was a member of the Bathurst Branch of the CNIB, the local Mental Health Association, and was once an executive member of the Main Brace. He was also a charter member of the Bathurst Yacht Club.
He is survived by his wife, Vera Hachey (Married 7 October 1947); two daughters Mrs. Micheal White (Gail) of Bathurst and Carol Hussey at home; two sons, John (Charmaine), and Larry, both of Bathurst; four sisters, Mrs. John Duffy (Pearl), Bathurst, Mrs. Peter Boudreau (Frances), Boston, Massachusetts; Mrs. Jack Philpott (Mary), Toronto, Ontario and Sister. Dorothy Hussey of Dorval, Quebec., six grandchildren and several nieces and nephews.

A third son, Kevin Hussey, predeceased him.
The body rested at Elhatton's Funeral Home, Bathurst. Funeral Mass was from Sacred Heart Roman Catholic Cathedral, Bathurst. Burial was at the parish cemetery.
Ships served in:
(KH01) Portrait of Seaman Ken Hussey (KH02) L-R: Reg Rhodes, Ken Hussey and Alfred (Alfie) Reid (KH03) Ken Hussey in front of his father's house in Bathurst, NB.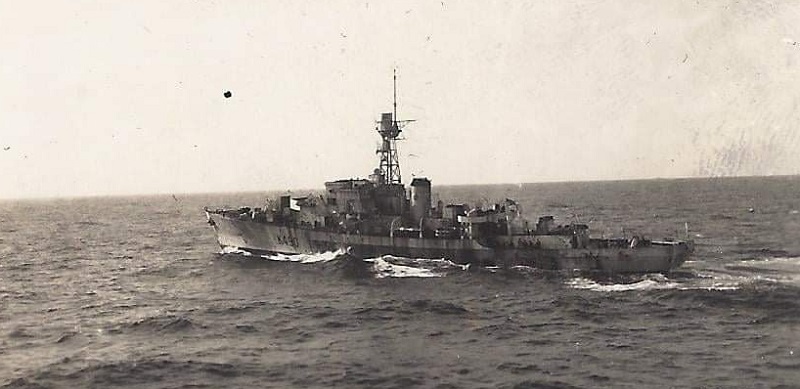 HMCS KINCARDINE K490
source: facebook
---