In memory of those who have Crossed the Bar
Edward Daniel Maradyn

RCNVR

Born: 01 Jun 1926

Died: 20 Apr 2016
MARADYN, Edward Daniel - It is with sadness that we announce the passing of Edward Daniel Maradyn, at the age of 89, on Wednesday, April 20th, 2016, in Beaumont, Alberta.
Ed is survived by his wife of 34 years, Jane (neé Pingree); his son Randy, daughter-in-law Tracey, grandson Noah (Kelowna, BC); son Danny, granddaughters Rachel and Ellie (Edmonton, AB); daughter Cindy Maradyn Hawkins, son-in-law Neil, granddaughters, Jordana (Hinton), Katerine, (Belding) Maradyn, and Bronwyn; and great granddaughters, Berkeley, Adria, Marlow and Millie (Calgary, AB). He was predeceased by his wife Alice (neé Kamaranski, 1972), and is survived by his sister Nellie Yemchuk.
Born in Transcona (Winnipeg), Manitoba, Ed moved to Fort William (Thunder Bay), Ontario, where he completed high school. Following a WWII stint in the Navy, he returned to pursue an education in engineering technology at night school, and became one of the first graduates of the program at Lakehead University. In 1982, after 35 years at Northern Engineering Supply Co (NESCO), Ed retired from his position as General Manager and chief designer. His career was marked by numerous acknowledgements, achievements and company patents as a brilliant and talented wood-harvesting inventor and fabricator. Ed and Jane retired to Conmee Township, ON, and in 1995 to Beaumont, AB.
All who knew Ed would remember a Renaissance man more than capable of solving any problem. He pioneered lake-living at Shebandowan, ON, and provided a life time of cherished memories for his children Randy, Danny and Cindy. Ed lived life on his own terms and never let anything get in the way of his desire to create and complete any project. In his later life, he decided to play the violin. Ed built a work shop, machined all the tools, constructed a violin and taught himself to play, just one example of his ability to master any new task.
Ed would go out and build what he couldn't afford to buy. He personified his favorite quote - "You don't have to be a millionaire to live like one."
Sharp-minded and alert, Ed spent his last hour in the sun and passed peacefully in his own home, with his loving wife by his side. His life will be celebrated by his family at a later time.
In lieu of flowers, the family would appreciate donations to any branch of the Salvation Army or to the Cross Cancer Institute (11560 UNIVERSITY AVE., NW EDMONTON, AB T6G 1Z2, 780-980-3688) (Thunder Bay Chronicle Journal 26 Apr 2016)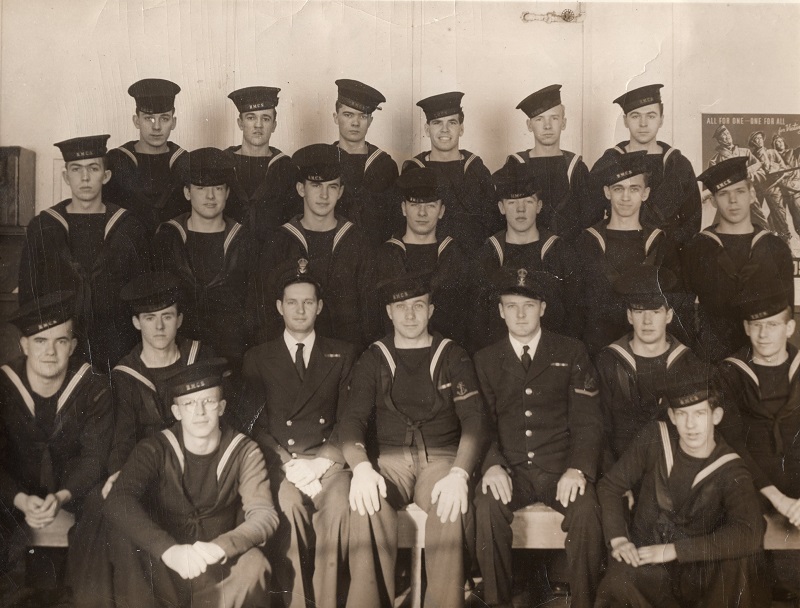 Undated course photo from the collection of PO Thomas Arthur Hope
The names on the back of the photo list Ed Maradyn, but it is not known where he is in the photo
---