In memory of those who have Crossed the Bar
Walter Lemuel Harding, B.E.M.

Chief Petty Officer, A-831, RCNR

Born: 17 Nov 1907 Died: 24 Jan 1988
HARDING, Walter Lemuel - 80, of Dartmouth, formerly of Yarmouth, died Sunday at home. Born in Pasadena, Calif., he was a son of he late Franklin and Edna (Spinney) Harding. He served in the Royal Canadian Navy, the RCMP Marine Unit, and later served in the Canadian Corps of Commissionaires. He is survived by his wife, the former Letitia Stanwood; a daughter, Mrs. Leland Dewolfe, Hantsport; four sons, Walter, Yarmouth; Robert, Thornbury, Ont.; Kenneth, Woodbridge, Ont.; Wayne, Dartmouth; 18 grandchildren, nine great-grandchildren. He was predeceased by two sons, George, Jack. The body is at Mattatal's Funeral Home, Dartmouth, where visiting well be 2-4 p.m. today and a memorial service will be held 7:30 this evening. Funeral will be held 1:30 p.m. Wednesday at Mount Cemetery Chapel, Yarmouth. Family flowers only. Donations may be made to the Heart Foundation.
Citation for British Empire Medal - HARDING, Walter Lemuel, Chief Petty Officer, A-831, British Empire Medal, RCNR - Awarded as per Canada Gazette of 5 June 1943 and London Gazette of 2 June 1943. "For over a year and a half, Chief Petty Officer Harding has been coxswain of one of His Majesty's Canadian corvettes engaged in escort duties in the North Atlantic. He has consistently maintained a high degree of cheerfulness and devotion to duty during action with enemy submarines, attacks on convoys and very trying weather conditions."
Ships served in:
(WH01) Postcard - Fisherman landing their catch, Yarmouth, NS. A young Walter Harding indicated by the arrow (WH02) Walter Harding on the RCMP Cutter BAYHOUND - 1930s (WH03) Four brothers serving during the Second World War - James, Walter, Joseph and Edgar Harding (WH04) Walter Harding, RCMP - Christmas (WH05) Walter Harding, RCMP, being presented with a medal
(WH06) Group photo of members of the RCMP who were presented with a medal. Walter Harding standing, 3rd from right (WH07) Commissionaires on parade. Walter Harding indicated by the arrow.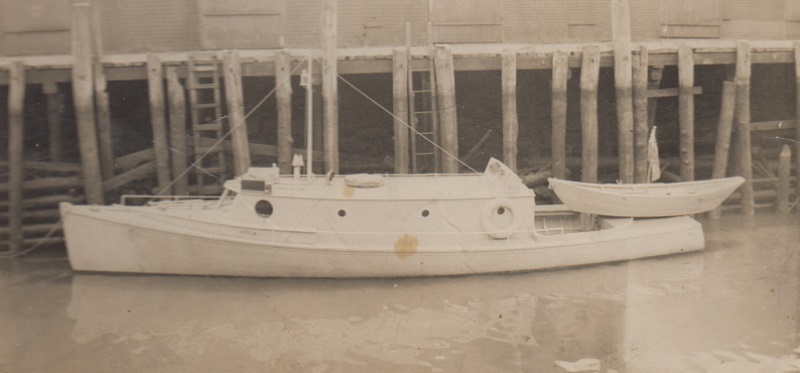 RCMP Patrol Boat ARROW
Converted Rum Runner at Yarmouth, NS - 1938
Click here for more information on ARROW
---