Ships served in:
HMCS ARNPRIOR - Appointed to Arnprior 08 Jun 1944 as a Mate, RCNR
CNAV QUEST - Served in Quest as Master from her commissioning in Aug 1969 until his retirement in 1979
(JB01) Sailors on a tug - St. John's, Newfoundland - James Bennett on right (JB02) Mate James Bennett and the Gunnery Officer on HMCS ARNPRIOR (JB03) James' flimsy for his time as NavO on HMCS ARNPRIOR
---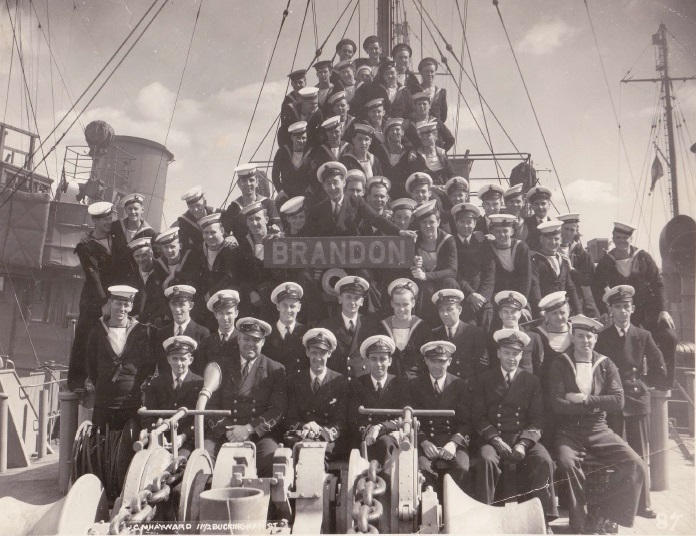 (JB04) HMCS BRANDON crew photo
James Bennett to the left of the B in Brandon
---
(JB05) HMCS NEW LISKEARD, Port Arthur, ON - 20 Nov 1944 (JB06) CNAV NEW LISKEARD entering Ponta Delgada, Azores - 20 Aug 1964 (JB07) Admiral's visit and inspection of CNAV NEW LISKEARD at Gibraltar - Sep 1964 (JB08) CNAV NEW LISKEARD alongside US Naval Base, Bermuda - Feb 1967 (JB09) CNAV NEW LISKEARD conducting VDS trials with submarine in waters north of Bermuda c1965-66
(JB10) CNAV NEW LISKEARD RCN Centennial Naval Review
(JB11) QUEST under construction (JB12) Acceptance / Commissioning Ceremony program (JB13) Quest is accepted by the Navy (JB14) CNAV QUEST on her commissioning day (JB15) CNAV QUEST Commissioning booklet
(JB16) QUEST at sea (JB17) CFAV QUEST in the Firth of Clyde approaching Greenoch, Scotland - 1977
1985 Naval Review - 75th Anniversary of the RCN
(JB18) CFAV QUEST docking at the jetty behind the Naval Museum in Halifax. CSS ACADIA visible at her berth (JB19) Prince Andrew being welcomed aboard CFAV QUEST for the 1985 Naval Review (JB20) Gov. General Jean Sauve being welcomed aboard CFAV QUEST (JB21) CFAV QUEST leaves the jetty to commence the sail past of the fleet anchored in Bedford Basin for the 1985 Naval Review in celebration of the 75th Anniversary of the RCN. Note the Royal Standard flying on QUEST's mast.
---