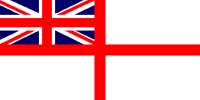 For Posterity's Sake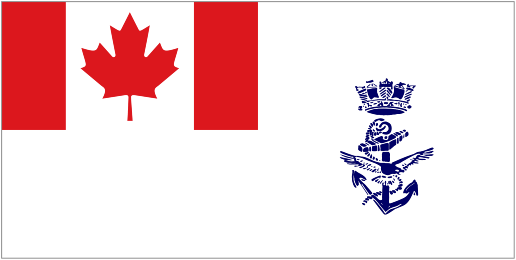 A Royal Canadian Navy Historical Project
In memory of those who have Crossed the Bar
John Thomas Funk

Able Seaman, RCNVR

Born: 01 Sep 1921, Osterwick, Ukraine

Died: 29 Nov 2011, Coaldale, Alberta
FUNK, John Thomas - of Coaldale, beloved husband of the late Mrs. Mary Funk, passed away on Tuesday, November 29, 2011 at the age of 90 years.
John was born on September 1, 1921 in the village of Osterwick, Ukraine. He was the second son of Johann and Katherina (nee Thiessen) Funk. In the spring of 1923 John's parents packed up their two sons and a few belongings and emigrated to Canada. In July of that year they arrived in Rosthern, Saskatchewan along with a number of Funk relatives. The family spent a few years in Aberdeen, SK and in southern Saskatchewan. In 1930 they moved back to the Rosthern area in search of affordable land and settled on a sandy quarter section between Hague and Osler, SK. John received his education at Renfrew School, a one room school house where he attended for 9 years. John worked at a number of jobs and enlisted in the Royal Canadian Navy Voluntary Reserve in 1942. After the war he was honourably discharged and moved to Coaldale, AB. In 1946, John bought land four miles east of town and began a farming career that would span four and a half decades.
John was baptized and joined the Coaldale Mennonite Church in May, 1949. The next year he married Mary Neudorf and they raised three children. The farming years were a time of hard work, some lean years and many good times. The farm and the family grew and thrived. John and Mary retired from farming in 1992 and moved to Coaldale. They enjoyed their church involvement, camping and fishing, time at the Senior's Centre and time spent at home with family and friends. With declining health came the necessity to move, first to a condo and then to Extendicare (for Mary) and to the Sunny South Lodge (for John). Yet despite these challenges they continued to love and support each other. Mary's passing in April was a blow for John, although he was glad she was in a better place. His prayer was to join her and that prayer has been answered.
John is survived by his children Eric, Harold (Joyce) and Elaine (Phil Klassen), as well as his grandchildren Justin and Nathan Sharpe. He is also survived by his brother Jake, brother-in-law Abe Neudorf and sister-in-law Ingrid Funk. John was predeceased by his parents Johann and Katherina Funk, his wife Mary, his brothers Henry and Peter, his sister Katherina Voth, sisters-in-law Melva Neudorf and Helen Funk, and brother-in-law John Voth.
Family and friends are invited to pay their respects between 7:00pm and 8:00pm on Thursday, December 1, 2011 at the COALDALE MENNONITE CHURCH, 2316 - 17 St, Coaldale, AB.
An Interment will be held at 1:00pm on Friday, December 2, 2011 in the Coaldale Cemetery, Mennonite Section followed by a Memorial Service at 2:00pm at the COALDALE MENNONITE CHURCH, 2316 - 17 St, Coaldale, with Mr. George Klassen and Reverend Don Bergen officiating.
Flowers are gratefully declined. Those who wish may make memorial donations to Mennonite Central Committee, 210, 2946 32 St. NE Calgary, Alberta T1Y 6J7.
Ships served in:
HMCS OSHAWA - AB Funk is mentioned in the report on the surrender of U-889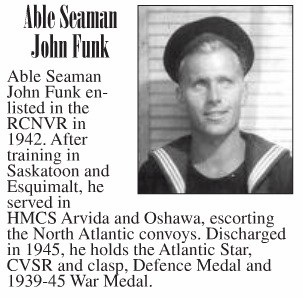 ---