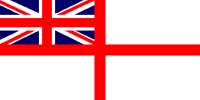 For Posterity's Sake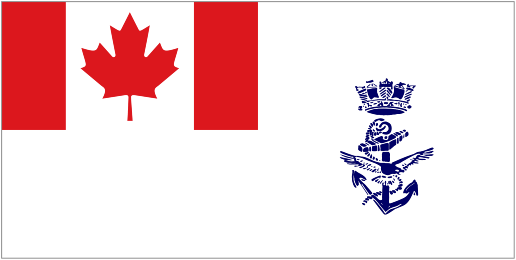 A Royal Canadian Navy Historical Project
---
Canadian Battle Honours
for Ships of the RCN
---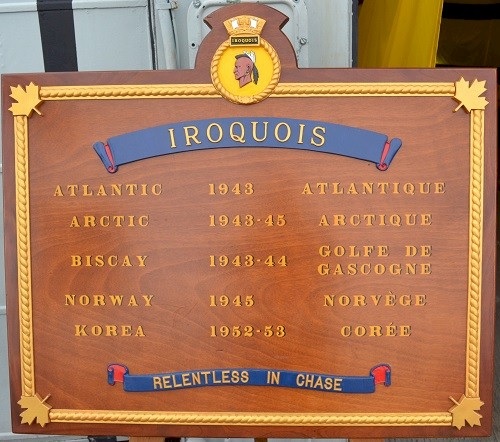 Battle Honours Board for HMCS IROQUOIS 280
---
CANADA'S BATTLE HONOURS
The following is an excerpt for an article in the Legion Magazine entitled "Canada's Battle Honours" dated 01 Sep 2003. It has been edited to reflect information on Battle Honours pertaining mainly to the RCN.
Battle honours awarded to units of the the Royal Canadian Navy are a custom that was inherited from the Royal Navy. They publicly recognize the presence of a navy ship in a particular battle or campaign and their contribution to it.
Although the Royal Navy has battle honours predating battle pre-WW1, they were not awarded until after WW II. Prior to then, the selection of "unofficial battle honours" was left to each ship's captains. When the RN decided to officially award battle honours in 1954, a list was drawn up by the British Admiralty of appropriate naval engagements to be honoured, going back for hundreds of years. The objective for coming up with such a list was to foster naval traditions and esprit de corps among ship's companies. The Royal Canadian Navy list was not promulgated until 1957.
The oldest honour, from the time of Queen Elizabeth I, is Armada 1588.
The British Admiralty considered there was only one imperial navy, and all ships and sailors of the Empire belonged to it. Honours, all with appropriate year dates, were awarded not to ships' hulls, but to ships' names. If a vessel's name were changed, she lost any honours associated with the old name. Similarly, if a former ship's name were revived, its honours were also restored. And so, naval battle honours are perpetuated by succeeding ships of the same name.
The Royal Canadian Navy's first ships merely kept their RN names, such as Niobe and Rainbow. Before WW II, Canadian names began to be used, a practice that grew during the World War 2. Because of the large numbers involved, class names were soon used, including towns and cities for corvettes and minesweepers, and rivers and Indian tribes for destroyers.
Reserve divisions were named differently. These units were commissioned in 1941, bearing the names of former naval and commercial vessels associated with the area in which the Reserve Division was located. As some have names of British ships that existed years ago, the somewhat strange situation exists whereby some of these units display battle honours won before Canada became a country with its own navy.
For example, reserve divisions carry such battle honours as Armada 1588, Kentish Knock 1652, Quebec 1759 and Jutland 1916. In spite of the recommendations of the Mainguy Report in 1949 to Canadianize the RCN, these honours remained unchanged.
The first "true" Canadian battle honours for the navy were awarded for WW2. Of the 59 honours granted, the RCN gained 12, ranging from the Atlantic, awarded to 260 ships, to more limited ones won by a few. Among these are North Africa, Norway, South France, Aegean and Okinawa. The ships that won these, with the exception of the Norway honour, are no longer in commission. These honours are "lost" and will not be displayed again unless the names are re-commissioned.
HMCS Oriole, the navy's sail training yacht, is the oldest commissioned vessel and longest serving ship in the Canadian navy. She carries another unique WW II battle honour–Dunkirk 1940–won by the RN ship of that name. Oriole is the only Canadian ship to have this honour.
Two additional WW II battle honours are uniquely Canadian and were not awarded until long after the war. In 1992, the Governor General approved Gulf of St. Lawrence. With a subsequent revision in 1999, 83 Canadian ships gained this honour for convoy escort and patrol operations against enemy submarines. Previously, Atlantic covered all actions in vast stretches of the Atlantic north of the equator, including Gulf of St. Lawrence, eastern seaboard of the United States, Gulf of Mexico and Caribbean Sea.
At the same time, the British, who created the original list, divided the waters around the United Kingdom into several different areas for battle honour purposes, such as North Sea, English Channel and Biscay. Perhaps a review similar to that conducted for the Gulf of St. Lawrence is required for other areas of the Atlantic to give Canadian ships their proper recognition.
Such a review was done for the Pacific Ocean, with another unique Canadian battle honour created, Aleutians. Five ships gained this honour for their role in that campaign, although only one, HMCS Vancouver, is currently commissioned.
The battle honour Korea was awarded to HMCS Crusader and seven Canadian tribal-class destroyers for operations in Korean waters.
After the Korean War, there was a long break before battle honours were awarded again. Additionally, during those years the separate services were unified and the Canadian Forces created.
The last battle honour to be awarded to ships of the Canadian navy was Gulf and Kuwait/Golfe et Kuwait for the 1990-91 Persian Gulf War. This honour is uniquely Canadian and is the first battle honour for the Canadian Forces since its unification in 1968. HMCS Athabaskan, HMCS Protecteur and HMCS Terra Nova won this honour for their part in the conflict. This honour is also the first bilingual award, and the first naval honour not to have a year date, both a break with tradition.
In almost two centuries, Canadian fighting units (Army, Navy and Airforce) have won 270 different battle honours. Such honours are invaluable for inculcating in our servicemen and women a sense of the traditions and esprit de corps they have inherited from their forebears. They are a significant part of the history of our ships, regiments and squadrons; daily reminders of the sacrifices made by those who played their part in our nation's wars. Canada's battle honours are a source of pride forever.
---
CANADIAN WON BATTLE HONOURS

The following is from "Canadian Warship Names" courtesy of the author LCdr. David J. Freeman, Ret'd.

The following unofficial list is of all known Battle Honours won by Canadian warships from 1939 to 1991, This list is for named ships only. A name not listed means no honours have been awarded. The British won honours from 1588 to 1953 have not been included.

There have been no single ship actions awarded to the Canadian Navy at any time. And there was no award for convoy duties or patrol duties on the western side of the Atlantic during the First World War.

Battle Honours for HM Ships such as PUNCHER, a British ship manned by Canadian Naval personnel, are listed. But honours are not listed for HM Ships that carried Canadian names while manned by British personnel, e.g. HM Ships BAFFIN, PARRSBORO, and QUALICUM. (Webmaster's note: as HMS PUNCHER was not commissioned in the RCN - she is not listed here in this Battle Honour's list)

This list of awards is extracted from the following records:

1. Admiralty Fleet Order (AFO) 2565/54, 1 Oct 1954.

2. An undated manuscript on Battle Honours for the common Commonwealth List obtained from the Naval Historical Branch, Ministry of Defence, London, by NDHQ/Directorate of History in 1985. Note: there are anomalies in this list, e.g. TROIS RIVIERES is listed as THREE RIVERS; COBOURG as COBURG; etc.; FUNDY, GASPE and others are not listed; and the list disagrees with BRCN 150 as to honours awarded some ships, e.g. FRASER and LA HULLOISE.

3. BRCN 150.

4. NGO 2.06/11. Note: there are some anomalies in this list, e.g. THUNDER is awarded ATLANTIC 1941-44, the AFO does not list her and the Commonwealth list states 1941-42, 1944. In BRCN 150 the award is listed as ATLANTIC 1940-45. Since NIPIGON did not commission until 1941, the NGO seems correct.

5. CANFORGEN 032/94 ADM (PER) 044/94 071700Z JUN 94. Aleutians Battle Honour.

6. CFSO 25/92 Gulf of St Lawrence Battle Honour awarded to Canadian warships.

7. CFSO 5/94 Gulf and Kuwait Battle Honour awarded to Canadian warships.

8. Memo 5400-34 (DHH Heritage Officer) 2 Nov 99 to A/CMS. Amended list of ships awarded the Gulf of St Lawrence Battle Honour.
Many Naval Reserve Divisions rightly continue to display Battle Honours from the common Commonwealth list and will continue to do so until and unless, paid off. Only one regular force ship is now entitled to display British won honours and that is ORIOLE, e.g. DUNKIRK 1940.

Battle Honours should be listed and displayed in the order won, which is normally seen by year dates. Where more than one award is listed for a given year, the rule still applies.

Knowledgeable readers may note that many of the ships listed here will probably never have their names used in the Canadian Navy again, e.g. LOCH ALVIE, MEON, TEME, etc. Further, as far as can be determined, the Royal Navy continues to use Canadian won Battle Honours from the Second World War. This means that during that period Canadian seamen in HMC Ships such as MEON and COLLINGWOOD won Battle Honours for the Royal Navy.

As noted in Chapter 2 of Canadian Warship Names by David J. Freeman, the 1988 decision to employ only Canadian won Battle Honours has been taken. As can be seen by the descriptions written in the Ships Eligible column in Annex T, however, the award of Battle Honours is at best a subjective matter. Less than four years after AFO 2565 was issued, for example, an Admiralty historian, P.K. Kemp, wrote a memo dated 26 Mar 1958 to his boss Cdr Rowbotham, head of the Historical Section. To paraphrase the relevant sentence: when British Battle Honours were originally being compiled, some matters did not perhaps receive all the attention they deserved.

And when one nation - Britain, from its own perspective of some 400 hundred years of battles around the world - decides the awards for another nation - Canada who can only really look back to 1939 - the decisions made must be regarded with some degree of scepticism. Take the award for the Battle of the Atlantic from 1939 to 1945 as one example. The fighting around Britain was divided into several areas - North Sea, English Channel, Biscay. Everything else in the Atlantic north of the equator, including operations in the Caribbean, east coast of the USA, Gulf of St Lawrence and the Irish Sea, were covered by one award.

It is the opinion of David J. Freeman, author of Canadian Warship Names, that a review of all Canadian Naval awards needs to be undertaken from a Canadian perspective. The Gulf of St Lawrence award in 1992, revised in 1999, is an example of such a review. Another is the fact that for Vietnam service in the 1970s, the RAN Naval Board, not the Admiralty, issued a Battle Honour to Australian ships so entitled.

Periodically, a review of a given Naval Battle Honours occurs within NDHQ/DHH, which is the reason behind the DHH memo quoted in Record No. 7 on the previous page.
BATTLE HONOUR PARAMETERS / SECOND WORLD WAR and KOREA

The information below has been extracted mainly from Admiralty Fleet Order 2565/64, 01 Oct 1954, "Battle Honours for HM Ships and Fleet Air Arm Squadrons" which included RCN ships.

SELECTED BATTLE HONOURS FROM THE COMMON COMMONWEALTH LIST PERTAINING TO THE RCN
| | | | |
| --- | --- | --- | --- |
| Battle Honour Area | Years | Area Limits | Ships Eligible |
| AEGEAN | 1943-44 | All waters of the Aegean Archipelago between 35 to 42 N and 22 to 30 E. | Ships and vessels which were engaged with the enemy in the area between 7 Sep and 28 Nov 1943, and also during 1944. |
| ARCTIC | 1941-45 | Within the Arctic Circle, except for the coastal waters of Norway to the southward of Tromso. | All ships, including the covering forces which were employed as escorts to or in support of the convoys running to and from North Russia; also those ships and submarines which operated in the area and took part in a successful action. |
| ATLANTIC | 1939-45 | The North Atlantic, from the Equator to the Arctic Circle | All ships and submarines which were employed as escorts to ocean convoys in the North Atlantic, and also those ships of Support Groups which took part in a successful action. |
| BISCAY | 1940-45 | Between the latitudes of Ushant and Cape Ortegal from 12W to the coast of France | Ships and Submarines which were employed on patrol duty in the area and took part in a successful action. The interception and sinking of enemy blockade runners is not a qualification for the award. |
| ENGLISH CHANNEL | 1939-45 | The Channel and all waters on the South Coast of Britain between Southend and Bristol, the western limit being a line drawn from Ushant to the Scilly Islands, and thence to the North Coast of Cornwall. | All ships which were employed as escorts to Channel coastal convoys, and also other ships and submarines which took part in a successful action in the area. Successes achieved in connection with Operation Neptune are recognized by NORMANDY. |
| MEDITERRANEAN | 1940-45 | The whole of the Mediterranean, the western limit being a line joining Cape Spartel and Cape Trafalgar. | All ships and submarines which took part in successful actions that are not covered by any of the named Battle Honours for area. That is to say, the destruction of an enemy ship or submarine which was effected during and in connection with a recognised campaign, e.g. SICILY 1943, is regarded as an incidental item of the campaign, and not as qualifying for a separate award. If, however, the success was unconnected with any named operation for which a Battle Honour is granted, then it will qualify for the general award of MEDITERRANEAN with the year date(s). Minor bombardments will also qualify for this award. |
| NORTH SEA | 1939-45 | The North Sea and all waters to the eastward, between Southend and the Shetland Islands, except coastal waters of Norway. | All ships which were employed as escorts to coastal convoys on the East Coast of the UK. Also ships and submarines which were employed on patrol duty in the area and took part in a successful action. |
| NORWAY | 1940-45 | The coastal waters of Norway, as far north as the latitude of Tromso. | All ships and submarines which were engaged in the Norway operations from 8 April to 8 June 1940, and also those which took part in a successful action in these waters at later dates. |
| OKINAWA | 1945 | The Far East. | All ships and submarines which are mentioned in the published dispatch as having taken part in Operation Iceberg. |
| KOREA | 1950-53 | Not known | All ships under United Nations command which took part in operations against Communist forces in Korea between 2 July 1950 and 27 July 1953. |
| GULF AND KUWAIT | 1991 | | HMC Ships and Air Squadrons that participated in OPERATION FRICTION in the Persian Gulf in 1991 |
| ARABIAN SEA | | The geographical boundaries of the Persian Gulf, the Gulf of Oman, the Arabian Sea, the Gulf of Aden, the Red Sea, the Suez Canal and those parts of the Indian Ocean north of 5 degrees south latitude and west of 68 degrees east longitude. | Units of the Royal Canadian Navy will be granted the Theatre Honour "Arabian Sea" if they deployed to Combined Task Force 50 or Combined Task Force 150 |
Note: The Battle Honours for Gulf and Kuwait and Arabian Sea were not listed in "Canadian Warship Names".
SECOND WORLD WAR FLEET ACTIONS, CAMPAIGNS, ETC.
Action / Campaign

Dates

SICILY 1943

10 Jul - 17 Aug 1943

NORTH AFRICA 1942-43

08 Nov 1942 - 20 Feb 1943

NORMANDY 1944

06 Jun - 03 Jul 1944

SOUTH FRANCE 1944

01-27 Aug 1944
BATTLE HONOUR LIST
Note: This list was revised from David Freeman's research to show which ship earned the Battle Honour and the subsequence ships of the same name that carried them and / or were awarded additional honours.
---
- AGASSIZ K129 - ATLANTIC 1941-45 / GULF OF ST LAWRENCE 1944
- ALBERNI K103 - ATLANTIC 1941-44 / NORMANDY 1944 / NORTH SEA 1944
- ALGOMA K127 - ATLANTIC 1941-44 / ENGLISH CHANNEL 1945
- ALGONQUIN R17 / 224 - NORWAY 1944 / NORMANDY 1944 / ARCTIC 1944-45

- ALGONQUIN 283 - NORWAY 1944 / NORMANDY 1944 / ARCTIC 1944-45 / ARABIAN SEA

- AMHERST K148 - ATLANTIC 1941-45 / GULF OF ST LAWRENCE 1944

- ANNAN K404 - ATLANTIC 1944 / NORTH SEA 1944

- ANNAPOLIS I04 - ATLANTIC 1941-43
- ANNAPOLIS 263 - ATLANTIC 1941-43

- ANTIGONISH K661 / 301 - GULF OF ST LAWRENCE 1944 / ATLANTIC 1944-45

- ARNPRIOR K494 - ATLANTIC 1944-45

- ARROWHEAD K145 - ATLANTIC 1941-45 / GULF OF ST LAWRENCE 1942, 1944
- ARVIDA K113 - ATLANTIC 1941-45
- ASBESTOS K358 - ATLANTIC 1944-45
- ASSINIBOINE I18 - ATLANTIC 1939-45 / BISCAY 1944 / ENGLISH CHANNEL 1944-45
- ASSINIBOINE 234 - ATLANTIC 1939-45 / BISCAY 1944 / ENGLISH CHANNEL 1944-45
- ATHABASKAN G07 - ARCTIC 1943-44 / ENGLISH CHANNEL 1944
- ATHABASKAN R79 / 219 - ARCTIC 1943-44 / ENGLISH CHANNEL 1944 / KOREA 1950-53
- ATHABASKAN 282 - ARCTIC 1943-44 / ENGLISH CHANNEL 1944 / KOREA 1950-53 / GULF AND KUWAIT/GOLFE ET KUWAIT
- ATHOLL K15 - ATLANTIC 1944-45
---
- BADDECK K147 - ATLANTIC 1941-45 / ENGLISH CHANNEL 1944-45 / NORMANDY 1944
- BARRIE K138 - ATLANTIC 1941-45 / ENGLISH CHANNEL 1942
- BATTLEFORD K165 - ATLANTIC 1941-45
- BAYFIELD J08 - ATLANTIC 1943-44 / NORMANDY 1944
- BEACON HILL K407 - ATLANTIC 1944-45 / ENGLISH CHANNEL 1944-45
- BEAUHARNOIS K540 - ATLANTIC 1944-45
- BEAVER S10 / Z10 - ATLANTIC 1942
- BELLEVILLE K332 - ATLANTIC 1945

- BITTERSWEET K182 - ATLANTIC 1941-45
- BLAIRMORE J314 - ATLANTIC 1943, 1945 / NORMANDY 1944
- BORDER CITIES J344 - ATLANTIC 1944-45
- BOWMANVILLE K493 - ATLANTIC 1944-45
- BRANDON K149 - ATLANTIC 1941-45 / GULF OF ST LAWRENCE 1944
- BRANDON 710 - ATLANTIC 1941-45 / GULF OF ST LAWRENCE 1944
- BRANTFORD K218 - ATLANTIC 1943-44 / GULF OF ST LAWRENCE 1942
- BROCKVILLE J270 - ATLANTIC 1943-45 / GULF OF ST LAWRENCE 1942, 1944
- BUCKINGHAM K685 / 314 - ATLANTIC 1945
- BUCTOCHE K179 - ATLANTIC 1941-45
- BURLINGTON J250 - ATLANTIC 1942-44 / GULF OF ST LAWRENCE 1942
---
- CALGARY K231 - ATLANTIC 1942-45 / BISCAY 1943 / ENGLISH CHANNEL 1944-45 / NORMANDY 1944 / NORTH SEA 1945
- CALGARY 335 - ATLANTIC 1942-45 / BISCAY 1943 / ENGLISH CHANNEL 1944-45 / NORMANDY 1944 / NORTH SEA 1945 / ARABIAN SEA
- CAMROSE K154 - ATLANTIC 1941-45 / GULF OF ST LAWRENCE 1944 / NORMANDY 1944 / NORTH SEA 1944 / ENGLISH CHANNEL 1945
- CANSO J21 - ATLANTIC 1944 / NORMANDY 1944
- CAP DE LA MADELINE K663 / 317 - ATLANTIC 1945
- CAPE BRETON K350 / 100 - ARCTIC 1944 / NORMANDY 1944 / ATLANTIC 1944-45
- CAPILANO K409 - ATLANTIC 1944-45
- CARAQUET J38 - ATLANTIC 1943-44 / NORMANDY 1944
- CARLPLACE K664 - ATLANTIC 1945
- CAYUGA R04 / 218 - KOREA 1950-52
- CHAMBLY K116 - ATLANTIC 1941-45
- CHARLOTTETOWN K244 (1st) - ATLANTIC 1942 / GULF OF ST LAWRENCE 1942
- CHARLOTTETOWN K244 (2nd) - ATLANTIC 1942 / GULF OF ST LAWRENCE 1942, 1944
- CHARLOTTETOWN 339 - ATLANTIC 1942 / GULF OF ST LAWRENCE 1942, 1944 / ARABIAN SEA
- CHAUDIERE -H99 - ATLANTIC 1944 / NORMANDY 1944 / BISCAY 1944
- CHAUDIERE 235 - ATLANTIC 1944 / NORMANDY 1944 / BISCAY 1944
- CHEBOGUE K317 - ATLANTIC 1944
- CHEDABUCTO J168 - ATLANTIC 1942-43 / GULF OF ST LAWRENCE 1942
- CHICOUTIMI K156 - ATLANTIC 1941-44
- CHICOUTIMI 879 - ATLANTIC 1941-44
- CHILLIWACK K131 - ATLANTIC 1941-45
- CLAYOQUOT J174 - ATLANTIC 1942, 1944 / GULF OF ST LAWRENCE 1942
- COATICOOK K410 - ATLANTIC 1944-45 / GULF OF ST LAWRENCE 1944
- COBALT K124 - ATLANTIC 1941-45
- COBOURG K333 - ATLANTIC 1944-45
- COLLINGWOOD K180 - ATLANTIC 1941-44
- COLUMBIA I49 - ATLANTIC 1940-44
- COLUMBIA 260 - ATLANTIC 1940-44
- COMOX J64 - ATLANTIC 1940-45
- COM0X 146 - ATLANTIC 1940-45
- COPPER CLIFF K495 - ATLANTIC1944-45 / NORTH SEA 1944
- COWICHAN - J146 - ATLANTIC 1941-43 / NORMANDY 1944
- COWICHAN 147 - ATLANTIC 1941-43 / NORMANDY 1944
- COWICHAN 162 - ATLANTIC 1941-43 / NORMANDY 1944
- CRUSADER - R20 / 228 - KOREA 1952-53
---
- DAUPHIN K157 - ATLANTIC 1941-45
- DAWSON K104 - ALEUTIANS 1942-43 / ATLANTIC 1944-45 / GULF OF ST LAWRENCE 1944
- DIGBY J267 - ATLANTIC 1942-44 / GULF OF ST LAWRENCE 1942, 1944
- DRUMHELLER K167 - ATLANTIC 1941-45 / ENGLISH CHANNEL 1944-45 / NORMANDY 1944
- DRUMMONDVILLE J253 / 181 - ATLANTIC 1942-43, 1945 / GULF OF ST LAWRENCE 1942
- DUNDAS K229 - ATLANTIC 1942-45
- DUNVEGAN K177 - ATLANTIC 1941-44
- DUNVER K03 - ATLANTIC 1943-45
---
- EASTVIEW K665 - ATLANTIC 1944-45
- EDMUNDSTON K106 - ATLANTIC 1942-45 / BISCAY 1943
- ELK S05 / Z27 - GULF OF ST LAWRENCE 1942
- ESQUIMALT J272 - GULF OF ST LAWRENCE 1942 / ATLANTIC 1943-44
- ETTRICK K254 - ATLANTIC 1943-45 / GULF OF ST LAWRENCE 1944
- EYEBRIGHT K150 - ATLANTIC 1941-45
---
- FENNEL K194 - ATLANTIC 1941-45
- FERGUS K686 - ATLANTIC 1945
- FOREST HILL K486 - ATLANTIC 1944
- FORT FRANCES J396 / 170 - ATLANTIC 1945
- FORT WILLIAM J311 / 195 - GULF OF ST LAWRENCE 1942 / ATLANTIC 1943 / NORMANDY 1944
- FRASER H48 - ATLANTIC 1939-40
- FRASER 233 - ATLANTIC 1939-40
- FREDERICTON K245 - ATLANTIC 1942-45
- FREDERICTON 337 - ATLANTIC 1942-45 / ARABIAN SEA
- FRENCH - GULF OF ST LAWRENCE 1942
- FRONTENAC K335 - ATLANTIC 1944-45
- FUNDY J88 - ATLANTIC 1938-45
- FUNDY 145 - ATLANTIC 1938-45
- FUNDY 159 - ATLANTIC 1939-45
---
- GALT K163 - ATLANTIC 1941-45
- GANANOQUE J259 - ATLANTIC 1942-45 / GULF OF ST LAWRENCE 1942
- GASPE J94 (ATLANTIC 1939-45
- GASPE 143 - ATLANTIC 1939-45
- GATINEAU H61 - ATLANTIC 1943-44 / NORMANDY 1944
- GATINEAU 236 - ATLANTIC 1943-44 / NORMANDY 1944
- GEORGIAN J144 - ATLANTIC 1941-42, 1944 / GULF OF ST LAWRENCE 1942 / NORMANDY 1944
- GIFFARD K402 - ATLANTIC 1944
- GLACE BAY K414 - ATLANTIC 1944-45
- GLACE BAY 701 - ATLANTIC 1944-45
- GODERICH J260 - ATLANTIC 1942-45
- GRANBY J264 / 160 - ATLANTIC 1942-44 / GULF OF ST LAWRENCE 1942
- GRANDMERE J258 - GULF OF ST LAWRENCE 1942 / ATLANTIC 1943, 1945
- GROU K518 - ARCTIC 1944 / ATLANTIC 1944 / NORMANDY 1944
- GUELPH K687 - ATLANTIC 1944-45
- GUYSBOROUGH J52 - ATLANTIC 1943-44 / NORMANDY 1944
---
- HAIDA G63 / 215 - ARCTIC 1943-45 / ENGLISH CHANNEL 1944 / BISCAY 1944 / NORMANDY 1944 / KOREA 1952-53
- HALIFAX K237 - ATLANTIC 1942-45
- HALIFAX 330 - ATLANTIC 1942-45 / ARABIAN SEA
- HALLOWELL K666 - ATLANTIC 1944-45
- HAMILTON I24 - ATLANTIC 1942-43
- HAWKESBURY K415 - ATLANTIC 1944-45
- HEPATICA K159 - ATLANTIC 1940-45 / GULF OF ST LAWRENCE 1942
- HESPELER K489 - ATLANTIC 1944-45
- HUMBERSTONE K497 - ATLANTIC 1944-45
- HUNTSVILLE K499 - ATLANTIC 1944-45
- HURON G24 - ARCTIC 1943-45 / ENGLISH CHANNEL 1944 / NORMANDY 1944 / KOREA 1951-53
- HURON 281 - ARCTIC 1943-45 / ENGLISH CHANNEL 1944 / NORMANDY 1944 / KOREA 1951-53

- HUSKY S06 / Z13 - ATLANTIC 1940
---
- INGONISH J69 - ATLANTIC 1944 / GULF OF ST LAWRENCE 1944
- IROQUOIS G89 - ATLANTIC 1943 / ARCTIC 1943-45 / BISCAY 1943-44 / NORWAY 1945 / KOREA 1952-53
- IROQUOIS 280 - ATLANTIC 1943 / ARCTIC 1943-45 / BISCAY 1943-44 / NORWAY 1945 / KOREA 1952-53 / ARABIAN SEA
---
- JOLIETTE K418 - ATLANTIC 1944
- JONQUIERE K318 / 318 - ATLANTIC 1944
---
- KAMLOOPS K176 - ATLANTIC 1941, 1943-45 / GULF OF ST LAWRENCE 1942
- KAMSACK K171 - ATLANTIC 1942-45
- KAPUSKASING J326 - ATLANTIC 1944-45
- KENOGAMI K125 - ATLANTIC 1941-45 / GULF OF ST LAWRENCE 1942
- KENORA J281 - ATLANTIC 1942-45 / GULF OF ST LAWRENCE 1942 / NORMANDY 1944
- KENTVILLE J312 / 182 - GULF OF ST LAWRENCE 1942 / ATLANTIC 1944-45
- KINCARDINE K490 - ATLANTIC 1944-45
- KITCHENER K225 - ATLANTIC 1942-43 / GULF OF ST LAWRENCE 1942 / ENGLISH CHANNEL 1944-45 / NORMANDY 1944
- KOKANEE K419 - ATLANTIC 1944-45 / GULF OF ST LAWRENCE 1944
- KOOTENAY H75 - ATLANTIC 1943-45 / NORMANDY 1944 / ENGLISH CHANNEL 1944 / BISCAY 1944
- KOOTENAY 258 - ATLANTIC 1943-45 / NORMANDY 1944 / ENGLISH CHANNEL 1944 / BISCAY 1944
---
- LA HULLOISE K668 / 305 - ATLANTIC 1945 / NORTH SEA 1945
- LA MALBAIE K273 - ATLANTIC 1942-45 / GULF OF ST LAWRENCE 1942, 1944
- LACHINE J266 - ATLANTIC 1942-45 / GULF OF ST LAWRENCE 1942
- LACHUTE K440 - ATLANTIC 1945
- LANARK K669 / 321 - ATLANTIC 1944-45
- LASALLE K519 - GULF OF ST LAWRENCE 1944 / ATLANTIC 1945
- LAUZON K671 / 322 - ATLANTIC 1944-45
- LEASIDE k492 - ATLANTIC 1944-45
- LETHBRIDGE k160 - ATLANTIC 1941-45 / GULF OF ST LAWRENCE 1942, 1944
- LEVIS k115 - aTLANTIC 1941
- LEVIS k400 - ATLANTIC 1941, 1944-45 / GULF OF ST LAWRENCE 1944
- LINDSAY K338 - ATLANTIC 1944-45 / ENGLISH CHANNEL 1944 / NORMANDY 1944
- LOCH ACHANALT K424 - ENGLISH CHANNEL 1945
- LOCH ALVIE K428 - ARCTIC 1944-45 / ENGLISH CHANNEL 1945
- LONG BRANCH K487 - ATLANTIC 1944-45
- LOCKEPORT J100 - GULF OF ST LAWRENCE 1944
- LONGUEUIL K672 - ATLANTIC 1944-45
- LOUISBURG K143 - ATLANTIC 1941-42
- LOUISBURG K401 - ATLANTIC 1941-42, 1944-45 / ENGLISH CHANNEL 1944-45 / NORMANDY 1944
- LUNENBURG K151 - ATLANTIC 1942-45 / GULF OF ST LAWRENCE 1942 / NORTH AFRICA 1942-3 / ENGLISH CHANNEL 1944 / NORMANDY 1944
---
- MAGOG K673 - GULF OF ST LAWRENCE 1944
- MAHONE J59 - ATLANTIC 1942, 1944-45
- MALPEQUE J148 / 186 - ATLANTIC 1941-42 / NORMANDY 1944
- MARGAREE H49 - ATLANTIC 1940
- MARGAREE 230 - ATLANTIC 1940
- MATANE K444 - ATLANTIC 1944 / NORMANDY 1944 / ARCTIC 1945
- MATAPEDIA K112 - ATLANTIC 1941-45 / GULF OF ST LAWRENCE 1944
- MAYFLOWER K191 - ATLANTIC 1941-43 / NORMANDY 1944 / ENGLISH CHANNEL 1945
- MEDICINE HAT J256 / 197 - ATLANTIC 1943 / GULF OF ST LAWRENCE 1944
- MEON K269 - ATLANTIC 1944-45 / GULF OF ST LAWRENCE 1944 / ENGLISH CHANNEL 1944 / NORMANDY 1944
- MELVILLE J263 - GULF OF ST LAWRENCE 1944
- MERRITTONIA K688 - ATLANTIC 1945
- MIDDLESEX J328 - ATLANTIC 1944-45
- MIDLAND K220 - GULF OF ST LAWRENCE 1944
- MILLTOWN J317 / 194 - ATLANTIC 1942-44 / GULF OF ST LAWRENCE 1942 / NORMANDY 1944
- MIMICO K485 - NORMANDY 1944 / ATLANTIC 1945 / ENGLISH CHANNEL 1945
- MINAS J165 / 189 - ATLANTIC 1941-44 / NORMANDY 1944
- MONCTON K139 - ATLANTIC 1942-43
- MONCTON 708 - ATLANTIC 1942-43
- MONNOW K441 - ARCTIC 1944 / ATLANTIC 1944-45 / NORTH SEA 1945
- MONTREAL K319 - ATLANTIC 1944-45
- MONTREAL 336 - ATLANTIC 1944-45 / ARABIAN SEA
- MOOSE JAW K164 - ATLANTIC 1941-43 / ENGLISH CHANNEL 1944-45 / NORMANDY 1944
- MORDEN K170 - ATLANTIC 1941-45
- MULGRAVE J313 - GULF OF ST LAWRENCE 1942 / ATLANTIC 1943-44 / NORMANDY 1944
---
- NANAIMO K101 - ATLANTIC 1941-44 / GULF OF ST LAWRENCE 1944
- NANAIMO 702 - ATLANTIC 1941-44 / GULF OF ST LAWRENCE 1944
- NAPANEE K118 - ATLANTIC 1941-45
- NENE K270 - ARCTIC 1944-45 / ATLANTIC 1944 / NORTH SEA 1945
- NEW GLASGOW K320 / 315 - ATLANTIC 1944-45
- NEW WATERFORD K321 / 304 - ATLANTIC 1944
- NEW WESTMINSTER K228 - ATLANTIC 1942-45
- NIAGARA I57 - ATLANTIC 1940-44
- NIPIGON J154 / 188 - ATLANTIC 1941-45 / GULF OF ST LAWRENCE 1942, 1944
- NIPIGON 266 - ATLANTIC 1941-45 / GULF OF ST LAWRENCE 1942, 1944
- NOOTKA R96 / 213 - KOREA 1951-52
- NORANDA J265 - ATLANTIC 1943-45 / GULF OF ST LAWRENCE 1942
- NORSYD K520 - ATLANTIC 1944-45 / GULF OF ST LAWRENCE 1944
- NORTH BAY K339 - ATLANTIC 1944-45
---
- OAKVILLE K178 - ATLANTIC 1942-45
- ORANGEVILLE K491 - ATLANTIC 1944-45
- ORILLIA K119 - ATLANTIC 1941-45
- ORKNEY K448 - GULF OF ST LAWRENCE 1944
- OSHAWA J330 / 174 - ATLANTIC 1944-45
- OTTAWA H60 - ATLANTIC 1939-42
- OTTAWA H31 - ATLANTIC 1939-45 / NORMANDY 1944 / ENGLISH CHANNEL 1944 / BISCAY 1944
- OTTAWA 229 - ATLANTIC 1939-45 / NORMANDY 1944 / ENGLISH CHANNEL 1944 / BISCAY 1944
- OTTAWA 341 - ATLANTIC 1939-45 / NORMANDY 1944 / ENGLISH CHANNEL 1944 / BISCAY 1944 / ARABIAN SEA
- OUTREMONT K322 / 310 - ATLANTIC 1944 / ARCTIC 1944 / NORMANDY 1944
- OWEN SOUND K340 - ATLANTIC 1944-45
---
- PARRY SOUND K341 - ATLANTIC 1944-45
- PENETANG - K676 / 316 - ATLANTIC 1945
- PETERBOROUGH K342 - ATLANTIC 1944-45
- PETROLIA K498 - ATLANTIC 1944-45
- PICTOU K146 - ATLANTIC 1941-45
- PORT ARTHUR K233 - ATLANTIC 1942-44 / GULF OF ST LAWRENCE 1942 / MEDITERRANEAN 1943 / NORMANDY 1944 / ENGLISH CHANNEL 1945
- PORT COLBORNE K326 - ARCTIC 1944 / ATLANTIC 1944-45 / ENGLISH CHANNEL 1944 / NORMANDY 1944 / NORTH SEA 1945
- PORT HOPE J280 / 183 - GULF OF ST LAWRENCE 1942 / ATLANTIC 1943-45
- PORTAGE J331 / 169 - ATLANTIC 1944-45
- POUNDMAKER K675 - ATLANTIC 1944-45
- PRESCOTT K161 - ATLANTIC 1941-45 / NORTH AFRICA 1942-43 / ENGLISH CHANNEL 1944-45 / GULF OF ST LAWRENCE 1944 / NORMANDY 1944
- PRESERVER 510 - ARABIAN SEA
- PRINCE DAVID F89 - ATLANTIC 1941 / ALEUTIANS 1942 / AEGEAN 1943-44 / NORMANDY 1944 / SOUTH FRANCE 1944
- PRINCE HENRY F70 - ALEUTIANS 1942 / AEGEAN 1943-44 / SOUTH FRANCE 1944
- PRINCE ROBERT F56 - ALEUTIANS 1942 / ATLANTIC 1943-44 / ENGLISH CHANNEL 1944
- PRINCE RUPERT K324 - ATLANTIC 1944
- PROTECTEUR 509 - GULF AND KUWAIT/GOLFE ET KUWAIT / ARABIAN SEA
---
- QU'APPELLE H69 - ATLANTIC 1944 / NORMANDY 1944 / BISCAY 1944
- QU'APPELLE 264 - ATLANTIC 1944 / NORMANDY 1944 / BISCAY 1944
- QUESNEL K133 - ATLANTIC 1942-45 / GULF OF ST LAWRENCE 1944
- QUINTE J166 - ATLANTIC 1941-42
- QUINTE 149 - ATLANTIC 1942-42
---
- RACCOON S14 - GULF OF ST LAWRENCE 1942
- RED DEER J255 / 196 - ATLANTIC 1942-45
- REGINA K234 - ATLANTIC 1942-44 / GULF OF ST LAWRENCE 1942 / MEDITERRANEAN 1943 / ENGLISH CHANNEL 1944 / NORMANDY 1944
- REGINA 334 - ATLANTIC 1942-44 / GULF OF ST LAWRENCE 1942 / MEDITERRANEAN 1943 / ENGLISH CHANNEL 1944 / NORMANDY 1944 / ARABIAN SEA
- REINDEER S08 / Z08 - ATLANTIC 1940 / GULF OF ST LAWRENCE 1942
- RESTIGOUCHE H00 - ATLANTIC 1939-45 / NORTH SEA 1940 / MEDITERRANEAN 1943 / NORMANDY 1944 / BISCAY 1944
- RESTIGOUCHE 257 - ATLANTIC 1939-45 / NORTH SEA 1940 / MEDITERRANEAN 1943 / NORMANDY 1944 / BISCAY 1944
- RIMOUSKI K121 - ATLANTIC 1942-45 / ENGLISH CHANNEL 1944-45 / NORMANDY 1944
- RIVIERE DU LOUP K537 - ATLANTIC 1944-45 / GULF OF ST LAWRENCE 1944
- ROCKCLIFFE J355 / 173 - ATLANTIC 1945
- ROSTHERN K169 - ATLANTIC 1941-45
- RUNNYMEDE K678 - ATLANTIC 1944-45
---
- SACKVILLE K181 - ATLANTIC 1942-44
- SAGUENAY D79 - ATLANTIC 1939-42
- SAGUENAY 206 - ATLANTIC 1939-42
- ST BONIFACE J332 - ATLANTIC 1944-45
- ST CATHARINES K325 - ATLANTIC 1943-44
- ST CLAIR I65 - ATLANTIC 1943-44
- ST CROIX I81 - ATLANTIC 1940-43
- ST CROIX 256 - ATLANTIC 1940-43
- ST FRANCIS I93 - ATLANTIC 1941-43
- ST LAMBERT K343 - ATLANTIC 1944-45
- ST LAURENT H83 - ATLANTIC 1939-45 / NORMANDY 1944
- ST LAURENT 205 - ATLANTIC 1939-45 / NORMANDY 1944
- SAINT JOHN K456 - ARCTIC 1944 / ATLANTIC 1944 / ENGLISH CHANNEL 1944 / NORMANDY 1944 / NORTH SEA 1945
- ST JOHN'S 340 - ARABIAN SEA
- ST PIERRE K680 - ARCTIC 1945 / ATLANTIC 1945
- ST STEPHEN - K454 ATLANTIC 1944-45
- ST THOMAS K488 - ATLANTIC 1944-45
- STE THERESE K366 / 309 - GULF OF ST LAWRENCE 1944 / ATLANTIC 1945 / NORTH SEA 1945
- SARNIA J309 / 190 - ATLANTIC 1942-43 / GULF OF ST LAWRENCE 1942
- SASKATCHEWAN H70 - ATLANTIC 1943-44 / NORMANDY 1944 / BISCAY 1944
- SASKATCHEWAN 262 - ATLANTIC 1943-44 / NORMANDY 1944 / BISCAY 1944
- SASKATOON K158 - ATLANTIC 1942-45
- SASKATOON 709 - ATLANTIC 1942-45
- SAULT STE MARIE J344 / 176 - ATLANTIC 1944-45
- SHAWINIGAN K136 - ATLANTIC 1942-44 / GULF OF ST LAWRENCE 1942, 1944
- SHAWINIGAN 704 - ATLANTIC 1942-44 / GULF OF ST LAWRENCE 1942, 1944
- SHEDIAC K110 - ATLANTIC 1941-44
- SHERBROOKE K152 - ATLANTIC 1941-45
- SIOUX R64 / 225 - NORMANDY 1944 / ARCTIC 1944-45 / ATLANTIC 1945 / KOREA 1950-52
- SKEENA - D59 / I59 - ATLANTIC 1939-44 / NORMANDY 1944 / BISCAY 1944
- SKEENA 207 - ATLANTIC 1939-44 / NORMANDY 1944 / BISCAY 1944
- SMITHS FALLS K345 - ATLANTIC 1945
- SNOWBERRY K166 - ATLANTIC 1941-44 / BISCAY 1943 / GULF OF ST LAWRENCE 1944 / ENGLISH CHANNEL 1945
- SOREL K153 - ATLANTIC 1941-45 / NORTH SEA 1942
- SPIKENARD K198 - ATLANTIC 1941-42
- SPRINGHILL K323 - GULF OF ST LAWRENCE 1944
- STETTLER K681 / 311 - GULF OF ST LAWRENCE 1944
- STONE TOWN K531 - ATLANTIC 1944-45
- STORMONT K327 - ARCTIC 1944 / ATLANTIC 1944-45 / ENGLISH CHANNEL 1944 / NORMANDY 1944
- STRATFORD J310 - ATLANTIC 1942-44 / GULF OF ST LAWRENCE 1942
- STRATHADAM K682 - ATLANTIC 1945
- STRATHROY K455 - ATLANTIC 1945
- SUDBURY K162 - ATLANTIC 1941-44
- SUMMERSIDE K141 - ATLANTIC 1941-44 / GULF OF ST LAWRENCE 1942, 1944 / ENGLISH CHANNEL 1944-45 / NORMANDY 1944
- SUMMERSIDE 711 - ATLANTIC 1941-44 / GULF OF ST LAWRENCE 1942, 1944 / ENGLISH CHANNEL 1944-45 / NORMANDY 1944
- SUSSEXVALE K683 / 313 - ATLANTIC 1945 / ENGLISH CHANNEL 1945
- SWANSEA K328 / 306 - ATLANTIC 1943-44 / NORMANDY 1944 / ENGLISH CHANNEL 1944
- SWIFT CURRENT J254 - ATLANTIC 1943-44 / GULF OF ST LAWRENCE 1944
---
- TEME K458 - NORMANDY 1944
- TERRA NOVA 259 - GULF AND KUWAIT/GOLFE ET KUWAIT
- THE PAS K168 - ATLANTIC 1942-33
- THETFORD MINES K459 - GULF OF ST LAWRENCE 1944 / ATLANTIC 1945 / NORTH SEA 1945
- THORLOCK K394 - ATLANTIC 1945
- THUNDER J156 - ATLANTIC 1941-44 / NORMANDY 1944 / ENGLISH CHANNEL 1944-45
- THUNDER 153 - ATLANTIC 1941-44 / NORMANDY 1944 / ENGLISH CHANNEL 1944-45
- THUNDER 161 - ATLANTIC 1941-44 / NORMANDY 1944 / ENGLISH CHANNEL 1944-45
- TILLSONBURG K496 - ATLANTIC 1944-45
- TIMMINS K223 - ATLANTIC 1942-45
- TORONTO K538 - GULF OF ST LAWRENCE 1944
- TORONTO 330 - GULF OF ST LAWRENCE 1944 / ARABIAN SEA
- TRAIL K174 - ATLANTIC 1941-45 / GULF OF ST LAWRENCE 1942
- TRANSCONA J271 - ATLANTIC 1943-45
- TRENTONIAN K368 - ATLANTIC 1944 / ENGLISH CHANNEL 1944-45 / NORMANDY 1944
- TRILLIUM K172 - ATLANTIC 1940-45
- TROIS RIVIERES J269 - ATLANTIC 1942-43 / GULF OF ST LAWRENCE 1942, 1944
- TRURO J268 - ATLANTIC 1942-45 / GULF OF ST LAWRENCE 1942, 1944
---
- UGANDA 66 - OKINAWA 1945
- UNGAVA J149 - ATLANTIC 1941-45 / GULF OF ST LAWRENCE 1944
- UNGAVA 148 - ATLANTIC 1941-45 / GULF OF ST LAWRENCE 1944
---
- VALLEYFIELD K329 - ATLANTIC 1944
- VANCOUVER K240 - ALEUTIANS 1942-43 / ATLANTIC 1944-45
- VANCOUVER 331 - ALEUTIANS 1942-43 / ATLANTIC 1944-45 / ARABIAN SEA
- VEGREVILLE J257 - GULF OF ST LAWRENCE 1942 / ATLANTIC 1944
- VICTORIAVILLE K684 / 320 - ATLANTIC 1945
- VILLE DE QUEBEC K242 - ATLANTIC 1942-44 / GULF OF ST LAWRENCE 1942 / MEDITERRANEAN 1943 / ENGLISH CHANNEL 1944-45
- VILLE DE QUEBEC 332 - ATLANTIC 1942-44 / GULF OF ST LAWRENCE 1942 / MEDITERRANEAN 1943 / ENGLISH CHANNEL 1944-45 / ARABIAN SEA
- VISON S11 / Z30 - GULF OF ST LAWRENCE 1942
---
- WALLACEBURG J336 / 172 - ATLANTIC 1944-45
- WASAGA J162 - ATLANTIC 1944 / NORMANDY 1944
- WASKESIU K330 - ATLANTIC 1943-45 / ARCTIC 1944 / NORMANDY 1944
- WENTWORTH K331 - ATLANTIC 1944-45
- WEST YORK K369 - ATLANTIC 1945
- WESTMOUNT J318 / 187 - GULF OF ST LAWRENCE 1942 / ATLANTIC 1944
- WETASKIWIN K175 - ATLANTIC 1941-45 / GULF OF ST LAWRENCE 1944
- WEYBURN K173 - ATLANTIC 1942 / GULF OF ST LAWRENCE 1942 / NORTH AFRICA 1942-43
- WINDFLOWER K155 - ATLANTIC 1941
- WINNIPEG J337 / 177 - ATLANTIC 1943-45
- WINNIPEG 338 - ATLANTIC 1943-45 / ARABIAN SEA
- WHITETHROAT M03 / M53 / CNAV 113 - ATLANTIC 1945
- WOODSTOCK K238 - ATLANTIC 1942-44 / GULF OF ST LAWRENCE 1942 / NORTH AFRICA 1942-43 / ENGLISH CHANNEL 1944 / NORMANDY 1944
---